Creating a Workplace Where People Thrive
How to build a culture rooted in well-being
Let's talk about stress—briefly, because you're probably reading this in a hurry, under pressure to accomplish what's on your to-do list. Most people know workplace stress has escalated over the past few decades, leading to health issues and absenteeism. The statistics are getting the attention of employers: Studies show anywhere between 29–40% of people feeling stressed at work. With so much data pointing toward negative effects of workplace stress, it's no wonder corporate leaders are focusing more on well-being.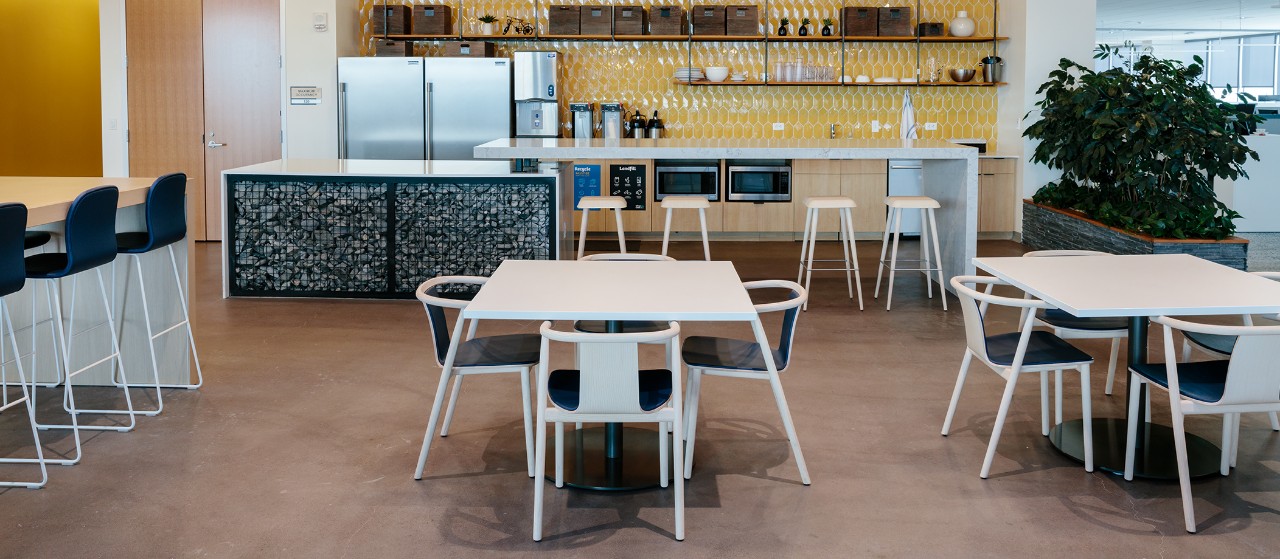 A Holistic Approach
Organizations with strategies that incorporate health and well-being into their culture enjoy more success. By providing work environments that holistically affect the well-being, satisfaction, and happiness of their workforce, they can expect people to be more engaged, ultimately leading to higher organizational performance. Gallup has shown that engagement scores are rising. One reason is largely due to the rise in cultures grounded in well-being.
It's not just about fitness centers and healthy food choices. Workplaces that promote well-being encompass cognitive support, psychological comfort, and physical wellness. These are manifested in policies, behaviors, and workplace design. When these capabilities are maximized they can have a positive effect on people's health and, ultimately, their engagement at work.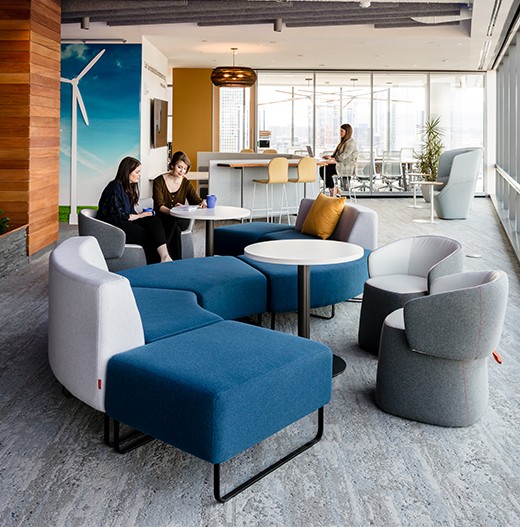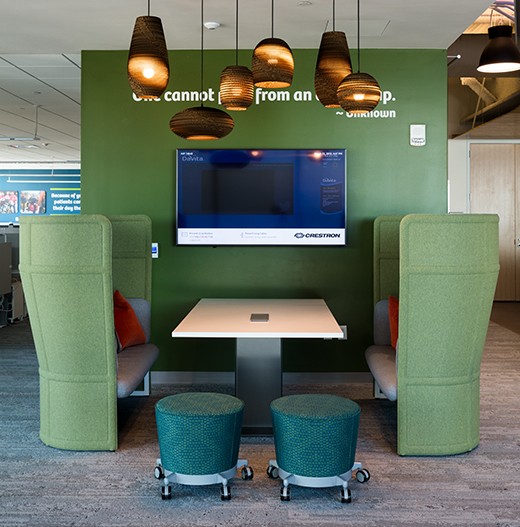 Workspace Design and Employee Buy-In
People-centric design brings the individual into the focus of the design process, with outcomes related to quality of life (such as reduced stress). Of course, the assumption is that as quality of life improves, traditional business issues, such as engagement and performance, are also positively affected.
One company in Denver, Colorado, involved its employees in its workspace design for their new headquarters building. DaVita is an industry leader in providing care for people with kidney disease. One of DaVita's goals was to bolster well-being and convey their culture in a model headquarters where people thrive.
Including teammates in the project created a sense of ownership that reflects their unique culture they call "The DaVita Way." The name DaVita comes from an Italian phrase that means "giving life," and it underscores not just their mission but also their culture. The DaVita Way is a passion for caring for fellow employees as much as patients. This community-focused, democratic approach takes everyone into consideration—which is why more than 1,000 teammates across the country were engaged in the workspace design process.
Addressing workplace design for well-being can help organizations:
Attract and retain employees 
Reduce the effects of stress 
Reduce health costs 
Improve employee engagement 
Improve morale by creating a socially engaging, supportive environment

DaVita incorporated design strategies and features to support the physical, emotional, and cognitive health of its teammates:
On the top floor is a dining area that overlooks the Rocky Mountain landscape. 
Open stairways encourage walking. 
Atriums bring nature inside through plant life and natural light. 
Everyone has an outdoor view from their desk, with 98% of teammates enjoying direct access to sunlight. 
Outdoor terraces offer places for fresh air. 
Open spaces help build a sense of community with displays of DaVita's mission, values, and culture.
Now an iconic element of the Denver skyline, DaVita's new world-class headquarters is a model for promoting well-being and conveying culture—designed with lots of internal input.
Culture is directly related to engagement—truly engaged employees are far more likely to be creative and perform better. Research suggests that architecture, interior design, and furnishings provide a tangible way to support—or even change—the culture of an organization.  When leaders make the important connection between space and its effects on organizational culture, it pays dividends, especially when it comes to attraction, retention, and engagement of top talent.