Digital Knitting: Bringing Fashion to Furniture
Creating endless design possibilities for the future
Most people think of cozy sweaters and bulky scarves when it comes knitting, but the craft's rich history dates back to 11th-century Egypt. The technique of making fabric from a strand of yarn and two thin sticks has undergone a high-tech transformation in recent years. Shoe brands like Nike, for its Flyknit shoes, and fashion labels such as Eileen Fisher, Rothy's, and Ministry of Supply are all using digital knitting technology to create high-end, high-performance, comfortable, and breathable knit designs.
 
"Haworth is bringing knits from fashion to furniture by exploring their use in a variety of products and interior design applications."
– Jeff Reuschel, Global Director of Design and Innovation, Haworth
 
Technical knitting, while dominating consumer goods, is new to contract office furniture markets. "What Nike and Adidas did to the tennis shoe can be done for office furniture and interior design," says Liz Johnson, Principal Designer in Haworth's Industrial Design Studio. "A desk chair can offer an experience similar to that of a favorite running shoe, with beautiful knit patterns, high-performance fibers, and supportive structures designed in just the right places to benefit the user."
"Knitting has a high level of flexibility as far as making a textile," says Reuschel. "We are able to place fibers next to each other all in one piece with no secondary processing. We're able to target specific zones of a chair to increase comfort, density, and breathability. We believe this exploration, as well as future product applications, really push boundaries."
With speed and efficiency, a designer's sketch can be quickly translated into knitted material applied to seating, lounge furniture, panels, and more. In the future, it will be impossible to imagine life without this technology. That's why Haworth is continuing to innovate and find ways to use the technology to enhance comfort, performance, and aesthetics across a variety of products.

Innovative Solutions
Haworth is debuting flat-bed weft knit technology on three desk chairs. This digital weft knitting technique is a precise process that can isolate knit structures to designated areas of a chair or product. These targeted zones can also allow for support and airflow in new and unexpected ways.
Similar to woven fabrics, knit combinations are endless, especially with the advancements in yarn and fiber technology. Haworth, for example, works with partner Camira to develop specialized yarns based on desired performance attributes. "With knitting, we are talking about lots of little loops. There are 600 tiny needles on the front and the back of the machine, and each one of those needles can do something different. Haworth is using the material to build lumbar support into a chair instead of relying on a mechanical device," says Darren Hill, Operations and Development Manager at Camira Technical Knitting.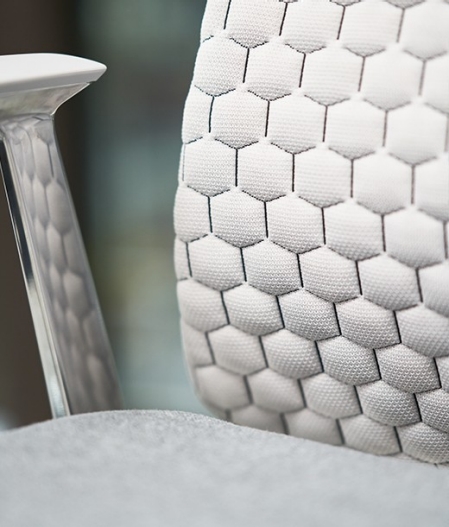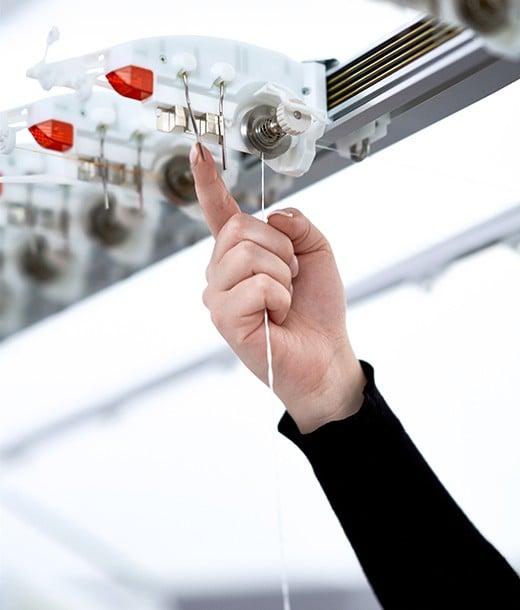 Haworth Digital Knits are designed and shaped to fit the exact curves and contours of the individual furniture form. Additional benefits include targeted strength and stretch only where they are needed. For example, Haworth designed tighter knit structures in the pelvic and lumbar regions of knit back task chairs, while using more open and flexible stitches in the thoracic region of the back. Therefore, perfect pattern alignment, passive ergonomic support, and breathability can be achieved without the use of additional textiles, fill, or foam. The result is a product that conforms to any user's body, providing ultimate comfort.
Zero Waste
Sustainable practices within the state-of-the-art digital knitting technology drive three basic inputs: yarn, electricity, and a gentle steam finish. The knit is designed, produced, and tensioned to precise specifications, giving it a consistent look and fit every time. For Haworth task chairs that are knit-to-fit, there is no waste of materials using digital knitting. Overhead is reduced, as well as the time and manufacturing complexity compared to the traditional methods of upholstering products.  
 
"This whole 'knit-to-fit' term is really centered around making one piece. No cutting or waste. This fits with our commitment to sustainability and how we see moving forward in the future with furniture."
– Alexis Putman, Color, Materials, & Finishes Designer, Haworth
 
Knits are embedded in our lives, and all that we touch and wear. At the same time, Haworth continues to build engaging and people-centric workspaces and social spaces, focusing on well-being, environmental, and sustainable standards for all materials to ensure the protection of our Earth and human health.
To hear more of Haworth's knitting story, listen to the SPARK podcast with Alexis Troxell, or read more about digital knitting innovation at Haworth.