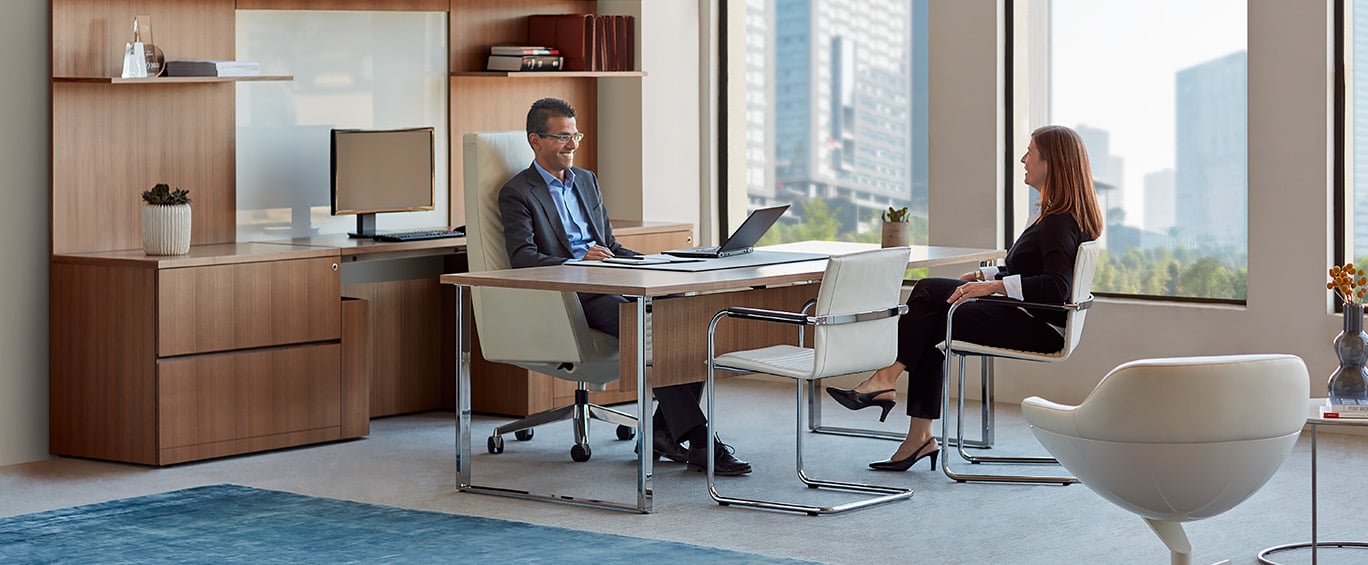 Future Leadership Offices
Designed to be transparent, accessible, and versatile
Picture a corporate leader's office. Does an image of a corner room come to mind? One that is spacious with a huge desk, a few chairs, and an impressive view?
As rising real estate costs are shrinking workspaces, there has been a push to make leadership spaces less status-driven and more productive.
"Leaders are telling us that it's more about functionality and what the needs are."
—Jackie Neerken, Senior Workplace Design Consultant, Haworth
Conveying Openness
To see the future of leadership offices, you need only walk through Haworth world headquarters in Holland, Michigan. A working showroom, our space illustrates this shift in thinking about executive suites. Instead of status and hierarchy, leaders' offices convey openness and collaboration.
Members, our term for employees, can borrow Chairman Matthew Haworth's or Chairman Emeritus Dick Haworth's offices for meetings when the two are away. "We really do encourage people to think of them as small conference rooms, especially because Dick is here only three days a week and Matthew is frequently traveling. It makes sense," says Virginia Conklin, Executive Administrative Assistant to Dick and Matthew.
Another unusual element about the executive offices at Haworth are the glass walls. Their purpose is twofold: draw in natural light and reflect the company's commitment to transparency and accessibility between management and staff.

Ensuring Privacy and Focus
In open-office designs, sharing space is embraced for its benefits in collaboration and communication. However, closed environments are required for certain tasks. "Visual privacy is still important," explains Neerken. "People don't want to feel like they are in a fishbowl." Measures should be taken to ensure needed privacy and focus.
Glass walls in our leaders' offices at Haworth are double-paned for confidentiality. When the door closes, very little sound escapes from inside. The auditory privacy feature often gets tested when client groups come through on tours. One of three glass walls enclosing Matthew's office is frosted because it faces a hallway. This way, when people walk down the corridor, they aren't a visual distraction to anyone working inside—whether it be Matthew himself or the members temporarily using his office.

Supportive Tools and Flexibility
In Matthew's office, there are two distinct work areas. One is a desk surrounded by three Poltrona Frau Downtown chairs for task-focused work, while the other is a trio of Poltrona Frau Archibald lounge chairs, creating a setting for conversation. If there are more than three people, chairs from both arrangements can be pulled in to provide additional seating. The space also features Bluescape technology and large-scale, high-definition, multi-touch screens, which make it conducive to group brainstorming or planning sessions.

Leaders' Values
Those who come into the executive spaces at Haworth get a sense of our company's leaders and their values. Dick's office, for example, is accented with his awards, family photos, and collectibles. On the wall across from his desk is a painting by his daughter titled "Prayer at Sunrise." These personal touches create a feeling of warmth and human connection.
Guests can (and often do) leave messages on Dick's desk, which—like the office walls—is made of glass. "When he came in yesterday, there were seven notes handwritten on his worksurface," says Conklin. "He always enjoys reading them."
See more ways the leadership offices at Haworth address the changing nature of work.