Make Waiting a Pleasure at the IT Café
Give employees a social fix along with their tech fix
Technology issues can be frustrating for employees. There are not many experiences that match the pain of sitting a desk just waiting for your computer to be fixed. Number one, you're not getting any work done. And number two, it's just… boring.
Here's a simple solution: locate your company's IT desk next to its café. It's a lot more enjoyable to wait for a technology fix when you can do so while sipping a latte and catching up with a colleague.
"We did that in our London office, and it's worked extremely well," says Bernice Boucher, of JLL, a global real estate and investment firm. "People can drop off their phone or laptop while they're getting their coffee."
The IT desk-café combination is one of the top five most innovative work environments, based on the results of a recent global survey of more than 7,000 employees, says Boucher, Managing Director at JLL's consulting group. As a senior leader in the workplace strategy practice for the firm, Boucher advises clients on how to develop dynamic work environments and alternative workplace strategies in supporting their strategic goals.
While the IT desk-café combination is a hot idea in workplace design, it's been a convenience for Haworth employees for a decade.
The feature was added during the transformation of Haworth's longtime West Michigan headquarters in 2008. Previously, the company's IT office resembled a closet with a drive-thru window where workers could drop off equipment for repairs.


"It was this hole in the wall with a sliding glass window that you could walk up to," recalled John Scott, Haworth's Senior Workplace Design Strategist. "Sometimes somebody was sitting there and sometimes they weren't. You had this wall between you and them. It wasn't very friendly."
It's not surprising that Scott led the team that came up with the idea of not only putting the IT desk in an easy-to-find location, but pairing it with the workplace café.
Scott's role is to help clients understand the linkages between design and business performance, and to explore new ways of working to impact cultural and organizational change. For their research, Scott's team visited tech giant Apple to learn more about its beloved Genius Bar concept.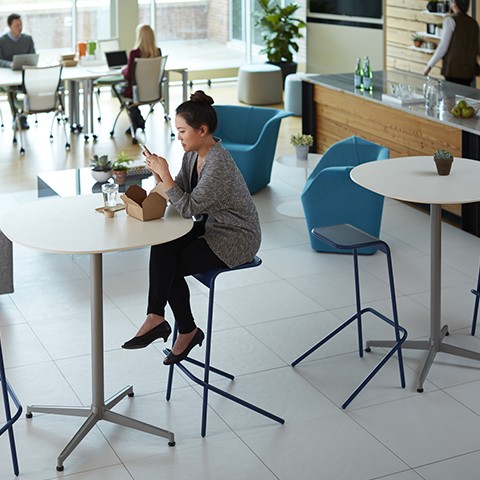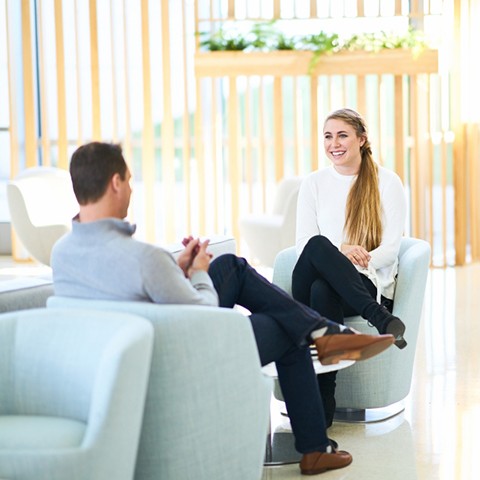 "It just works extremely well, and that's what we try to model ours after," Scott said.
In hindsight, Scott says he would only make one change: more equipment storage. That's because the tech bar has been so popular. it's no longer just a place where people drop off glitchy hardware for repairs; employees now pick up new equipment at that location, as well.
Another upside to the tech bar at Haworth is the better working environment created for employees in the technology department's main space on the second floor. It's now located away from the hustle and bustle, and they can do their heads-down work with fewer interruptions.
Together, the tech bar and café have become the hub of Haworth. They are strategically embedded in the middle of the building. This social oasis of support is one of the first things that greets employees and visitors as they come down the wide staircase after entering the dramatic, light-filled headquarters.
"When we tour guests through the building, it's always one of the stops that we make along the tour route, Scott said, and it's been wildly successful."