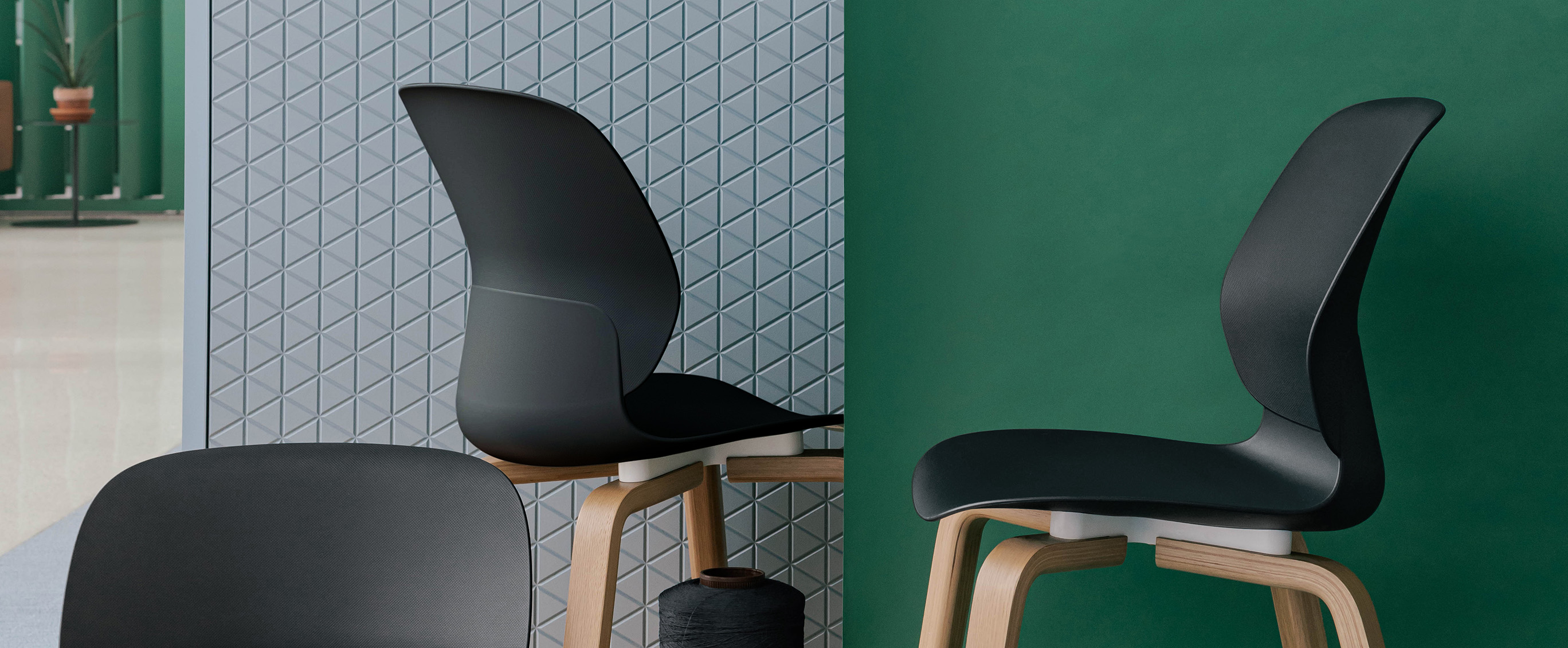 • 3 min read
Changing Mindsets through Circular Design and Sustainable Office Furniture
If Nature had a language, the word "waste" wouldn't exist
All resources run in closed loops in Nature's intricate systems, providing nutrients where needed. Waste is a human-made problem based on a traditional linear economy: take, make, consume, waste (cradle to grave). In contrast, a circular economy follows these steps: take, make, consume, repair, reuse, recycle/regenerate (cradle to cradle).

As we progress toward Haworth's 2025 commitments to support a circular economy, our design philosophy and strategy become more integrated with an important goal: creating sustainable office furniture, with 100% of new products employing circular design principles.

Design thinking is ingrained in our culture—and we are committed to designing products with people in mind while making the best use of the Earth's resources for a sustainable future. We work to make the world better, and this means making material choices that align with our strategy and designing with the end in mind. A circular economy requires us to keep our resources in closed loops—without losing quality—by recycling, reusing, and rethinking our processes.

We partner with others who share those values, like architect and designer Patricia Urquiola. True to her philosophy of sustainable materials and aesthetics, Patricia designed the Maari seating family with minimal, durable, and high-quality materials. In 2021, she challenged Haworth to produce a 100% recycled and recyclable version of the chair's iconic plastic shell with our local supply chains in Europe. 
"We cannot approach any of the raw materials the way we approached them before. We need to change our mindset toward a sustainable perspective."

Patricia Urquiola
Architect & Designer
 
The result is a seat shell made from zero-waste production—all post-industrial waste is processed for internal reuse or external recycling. We partnered with BOCK Group, a component manufacturer headquartered in Germany, to increase the recycled content and produce the one-piece shell, made of polyamide (PA6) reinforced with glass fiber for increased strength and elasticity. Half the materials come from BOCK's production—waste materials go back to their supplier, who recycles them and returns them to BOCK—and the other half includes 100% pre-consumer materials that BOCK obtains from material suppliers.

This design evolution makes a big impact for Maari because the shell is a primary component that's used for the whole product family. Starting with black, our best-selling color, we are assessing supply chain possibilities to increase recycled content for other colors as well.

While creating plastic molds for load-bearing elements from 100% recycled materials presented a challenge in balancing stability and design quality—our team and partners, together, mastered a solution. Previously, the recycled content for the shell in the European market was 15%. Now, our EU customers can buy Maari with a 100% recycled—and recyclable—shell.

What Every Leader Needs to Know About Reactivating Their Office Space
Learn more by downloading the Work From Anywhere white paper.
In the upholstered version, Maari is available with Oceanic fabric, created entirely from recycled plastic—a percentage of which is ocean-bound plastic. (Each meter contains the equivalent of 26 plastic bottles.) When specified with wood legs, customers can rest assured the wood has been procured through sustainable practices certified by the Programme for the Endorsement of Forest Certification.

The Maari design evolution is part of a journey. Our teams work closely with design and manufacturing partners to understand and identify opportunities for increasing the proportion of recycled plastic in more of our products. We continue to learn and evolve, with the goal of aligning our design thinking and a circular economy to create high-quality, sustainable office furniture with people and the planet in mind. 
"Waste is not trash but a precious resource, an opportunity rather than a challenge."

Patricia Urquiola

Architect & Designer
 
Supporting People and the Planet
Read stories and learn about our journey to make the world better in our newly published 2021 Corporate Social Responsibility Report.