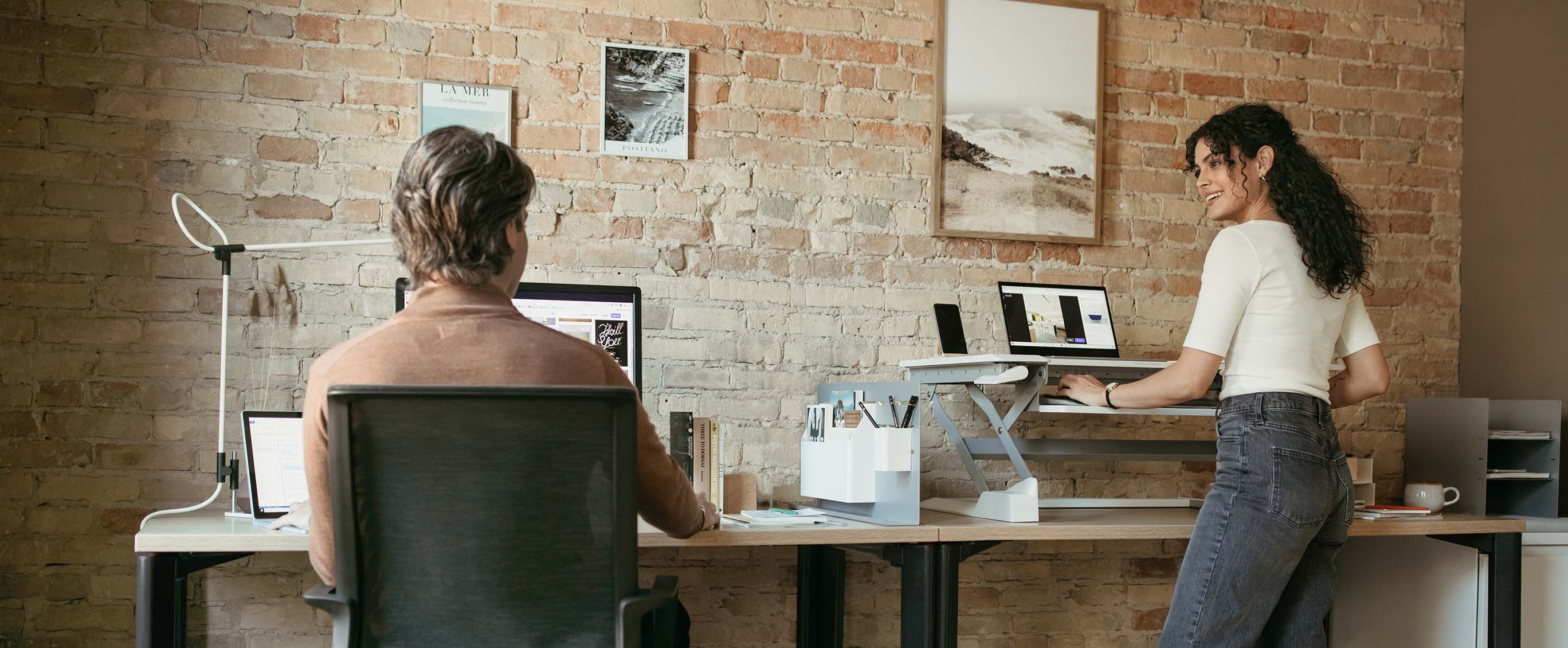 • 5 min read
Flexibility and Innovation Lead the Workplace Charge in 2022
3 experts share their 2021 insights to inspire a successful 2022
Once again, the past year put the world to the test—pushing people to be far more flexible and innovative than they ever imagined. As predicted, the work from anywhere environment is here to stay—offering greater choice in how people work by incorporating the office, home, and third places.

International Interior Design Association CEO Cheryl Durst, Haworth researcher Marta Wassenaar, and Harvard Professor William "Bill" Kerr joined Haworth Connect for a conversation about using 2021 insights to create a successful 2022. Below we highlight several of their most thought provoking points as we look to make the new year the best it can be for businesses, employees, and customers.
 
New Rituals and Protocols

To attain true adaptability in the workplace, a rethinking of certain rituals and protocols is happening. Cheryl describes this phenomenon using the 5 Cs.
Comfort: There is an increasing demand for safety, cleanliness, and hygiene in the workplace. Relatedly, a newfound sense of belonging highlights how people are looking for inclusion and a strong culture as an aspect—and benefit—of the physical workplace.


Clarity: We live our lives communicating and as a result, we have an expectation for clarity and coherency in the messages we send and receive—both in person and virtually.


Craft: Spending long periods at home has nurtured an urge for people to craft and create. This is part of the "Maker Movement" that began several years prior to the COVID-19 pandemic but has grown as more people today find themselves in creation mode.


Convenience: People are seeking ease and simplicity in their lives, especially following a period that has been challenging and chaotic.


Captivation: Humans have an innate need to be captivated. They want to see and experience as much as possible. There is a sense of wonderlust, or a strong call to live a desired, worldly, awe-inspired life.

The 5 Cs culminate into what the workplace needs to be: a place for people to feel comforted, captivated, respected, and understood.  
Harness the Power of Light
Discover trends, considerations, and inspiration for well-lit spaces.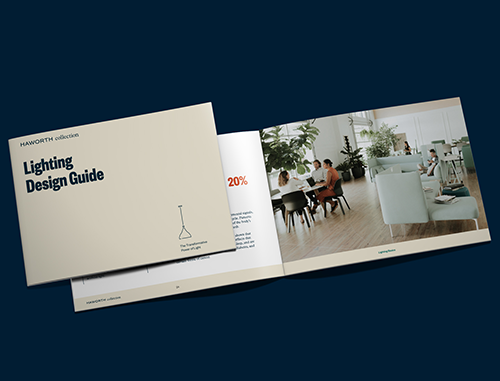 Work from Anywhere

Haworth continues to gather new insights by talking to hundreds of customers about where they're going, what they're thinking, and what they feel they need to be successful.   
We are living in a new era where we have balance—work and life—provided by the ability to choose where work gets done. From her experience and perspective, Marta sums up 5 themes of what any office needs to address in 2022 and beyond including immersive technology, restorative spaces, space shift, more collaboration, and more human.

In the discussion, Marta notes how these themes focus on incorporating immersive technology and increasing collaboration in current spaces, as well as adding more retreat spaces to support people's well-being. Being more human in the workplace—think stepping away from traditional spaces—is about making workspaces more hospitable by bringing in softer residential cues and providing people with options. From the individual workpoint to informal collaboration spaces, the new workplace offers robust opportunities to connect—in-person and digitally.

Marta encourages organizations to think about both the individual and group in workplace redesign. Not everyone is coming to the office just to collaborate. A good workspace can balance both—giving people the autonomy they need to pick the area where they can do their best work together or on their own. In the end, the most successful workspaces help people feel they are connected and belong.

Lessons from 2021
William "Bill" Kerr says he discovered he made two mistakes in 2021. The first is that he underappreciated how quickly the world could rebound. The second is that he noticed a growing understanding of how the digital world can be an uneven experience for many. 
Over the course of the last year, Bill began to realize that uncertainty and turbulence often lead to greater opportunities for surprising things to happen. But he also found that hybrid and remote work, although beneficial, do have several drawbacks—including reliable Wi-Fi access and the increasing need for proper programs and tools. Plus, there seems to be a bit of skewed perspective related to people's overall experiences.

In the presentation, Bill notes a Harvard survey of senior executives in a variety of European organizations where responses highlighted how well they felt their company was coping through the pandemic. Oftentimes, the CEO and some of the top leadership team had a far rosier outlook than middle management. What does that mean? The impact of the pandemic has been different for each level of the workforce. It also differs between those who choose to work collaboratively or individually on-site and those who choose to work remotely require different support and resources.

In some ways, the best way to improve for 2022 is to think of the tasks ahead as if you are a parent of multiple children. A parent treats their kids differently based on their individual needs and interests, but they love each child just the same. In the workplace, we will be called to accommodate for employees' different experiences and needs in order to create a productive and supportive environment for everyone.  
Resiliency for Success in 2022
Learn more about finding success this year and beyond from our esteemed panel when you watch this recorded Haworth Connect webinar.