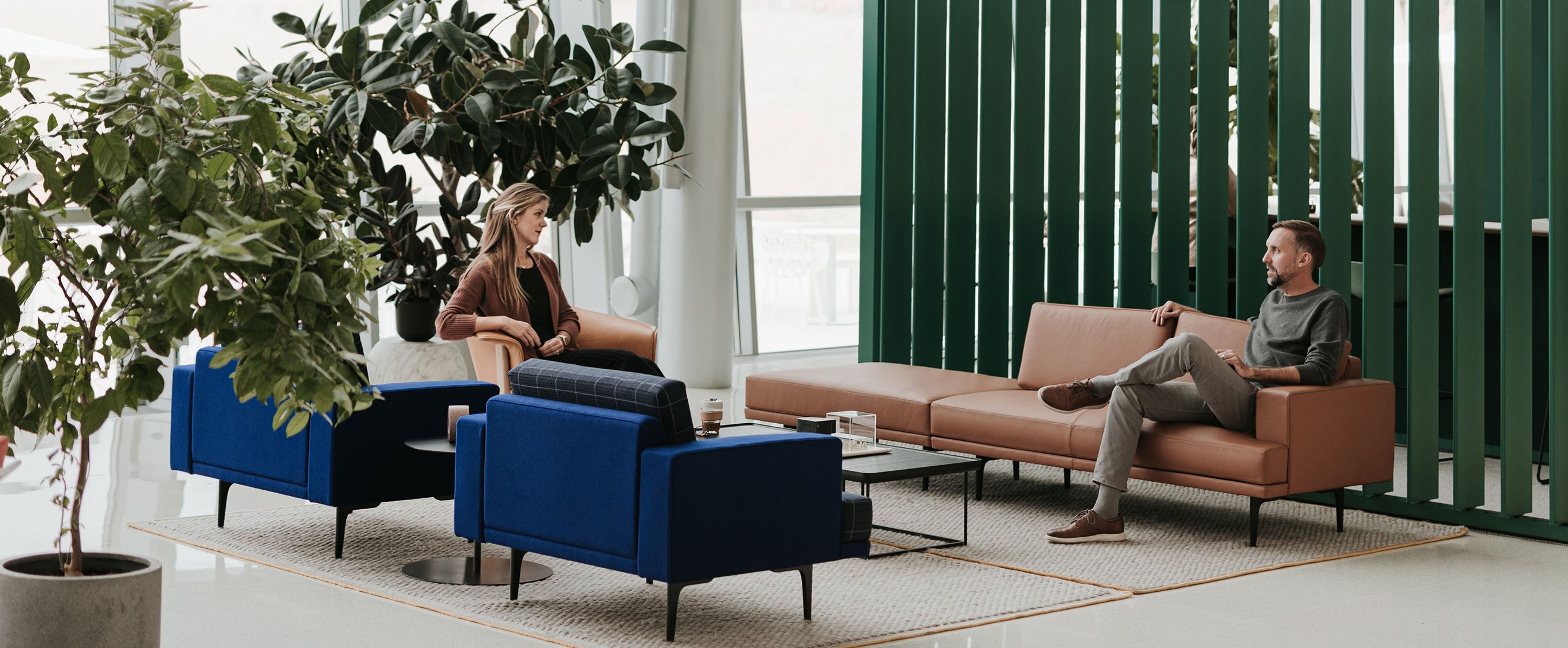 • 5 min read
8 Design Trends for 2022
Create spaces that connect us—to ourselves and others
The last couple of years have been turbulent, to say the least. We are living in a world forever changed by experiences we never expected to have. The ways we live, work, and play have shifted drastically—and continue to evolve.

The pandemic has brought with it a focus on personal health and well-being. We've become more introspective, taking stock of the things that are most important to us. The spaces we create are more important than ever in helping us feel connected to ourselves, our beliefs, and one another. The latest designs translate these feelings into the colors, materials, and products we choose to integrate into our environments.

Here are 8 top design trends we're seeing this fall/winter as we move forward toward 2022:
 
1. Nature's Tranquility

Stress results when people don't have the resources they need to deal with challenging situations in a healthy way—especially at work. Some of those "resources" can be generated through ambiance and elements of design.

Bolster resilience in stressful times through the soothing power of nature, with organic materials, woven fibers, and soft shapes that have flowing lines. Lighter wood tones are set off by tranquil greens and blues to create a comforting color palette. Borrowing from the friluftsliv (free-loves-liv) aesthetic, abundant daylight and greenery throughout the space create a connection to the outdoors and add to the inviting serenity of the environment. 
2. The Art of Luxury
More time spent at home and in isolation has prompted people to invest in luxury "upgrades" for their spaces. These are not the cold and sterile or glitzy, over-the-top items we've seen in the past.

Now, luxurious and inspiring compositions are created with the uniqueness of matte marble combined with noble metals, such as brass, copper, and tumbled gold. Furniture that feels made-to-order, with softened edges and simple oblong forms, makes these high-end materials more welcoming and approachable—becoming art that invites people into the space. Natural and sustainable nubby-textured fabrics bring additional interest to these uncomplicated spaces. 
3. Decades
Living through a pandemic has made us nostalgic for the times before. People have a common desire to revive the best, most comforting moments of the past—even if they are moments from before we were born—to help us deal with stress.

As we pick and choose from our favorite decades, spaces are taking on a multigenerational feel, inviting everyone in to connect. Art Deco pieces of the 1920s combine with the more recent vintage elements of the '70s and '80s to create collections that look carefully curated over time. Lucite furniture, chunky and sculpted pieces, pleated shades, brass, and metallics all make their appearance—along with bold, geometric shapes and patterns, and pops of bright colors. 
4. Color Contrast
Recent events have us craving more peace, happiness, and joy—and color-based design is here for it. Although color preferences aren't always universal, certain colors and the ways we use them tend to elicit positivity in people around the world.

Mood-boosting palettes are filled with bold hues, offset by more vibrant neutrals, "nude" tones, and pastels. New playful colors and inspiring shades of primary colors can promote productivity, inspire creativity and expression, and foster a sense of calm and recovery.  
5. Sustainability Revival
The pandemic has people giving more thought to the world around us—not just our own spaces, but the entire environment—reinvigorating the push toward circular design. New and continuing considerations for safety and sustainability are driving people to seek out more sustainable design solutions.
 
Materials and colors are pulled from our surroundings to create beautiful, high-quality, long-lasting, locally sourced, recycled, and renewable products. Sustainable furnishings showcase stone, cork, bamboo, felts, upcycled fabrics, and naturally dyed materials. 
6. Boundless Individualism
As people focus on their own well-being, they're looking inward to determine what they want from their spaces—rather than looking outward for trends to follow. Design doesn't have to be about "what's in." Now, it can be more about self-expression and "what's in it for me."

Timelessly soothing pastel palettes are back, but now with a range of playful, bright contrasting colors and a bold black—creating an "anything-goes" creativity and visual expression. Natural materials and textures of light woods, rattan, leather, ceramics, aged brass, and greenery bring warmth to spaces, creating an organic cohesion of elements throughout.  
7. Nomadic Sanctuary
If the pandemic taught us anything, it's that work from anywhere is not only possible, but it also offers more options to support new workstyles. Changing where work is done can be beneficial for creativity, focus tasks, and collaboration.

Working from anywhere, however, may be a little unsettling if spaces and situations are continuously changing. Ease uncertainty with the familiar through comforting designs for hybrid living/working. Even entire spaces may be mobile but filled with nostalgic, homey—even imperfect—furnishings with curved lines, padded cushions, and soft textures and upholstery. Natural blues and greens mix with earthy browns and reds, offering reassuring warmth. 
8. Midnight Tempest
The lightness of nature also brings with it a bold, dark beauty that people feel somehow drawn to. The organic powers of fire, wind, and water both contrast and harmonize with one another to create a sense of intrigue and warmth we can't deny.

Midnight navy and bold blues now pair with deep evergreen and burgundy shades—all contrasting against charred woods—to evoke the natural energies in our changing environment. Visual and tactile sensations are heavy yet warm and welcoming, with dark wood grains, distressed materials, raw concrete, slate surfaces, lush velvet, and textured leather. 
Get Our Latest Trend Insights
For more on design, business, and workplace trends, check out our interactive Fall/Winter 2021 Trend Insights report.