Reimagining Wellness Spaces
Residential design elements promote well-being
The membership based primary care practice Strive opened in Grand Rapids, Michigan, last summer. The design is inspired by trends in the residential and hospitality sectors, as evidenced by the welcome lounge. As healthcare costs continue to rise, consumers and providers have responded by taking a proactive approach to wellness that requires new ways of thinking about space

To this end, the company has partnered with Spectrum Health, a nonprofit based in West Michigan, on several cutting-edge facilities, including Strive and the Helen DeVos Children's Hospital. Strive, which opened last July, is a membership-based primary care practice in Grand Rapids with a focus on personalized care and concierge medicine. Its clinicians take a preventive approach that emphasizes nutrition and lifestyle. Members also have access to local organizations dedicated to their health and well-being.

Strive's residential-inspired interiors work well with the crossover spirit Vander Schuur describes. The patient room resembles a stylish office, with medical equipment tucked away in wood cabinets, Corian countertops, and glass tile backsplashes. A recliner even doubles as an exam table. Haworth helped create this relaxed setting with a decidedly nonclinical feel that immediately puts patients at ease.
Completed in 2011, the Helen DeVos Children's Hospital solidified the company's collaboration with Spectrum and set the tone for its subsequent projects. The hospital is particularly special to local philanthropist Ethelyn Haworth, who served as the co-chair of the capital campaign to construct the building, and was subsequently named an honorary member of the hospital foundation board for her work.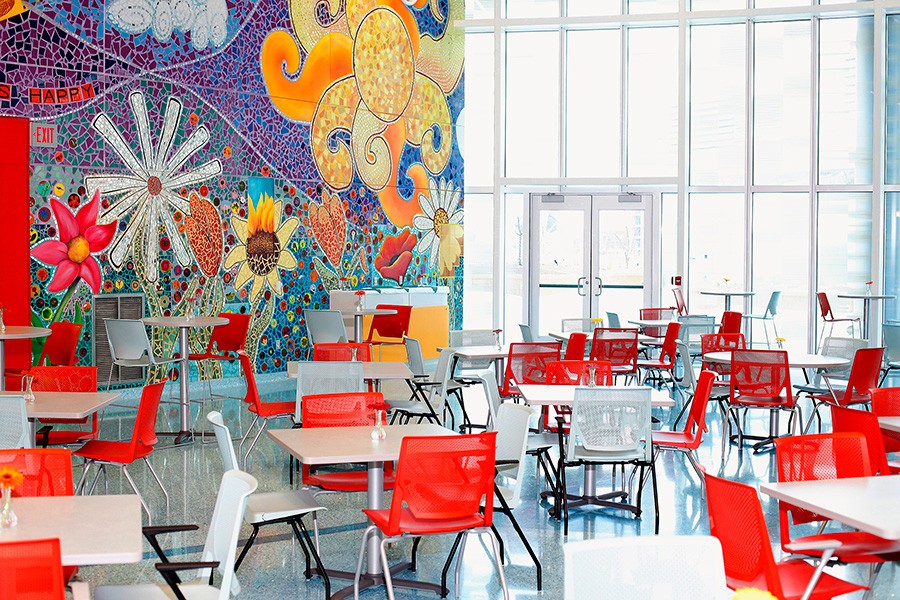 The Helen DeVos Children's Hospital provides care for children from the area and abroad, with more than 9,100 inpatient admissions each year. The freestanding medical center boasts state-of-the-art equipment and expert physicians on staff who have helped to make it one of the highest-ranking medical facilities in the nation. And just as at Strive, careful attention was paid to the interior and furnishings throughout the hospital.
"We were really intentional about the design and decor," says Shari Schwanzl, vice president of operations and nursing. Staff members and partners made site visits to other children's hospitals as part of their research, which helped the team formulate a vision for their ideal treatment and recovery center. "We set out to create a warm environment, not just for children but the whole family," adds Schwanzl.
Fittingly, color plays a key role in the space. Gone are the sterile, drab gray, blue, and green tones that are normally associated with healthcare clinics; they are replaced by shades and hues found in the great outdoors. Selecting the furniture was another important consideration. In addition to providing comfort, the pieces had to work with a variety of body types while withstanding extensive use. Sharon Schaap, director of healthcare sales for Interphase Interiors and the Haworth dealer involved in the project, ensured that the products were thoroughly tested.

"We had a variety of groups try the furniture, including the kids, parents, and staff ," she recounts, adding that paper surveys were subsequently distributed that allowed users to record their preferences. That input was incorporated into the finished space.
Both of these projects are especially rewarding for Haworth because patient well-being was at the center of each endeavor, Vander Schuur explains. "Listening to the client is part of the Haworth DNA. It's all about people caring for people."
This article originally appeared on metropolismag.com.