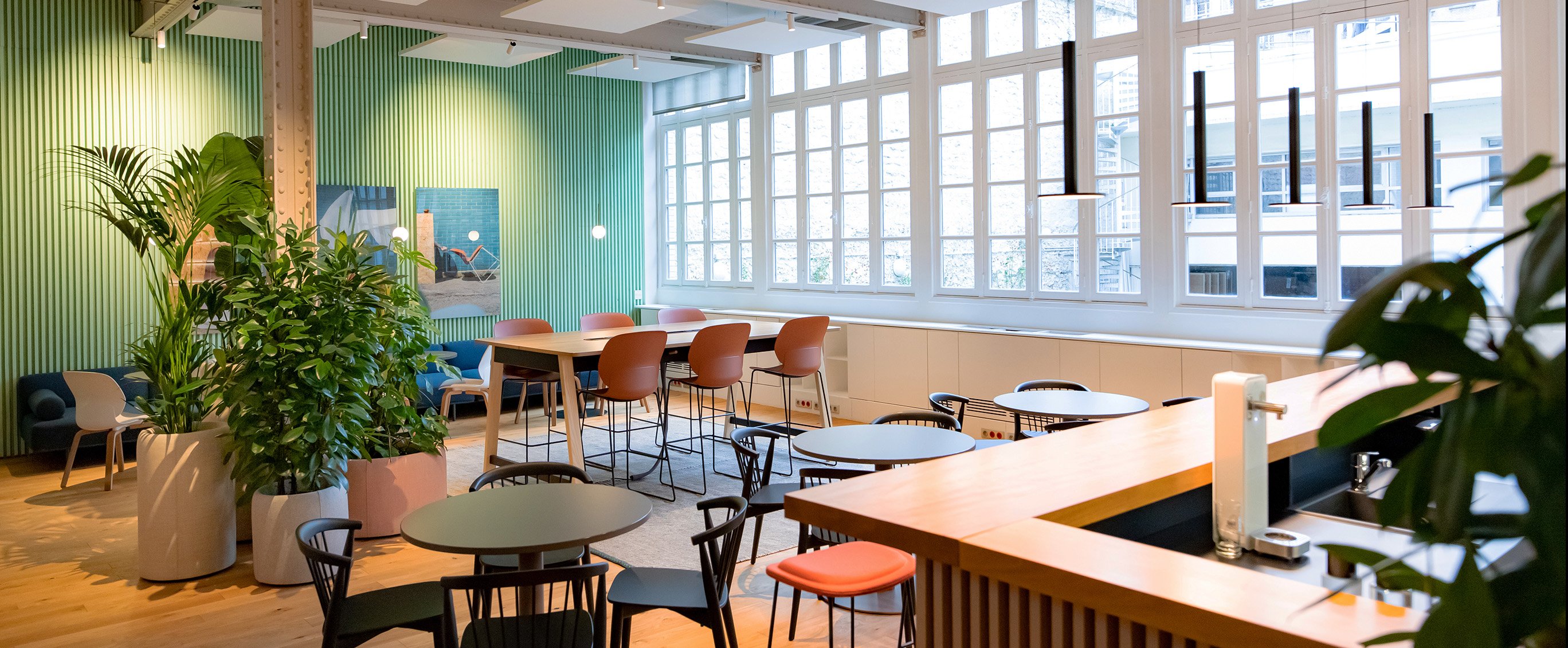 • 7 min read
How to Successfully Adapt Spaces to Changing Work Patterns
From individual tasks to group activities, the physical workplace is taking on a variety of new roles
When Haworth started the renovation of our Paris-based office, we had already embarked upon an organizational, digital, and spatial transformation several years prior. With 10+ years of experience researching and developing multi-use spaces and unassigned workstations, we have a plethora of takeaways. The most recent global pandemic gave us the time to rethink what we already know and consider the new challenges people are experiencing in their ways of working. We asked ourselves: What does the return to the office look like today?

Ideation Methodology

Haworth's ideation methodology proved to be as relevant and effective as ever in helping us produce the right design brief for the needs of our Paris office. Several key factors were in play in the redesign process, including:

Aligning all stakeholders with the challenges of the project
Analyzing our existing and desired culture
Measuring employee satisfaction and space occupancy rates
Evaluating the range of activities within our teams and their evolution
Involving our employees in the process—as well as our customers, prospects, architects, partners, and dealers—to help enrich our perspective
To reveal the full potential of the workspace, we sought support from renowned architect and designer, Patricia Urquiola. After several months, and with Patricia's input, we are ready to celebrate the opening of our new Paris-based workspace and share our process.

Designing a Successful Showroom and Workspace

The traditional designs and concepts of the workplace have changed. Today we visit the office more for group activities than individual or transactional tasks that can be executed from home or alternative spaces. Successful business spaces foster collaboration, socialization, and hospitality, but also allow for workers' freedom to choose where, when, and how to work.

In the era of work from anywhere, our beautiful Paris building—which is both a showroom and a workspace—is a living stage where people meet, collaborate, and find inspiration. It is a place where we work toward a common goal—organizational success. This notion is not unlike that of
a theatre company, requiring the association of many competencies.

We partnered with several firms to create a comprehensive, forward-thinking office design solution based on four main pillars: well-being, flexibility, digital technologies, and sustainability. 

Pillar 1: Well-Being and Quality of Life at Work
The workspace contributes to ensuring physical, cognitive, and psychological comfort that is beneficial to employee performance and work satisfaction. The solutions we developed focus on acoustics using Ecophon, BuzziSpace, and Citterio products, as well as lighting using Artemide and Pablo Designs.

The biophilic design of a space can help connect employees to vital needs—because natural elements are good for our collective health, mood, and creativity. For the Paris space, our design partners, Ambius and Tanaman, selected specific plants to support well-lit floor levels, as well as the basement and darker spaces. People are inclined to spend time with one another in well designed dining and refreshment areas. Plus, partners Castalie, Action Café, and Room Saveurs selected a menu full of tasty, healthy, and sustainable food offerings.

Throughout each level, we provided spaces for people to relax, restore, and recharge. Patricia Urquiola helped us design a warm and welcoming atmosphere by incorporating a purposeful palette of color and materials. We are proud of the unique aesthetic strength of the building, with its history and Art Deco style that inspire employees and visitors alike.
 

Pillar 2: The Need for Flexibility

The ways we work, our organizations, and our personal and professional needs are constantly changing. Knowing how to navigate through complexity and uncertainty prompts us to experiment and test, again and again. Our Paris office space is not static, but rather, increasingly adaptable. In this flexibility, we can make life easier—instead of more restrictive—for our employees.

Our research on dynamic activity-based spaces with no assigned workstations drove our Paris office layout concept. In collaboration with our team, we pinpointed 10 activities that needed to be supported by the furniture and digital solutions tailored to our needs. For instance, all employees are equipped with remote work resources and can choose where they want to work according to their activities and preferences.  

Compared to our former layout, we now have expanded social and event spaces. At the heart is a large space for warm, friendly encounters and informal meetings. We also created more workshop-type spaces for collaboration, creativity, and training, as well as several small rooms and booths that support privacy for individual calls and group video conferencing.  

In the updated space, we reduced the number of traditional meeting and individual workspaces. Instead, spaces are multifunctional, adaptable, and come equipped with room booking technology. Some spaces can be combined to accommodate teams of varying sizes. We've even opened the showroom to our partners, offering people a coworking space. The Paris showroom reinforces its vitality, giving people access to a highly responsive office space that can be adapted to best suit their needs. 
Harness the Power of Light
Discover trends, considerations, and inspiration for well-lit spaces.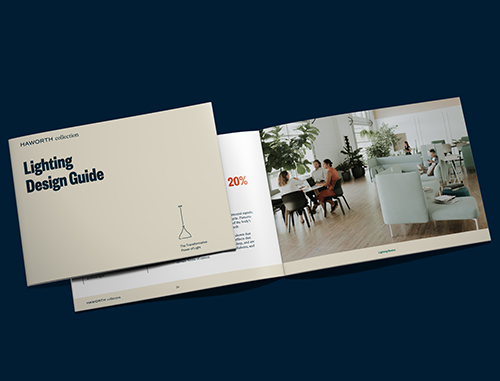 Pillar 3: Ample Digital Access

The renewed work environment at the Paris-based office is built around the work from anywhere reality. While the success of this model relies heavily on space flexibility and a strong organizational culture, technology plays a key role.

Hybrid work can be restrictive without the appropriate digital tools. We partnered with Sharing Cloud and Open My Space to set up digital solutions that address 3 goals:

1.  Ease the Mobility of Employees and Visitors
Enable employees to schedule their time on-site, book a space, check in visitors, navigate the building, communicate via digital signage, access lockers designed by Izybat, and wirelessly share content on screens with PulseBox.

2.  Provide the Best Possible Team Experience to Both Remote and Face-to-Face Users
Enable employees to easily connect to the videoconference system, intuitively use it, and improve the virtual experience with a Logitech solution, as well as increase interactivity and the quality of remote collaboration using Bluescape.

3.  Monitor Spaces Regularly
Take the time to understand how employees are using each space, measure occupancy, and observe how people are transforming spaces dynamically and in real-time.

Technology can be used to provide comfort without creating constraints or inequalities among individuals in the workplace. One interesting field of experimentation is the hybrid collaboration between in-person and remote participants. In our research and experience, we discovered the need to adapt our behaviors to improve meetings. For successful collaboration, procedures need to be developed and integrated into broader guidelines for working together.


Pillar 4: Social and Environmental Responsibility
At Haworth, we are strongly committed to environmental and social issues. We think beyond our business with a collective purpose to make the world better.

We decided to take the opportunity to use our new Paris workplace and showroom to strengthen our actions toward a sustainable and inclusive environment. To do so, we made choices to limit the amount of energy and raw materials we use on a regular basis—including the incorporation of leak-proof windows, carpets and fabrics made from upcycled marine plastic, the reuse of materials, and the ability to control lighting and room temperature.
Through our partnership with the Emmaüs Movement, we are taking things a step further by giving "a second chance to people, a second-life to objects, and a better future to the planet" in 3 distinct ways:

1.  We are joining forces with Label Emmaüs for inclusion through training and job creation, giving a second life to our products. We started the initiative with our best-selling product, Zody. Used Zody chairs will be reconditioned by Label Emmaüs before being reintroduced to the second life market.
2.  With Atelier Emmaüs, a carpentry school specializing in professional re-integration through crafts and design, we materialized our commitment by asking them to make the woodwork of our new showroom, as well as a bar counter, custom cupboards, and storage.
3.  In addition, we have launched a design competition to create a range of innovative furniture from the Social and Solidarity Economy (SSE). The competition will be marketed to complement Haworth France's standard product ranges, while providing recurring opportunities for projects entrusted to Atelier Emmaüs.

This is Just the Beginning
The renovation of our Paris-based office space is an adventure that is only just beginning. We believe the workplace can bring added value when it is designed with thought—attention to detail and purpose for those who work and visit there.    

In essence, the workplace of the future is the main hub where people go to collaborate, socialize, and grow. It is the basis of a strong organizational culture featuring employee engagement and commitment. When we design for well-being, flexibility, technology, and sustainability, the workplace becomes a focal point for any organization.
Haworth Around the Globe
From our global headquarters to showrooms and offices in Budapest, Dubai, London, and more, you can find inspiration and design examples. Take note of the use of informal meeting spaces in open office environments and the power of space adaptability and flexibility.