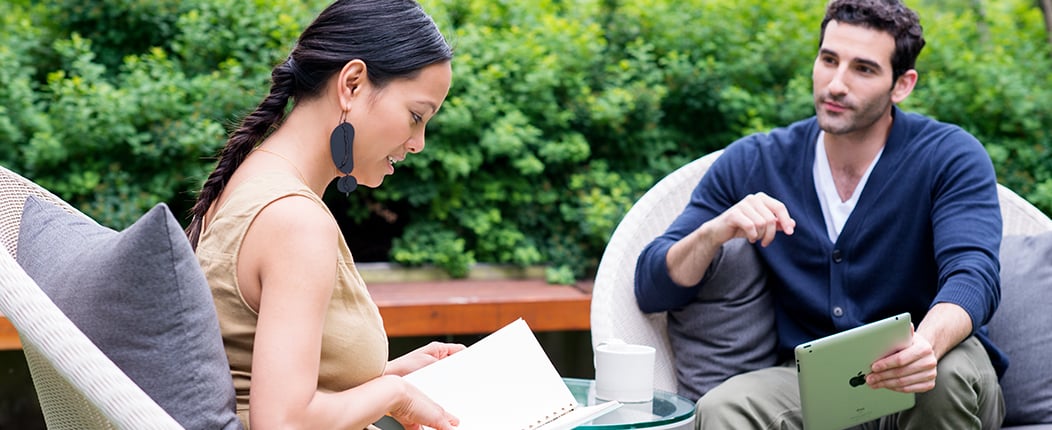 This Is Your Permission Slip, Go Work Outdoors
Being outdoors can inspire your best work
Lynn Metz, LEED AP, is a registered interior designer and Vice President of Sales, Architecture, and Design, for Haworth North America. With her expertise in space design and demonstrated history of working in the furniture industry, she engages in the understanding of human behavior and realizes the importance and impact it has for a successfully designed environment. As a member of Forbes Business Development Council, she is a contributing writer to Forbes CommunityVoice™, a digital publishing platform that connects experts directly with the Forbes audience by enabling them to create content and participate in the conversation.

Here is her article on working outdoors that first appeared on Forbes.com.
Now that it is officially summer, we all expect to see more Friday afternoon social media posts. They usually feature sunshine, back decks and a laptop. They almost always say "my office for the day." You might be jealous when you see that or there may be a figment of judgment that creeps in -- is that really work? In the age of working anywhere and anytime, I'd encourage you to answer that with yes. And, to try it yourself.
Remember when your high school teacher moved a lecture outside? Or, the excitement of an outdoor field trip in elementary school? While learning was different in those environments, it gave you a different energy. You can apply the same to work. Tackling your inbox, writing an article or slogging through a spreadsheet can be more enjoyable in an inspirational environment with fresh air.
Even if you don't have project work to do, take a break in the outdoors. Working outdoors can help you focus or it can help you imagine and collect your thoughts -- our minds require the ability for both convergent and divergent thinking to do its best work. Birds in the background, soft winds or a hum of general outdoor activity can provide non-distracting background noise to help you concentrate and focus -- known as convergent thinking. When you need to strategize and imagine solutions, an outside view, particularly one with a horizon line, can allow your eyes and mind to rest, allowing you to do the divergent thinking. These views can relieve strain and provide brief, pleasurable moments to gather thoughts or noodle on ideas. Being outside also encourages a more natural circadian rhythm. You can recharge, stave off burnout and return to high-performance tasks much more prepared.
As I write this, it occurs to me that it is common sense. We can't wait for the weekend to engage in the outdoors because it makes us feel good. Yet, we still struggle with the culture whether led by our employer or ourselves that being indoors at a desk demonstrates one is really working. We aren't aware of or don't appreciate the benefits that fresh air and the outdoors can offer to our mind's best work.
Yes, it is an age where "work" is anytime and anywhere. I have become accustomed to stepping outside for phone calls to embrace the fresh air, having team meetings outside to provide a change of environment and catching up on work early on Sunday mornings where I can enjoy the outdoors and have an occasional glimpse of my dogs dashing across the yard. It just feels less like work and more like a pleasant time to tackle tasks or gather thoughts. I have even spoken to colleagues who have done performance reviews in comfortable outdoor spaces instead of a four-walled office with a door and desk. Imagine the difference that could make.
Consider this your permission slip to get a breath of fresh air. Consider holding your next staff meeting at a park. Help change your culture and speak positively of working outdoors. Take a Friday afternoon selfie on your back deck. You will be more refreshed and inspired for it. Spaces and places can make a difference, especially when we think differently about use and inspiration.
Create Outdoor Spaces That Inspire
Find flexibility, relaxed sophistication, and performance with JANUS et Cie.