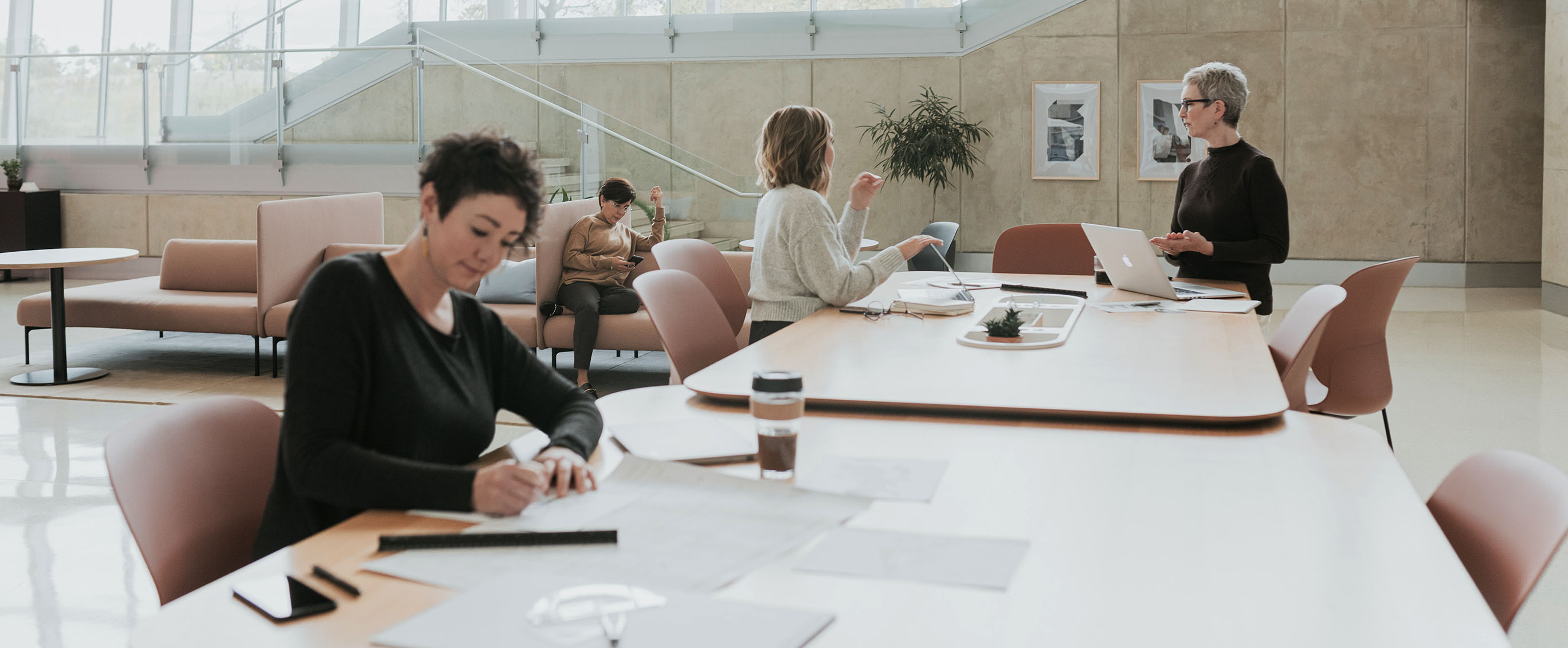 • 7 min read
Good colleagues and senior leaders can make a huge difference
In the fourth installation of our [email protected] series, we had the opportunity to interview Monika Passey, a Senior Designer at Oktra, an office design and building company based in London. With 12 years of experience in architecture and design, Monika has worked on many prestigious projects throughout the UK. In 2019, one of her projects won the UK Property Award for Best Office Interior. Several of Monika's other projects have been listed as finalists for accolades like the SBID Awards and Mixology Awards.
As part of her education at The Bartlett School of Architecture - University College London, Monika studied and authored work on the contemporary gender discrepancies in architecture—presenting a nuanced and considered observation on the position of the woman architect. After completing her postgraduate studies, she worked in London's construction industry—a hands-on opportunity to explore the evidence-based design approach she researched. Today, as a Senior Designer, Monika is the lead designer for one of the largest design and build projects in the UK.

Monika's education and experience give her a unique perspective on design and build projects—and what it takes for a woman to find success in the field.

[email protected]: What has your journey in the field of architecture been like?

Monika: I never planned to be in architecture. My dream was to be an astronaut like Kalpana Chawla. I was waitlisted for the aeronautical engineering course, so I decided to join architecture for a month to see what it was all about. I fell in love with the whole lifestyle. I got really inspired by many architects and the impact of the industry. It also made me proud of my hometown in India, Chandigarh, and its architectural history.  

After school, I lived in Auroville, India, and got really into sustainability. I ended up doing my postgraduate studies in Sustainable Environmental Design at the Architectural Association in London. In India, we see sustainability as vernacular architecture. Whereas in the UK, it is based on technology, analytics, and how they can help shape the built environment.

[email protected]: What has been your best professional decision?

Monika: There are two worth mentioning! Education-wise, the turning point was an internship in Auroville, which led me to my post-graduate degree. Professionally, it was when I left the traditional architecture practice and moved into the design and build field about five years ago. Design and build work is fast-paced compared to traditional architecture. As an architect and a designer, you get a lot of hands-on experience with the construction industry.

[email protected]: What is one of the biggest challenges in your life that you have worked to overcome?

Monika: I am very petite and, because of that, I face a lot of challenges. People don't always take me seriously until I tell them how old I am or what my role is. Sometimes, this makes it hard to voice your opinions because you come across not looking mature enough to make decisions or give orders. Having said that, it is just the first barrier. I don't let it get in the way of me doing my job well!

[email protected]: People argue that women have to put in more effort to be noticed in the workplace. Do you agree? Do you have any examples of this reality in action?
 
"
In the construction industry, getting noticed was never a problem for me. Women get noticed by default here because there are so few. The real issue is getting your voice heard.  
"
Monika: Imagine being on a construction project, mostly surrounded by men who have never taken orders from a petite South Asian woman before—it feels a little daunting, right? I have been fortunate that I have had seniors on the team who helped to put me in the right position during their introductions. Their vetting of me helps set the tone for the rest of the project—and helps mitigate problems that could arise later.

[email protected]: If and when a woman wants to start a family, her career often takes a hit. Do you know or have ideas of positive measures that companies or governments have implemented to support women returning to work?

Monika: I am not a mother, so I don't have first-hand experience, but this is a highly discussed topic. I think as far as maternity is concerned, the UK is doing well. Still, there are a lot of things that we can learn from Scandinavian countries where parental leave is given to both parents. After all, it's not just a woman's responsibility to raise a child! When support is provided for both parents, women can go back to work sooner if they want to. Having said that, I do think the UK is doing much better compared to my home country of India, or even the US.
 
[email protected]: Why do you think it is important to have a mentor and how do you find one?

Monika: Early on in my studies and career, I read in business books about how important mentorship is. But I never really believed it until I had my own experience. I've been lucky enough to have good colleagues and senior leaders who have helped me to grow to where I am today.

I have had bad experiences at work and that's where a mentor can really play a critical role. A mentor is that one person whom you can rely on—someone you can ask for advice or critiques. Having someone who can help you navigate through difficult situations is so important.

If you are shy and have a hard time opening up to people in your own company, there are always mentorship programs and clubs, even online. In some cases, women from different professions such as finance, insurance, technology, or construction can come together and provide mentorship to one another in a safe space.

[email protected]: What is your advice for a young person just starting out in their career?

Monika: Don't be too focused on your destination. Enjoy the journey because there is so much you will learn along the way. Get your hands dirty and don't shy away from doing any kind of project. This process helps you figure out what you enjoy doing and what you don't.

[email protected]: Where do you see yourself in 10 years?

Monika: In 10 years, I see myself growing professionally and taking on a leadership role. I would like to focus on the big picture, rather than working on small design. As an architect, it's easy to get stuck in fine details and execution—and I think my strength lies in strategy.

[email protected]: What has been your experience regarding gender across different cultures or countries?

Monika: I grew up in India and when I moved to London, I realized that the spectrum of gender inequality for me was different from those who grew up here. Whatever gender inequality occurred in the UK seemed miniscule to me because my standards were set in India. Many times, I didn't even notice an inequality in the UK until it was pointed out to me by colleagues or friends. It is no excuse, but certain things were acceptable to me because I had seen worse in India.
 
"
Your background, the exposure you get, and your life experiences have the power to change your perception about the world.
"

Over the years, my level of acceptance changed as my exposure grew. From gender roles to poverty, I began to see the world differently. For example, when people would tell me about poverty in certain areas of London, I would be confused because poverty looks very different in India.

Your tolerance level and your perspective change as you adapt and grow into a new environment—that's what happened for me. Your background, the exposure you get, and your life experiences have the power to change your perception about the world. I don't see gender inequality the same way I saw it 10 years ago—and that is a good thing.

And that concludes our latest [email protected] interview. We hope you were as inspired by Monika's journey as we were.  
If you know any other women with interesting journeys in the fields of real estate, workplace strategy, or architecture at any stage of their career, connect with Adithi Khandadi and Nishtha Bali on LinkedIn.