Design for Social Change
The handmade beauty of GAN rugs
Designers have long known the power of rugs to transform a space, infusing it with warmth, beauty, color, and definition.
But can rugs also bring economic development, empowerment, and stability to a region of the world? In the case of Bandas Space, a collection of handmade rugs by Patricia Urquiola, the answer is yes.
The Bandas Space collection by GAN, a Haworth Collection brand, was born in conjunction with a social cause: The Rural Women Development Project. GAN director Mapi Millet began to envision the concept during one of her many visits to India, where all GAN rugs are handcrafted. A tireless traveler who firmly believes that handmade products add quality to our lives, Mapi spends a lot of her time researching handicrafts from around the world, and developing new techniques and processes that allow both users and producers to benefit from the essence of the handmade world.
"When you get so much from a country, and it's a place like India that needs so much, you start thinking about what you can do to give back," said Mapi. "More than 80% of the people working for GAN are women, so it made sense to focus on women—particularly women in India, who lack financial stability and decision-making power. The way to best help these women is to give them continuous work and pay they can count on."
Mapi shared her vision with Patricia Urquiola, who was eager to collaborate with Mapi on the project.
"We came up with the idea to make a line of embroidered rugs to take advantage of a skillset that almost all women in the region have," said Mapi. "We were excited about the design possibilities, because you can do anything with an embroidery needle if you have the skill. Embroidery work is also portable, so the women can take it home and work on it there if needed. They are often caring for children or older relatives, so they can continue doing their paying job at home."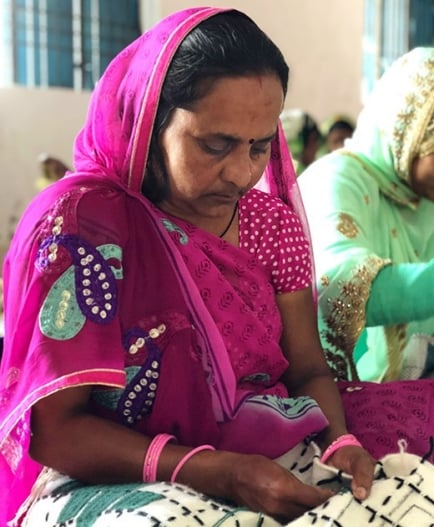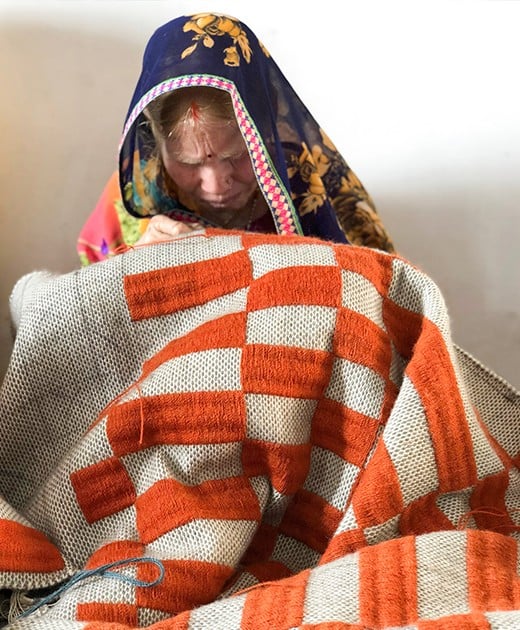 Consulting with the women, Mapi learned that 60 centimeters wide was the maximum size they could work with. Rather than see the size restriction as an obstacle, Mapi and Patricia saw the creative possibilities. The idea of Bandas—bands of carpet—was formed.
Modularity and flexibility are hallmarks of Bandas Space rugs, which can be used alone, placed end-to-end for a long runner, or mixed and matched to create wider rugs with playful, unexpected designs, layers, and colorways. Crafted of pure wool, the rugs are embellished with the unlimited color, texture, and design possibilities that embroidery allows.


"Handmade has been a focus of the GAN brand from the beginning. With everything we make, it must be handmade. The best carpets that last have always been made by hand, for centuries. It's important to keep all this knowledge of the artisans."
Mapi Millet
Creative Director at GAN

 
"As we've explained the project to other designers, they've been inspired to create designs for Bandas," Mapi said. Claire Anne O'Brien (Knitted Stools), Sandra Figuerola (Rustic Chic), and Neri & Hu (Lan collection) all have a passion for handmade objects, a restless desire to research new techniques and to experiment, broadening the limits of their creations. "The relationship is like a beautiful triangle among the designers, the artisans in India, and GAN."
It's likely that those who are fortunate enough to be in spaces featuring Bandas are also inspired—whether or not they know of the social mission woven into Bandas rugs.
"Rugs give a space warmth, in the fullest sense of the word, and these rugs are very special," said Mapi. "The artisans behind them and the handmade quality is the real definition of luxury. Each piece has been touched by hands, which means one carpet is never exactly the same as another, because it was not made by the same hand or the same eye or even mood. Machines can't do that."
Bring People and Spaces Together
Discover trends, considerations, and inspiration for using rugs.