• 4 min read
Adapt to Thrive in a Time of Coronavirus
Workplace affordances to support well-being
Employers around the globe are faced with protecting their employees' health in the face of the COVID-19 pandemic. As we implement solutions like staggered schedules, remote working, and redesigning floorplates to put more space between people, there's an important question to ask: Are we adapting to simply survive or are we adapting so we thrive? 
Acclimating to the new normal means organizations that want to thrive must evaluate the physical, emotional, and cognitive needs of their employees. When adjusting the workspace for physical distancing, affordances (elements of a space that encourage certain behaviors) should be taken into account.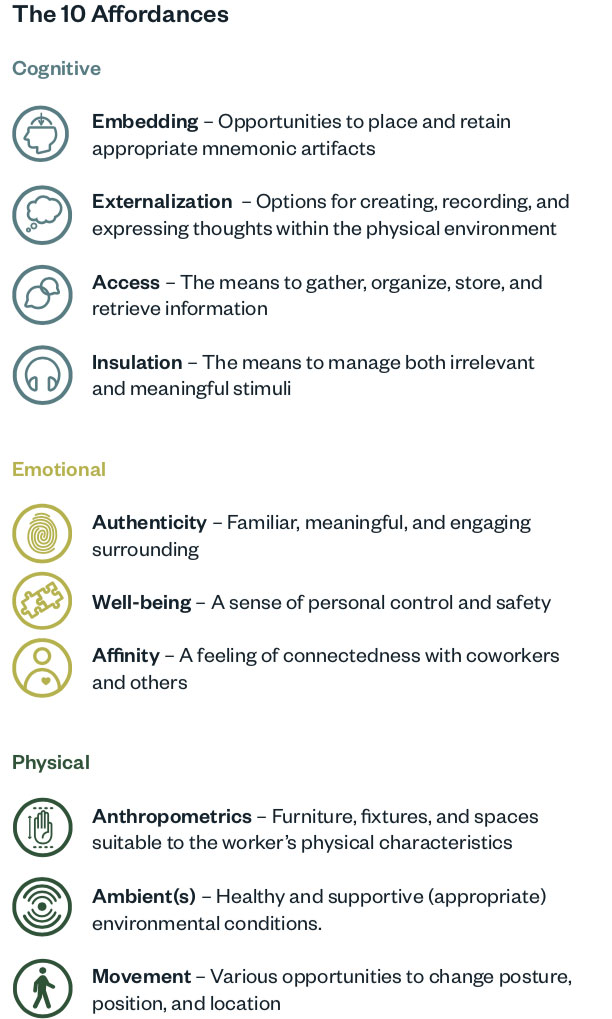 During this time of transition, five affordances that relieve stress and provide security should be considered for physical distancing: insulation, well-being, affinity, access, and movement. Let's look at what each means for adapting the workspace.

Insulation
Insulation is the means to manage both irrelevant and meaningful stimuli. It's important in the workspace because acoustical design affects stress levels due to technology, distractions, and extra noise.
In the short term, physically distancing workpoints will help reduce virus transmission. However, the expanded space between people means they'll have to talk louder. And, sound will travel through space differently. Long-term planning will have to take insulation and sound masking into account. 
Well-Being
A sense of personal control and safety takes on a new dimension in a world with COVID-19 infections. In addition to being concerned about their own well-being, people are concerned about the possibility of contracting the virus and unknowingly spreading it to loved ones at home.
A shift from unassigned to assigned spaces and adjustments to workpoint configurations will help protect employees. Some surface materials may need to be switched out to accommodate cleanability.
On a behavioral level, leaders will have to communicate guidelines for cleaning and use of spaces.
Affinity
Creating a feeling of connectedness with coworkers and others is more important than ever now that we must maintain physical distance to protect health. One of the first examples of physical distancing at work we saw was the White House press briefings. Some seats were designated to remain unoccupied but journalists and government officials managed to keep their distance and still do their jobs.
Daily face-to-face interactions, in person and via technology, will help alleviate loneliness and build connection.
Technology will certainly play a role in maintaining a feeling of connectedness, but so will space. Collaboration spaces will still be needed, although they'll look and feel different as people are spaced apart—a bit like those press briefings.
Access
Access refers to the means to gather, organize, store, and retrieve information. With a combination of remote workers and people on site, access to coworkers will be restricted.
Organizations that thrive will ensure that people have the information they need, wherever and whenever they work.
Physical and virtual elements will be part of the solution to the challenge of access. Technology will play a bigger role than ever in connecting on-site and off-site team members.
Movement
The push for isolation needs to be balanced with the physical need to change posture, position, and location. We are made to move! The American Heart Association reports that organizations that create a culture of movement can increase productivity, reduce absenteeism, lower turnover, and reduce healthcare costs.
In addition to assigned seating, the workplace needs to provide individuals with a variety of spaces to safely accomplish their work.
As you evaluate movement, consider options that maximize mobility, flexibility, personalization, and cleanliness.
In the new normal, the workplace will migrate from dense floorplate designs to arrangements that comply with physical distancing protocols. In the short-term, this means a reactionary reconfiguration of existing furnishings. Long-term, employers will have more time to plan and adjust the workplace with strategies that consider affordances. 
At Haworth, we're positioned to leverage our global knowledge, unique point of view, and product and space expertise to develop best practices to balance the needs of people and space. To discover more about leveraging affordances explore our unique approach to the return to work(place).