A Look at the Legal Workplace of the Future
3 trends that will change legal workplace design
No one has a crystal ball for predicting the future but research offers a guiding light. The Haworth Research team has been studying how shifts in demographics, technology, service delivery models, and more are changing the way law firms and legal departments work. Here are three trends in population and process, and how they may affect the legal workspace.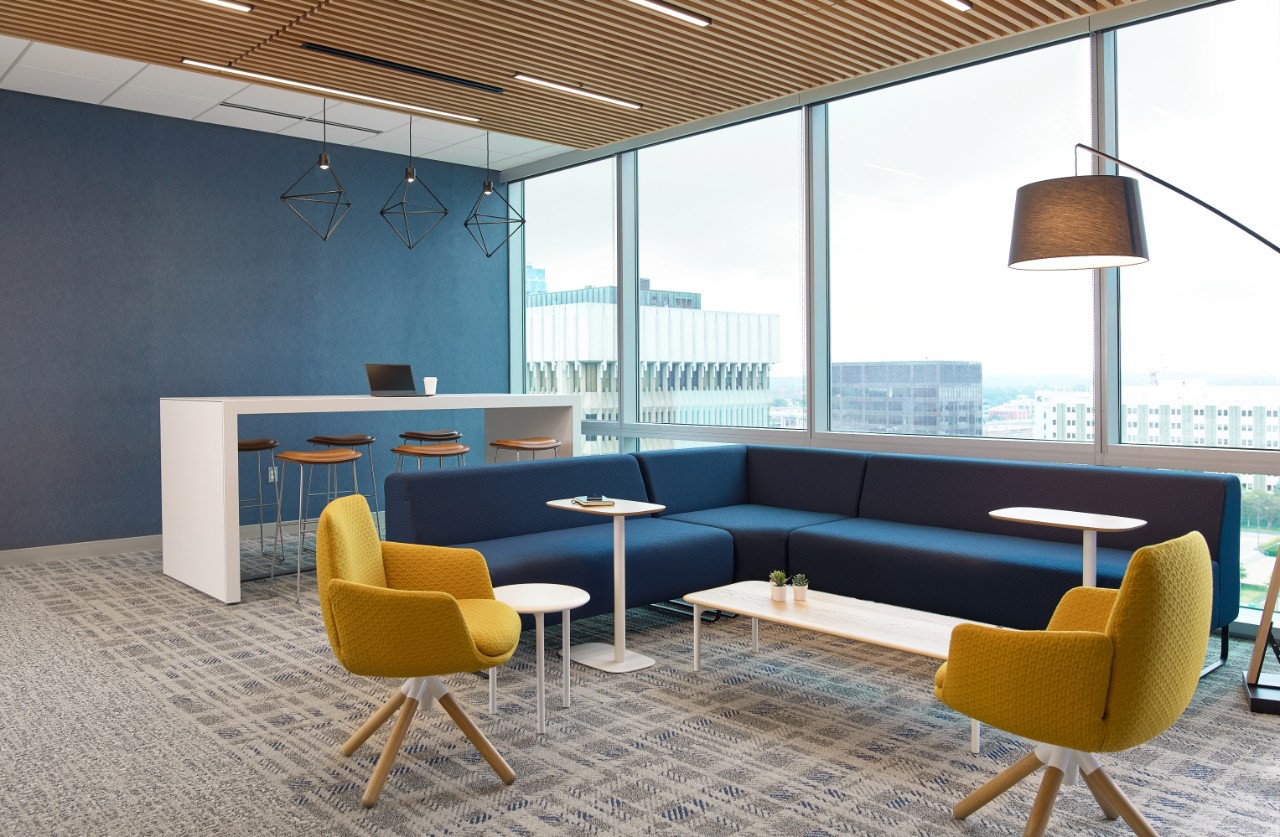 Trend #1: Demographic shifts will require workplace design changes
While male attorneys currently outnumber female attorneys nearly 2 to 1, the number of females has risen 5 percentage points in the last decade. In 2019, women made up 36% of the lawyer population, a significant increase since 1970 when they accounted for only 3%, according to the American Bar Association.
The trend toward more female attorneys will continue to grow. In 2014, there were more female law students (50.3%) than male law students. Since then, women have continued to outnumber male law students, and in 2018 the proportion of female students grew to 52.4%, as noted in the Enjuris law school rankings.

Minority enrollment in law schools has gradually risen too. In 1978, minorities represented just 9% of enrollments. By 2011, that number grew to 25%. The American Bar Association identifies today's law school class as 63% white, 13% Hispanic, 8% African-American, 6% Asian, and 10% "race unknown" or "other."
As contemporary law students graduate and get jobs, female attorneys will eventually outnumber males, and minorities will have a greater presence in the workplace.
Another shift legal firms and departments must grapple with is the reality of multiple generations working side by side. In some workplaces, this means a 50-year gap between the youngest and oldest workers.
Here are design adaptations we'll see as a result of demographic changes in the legal workforce:
Furnishings sized to fit women.
Desks, chairs, and meeting spaces will adapt to the needs of aging workers and encourage all staff members to move throughout the day.
Productivity will be enhanced by the ability to access information and knowledge anytime, anywhere.
Spaces will support soft skills such as collaboration and creativity.
Trend #2: Tech advances change the use of space (and how much is needed)
Technology advances are rapidly changing the physical space of law firms and legal departments. Online databases such as Westlaw and LexisNexis have reduced the need for massive law libraries. Electronic court filing systems mean less space is needed for document storage.
The space freed up by a shift to digital references and documents will provide opportunities to reduce a firm's footprint, or convert space to new uses. A lounge, café, or breakout space that promotes collaboration could take the place of a law library or file room.
The design of new legal offices will be flexible and adaptable. Configurations that foster communication and support new technology platforms are key. An Organic Workspace design strategy that aligns with people's needs to keep them effective—and ensure efficient use of real estate—utilizes modular furnishing components that are quickly and cost-effectively reconfigured as needs change.
Trend #3: High touch is as important as high tech
While artificial intelligence (AI) and technology will continue to impact the delivery of legal services, the practice of law is still human-centered. Experience, improvisation, and human analyses will remain essential. As routine work becomes automated, emotional intelligence and people skills will become even more critical.
Advances in technology will allow future lawyers to return to the role of trusted advisers. Streamlined processes, and other paraprofessionals and professionals will liberate them to focus on core tasks like interpreting data and applying their professional judgment to solve client challenges.
Design decisions will consider both the physical and emotional experience of workers. To provide healthy and supportive environmental conditions, office acoustics, lighting, thermal comfort, and air quality will be designed to create a feeling of connection with coworkers and others. Office design will also help build an organizational culture of belonging, engagement, and trust where workers feel safe, secure, and inspired.
Collaboration, technology, flexibility, and the human touch are key factors influencing the legal workplace of the future. Transcending the traditional space to meet the needs of a diverse workforce and accommodating the workstyles of multiple generations will position law firms to create a strong cultures, maximize productivity, and attract young practitioners of law.