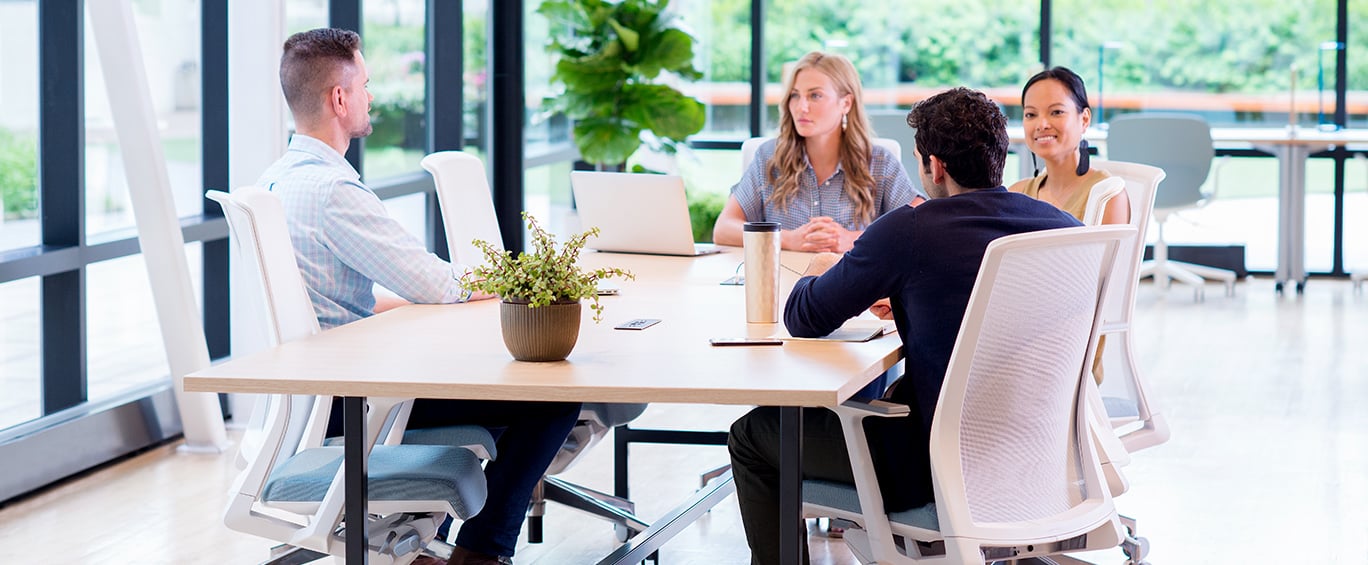 Getting a Customer's Perspective
Great space design begins by putting on their shoes
"You never really understand a person until you consider things from his point of view… until you climb into his skin and walk around in it."
— Harper Lee, To Kill a Mockingbird
It is rare that those with a hand in designing and creating workspaces spend enough time with occupants to understand their needs. However, it is crucial to know how people actually use their spaces—not just what the space's intended use is, as these are not always the same. At Haworth, that is why we partner with clients, real estate leaders, and A&D firms to listen and understand—ultimately informing development and solutions for better workspaces.
Ethnographic research is one way we can get close to walking in our end-users' shoes. Using a variety of methods, including from surveys, in-depth interviews, observations, and focus groups, Haworth research team members embark on extensive studies, gathering a multitude of qualitative insights to help us understand. With this research and the results, we work with our customers, industry influencers, and dealers to create new ways of designing, building, and maintaining interiors.
Recent examples of this practice are two studies Haworth did in collaboration with SmithGroup, an architectural, engineering, and planning firm. These studies took place at two of SmithGroup's own office locations.
 
The first study set out to understand the impact of height-adjustable workstations on individuals moving to unassigned workstations. These are two of the largest trends in our industry today. Haworth and SmithGroup both wanted to understand the impact on employee effectiveness. Therefore, a small subset of SmithGroup employees in the Dallas office was asked to participate in unassigned applications. Three variables were tested to include height-adjustable tables, varying screen heights, and workstyles of unassigned workers. Along with many other interesting and useful findings, it was discovered that standing-height applications were preferred for sharing information when collaborating with team members.

In the second study, we set out to understand if additional user control and choice would enhance an already highly-functioning workgroup. At the SmithGroup Washington DC location, a group of 16 individuals were asked to select a personal desktop screen and use it within their individual workspace. SmithGroup's studio environment is very open with benching workspace applications. All the occupants placed their new screens to help delineate space and more than half of the individuals used the screens to personalize their space with visual artifacts, such as photos.
 
These studies and others like them are beneficial endeavors for Haworth, helping us validate our primary internal research, as well as build a better understanding of occupants in the open-plan environment. SmithGroup did the same, by using their own spaces as the living labs for these studies. When A&D firms and individual designers understand the necessity of this type of research, it demonstrates a desire to understand their customers and their commitment to creating better performance in the workplace.
To learn more about Haworth's workplace research, read these studies and others at haworth.com.