4 Generations at Work
Is your company prepared?
In a few years, workspaces will have to accommodate four generations of workers, each with different work styles. Here's what HR leaders need to know.  

Increasingly, Human Resources is influencing workplace strategy. We know from years of study that work environments greatly affect employee health, engagement, and well-being. Collaborating on decisions impacting planning and use of office buildings, HR leaders can help organizations create workplaces that produce positive effects. Exponentially changing technology has paved the way for a new workplace—with the need to accommodate agile workers who span four very distinct generations.
Workplaces Must Consider All Generations
When it comes to workplace strategy, it's no easy task create a place that enhances productivity and well-being for all. By the end of the decade, four generations will be sharing the office environment. Generation Y will be most of the workers—and today's workspaces accommodate this generation by mixing residential warmth and theme park excitement, encouraging agility of employees. Working alongside Gen Y are Baby Boomers, Gen Xers, and Gen Z young adults.
Each generation brings different perspectives to work, with varying needs to accommodate.

Agility Offers Choice
An agile workplace puts people in charge of where, when, and how they work. It differs from traditional office space by offering variety, openness, surprise, and complexity with a homey vibe. People gain a sense of satisfaction and control in this work environment. However, if the space isn't planned well, ambiguity arises about the intended use of specific spaces. 
Gen Y comprises most of the workforce. These workers demand choice over location of their work and a variety of options in spaces to use.
Gen Xers grew up in an era of instability caused by mass layoffs and rampant divorce—they value clarity, order, and certainty. At the same time, Gen Xers are often distracted and multitasking.
Among Gen Z, the oldest are still in high school and they are being raised to highly value stability, order, and predictability in their lives. They are "almost congenitally distracted" like their Gen X parents. They will struggle to manage interpersonal work relationships as adults. Contrary to some assumptions, Gen Z is not simply an extension of Gen Y.
Many Baby Boomers are still years away from retirement. Some will face "aging in place" and struggle with physical challenges such as declining vision, hearing, and mobility.
Legibility Fosters Agility
To create workspaces that foster well-being for a diverse workforce, offices must be designed for legibility, as well as agility. This means that:
People can easily create a mental map of the layout and find any location in the building.

People can see ahead to landmarks, both inside and outside the building, for easy navigation.
Architectural differentiation, signs, and graphics provide information about the location and intended use of spaces.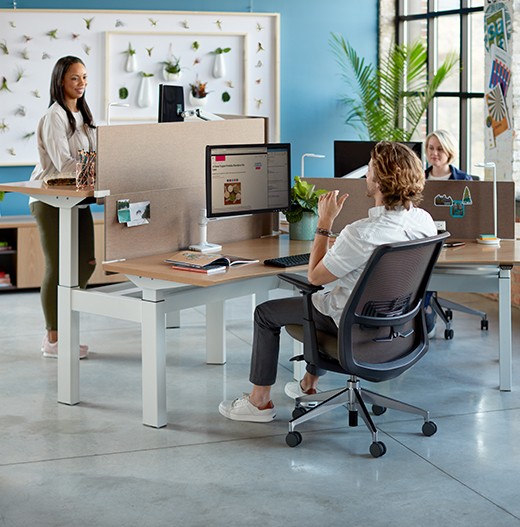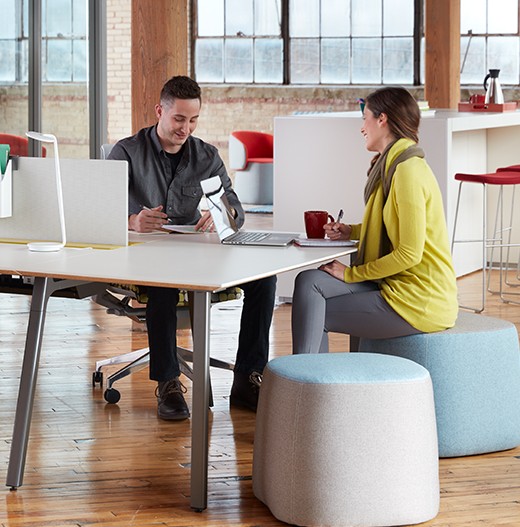 Dr. Mike O'Neill, Haworth Workplace Research + Workplace Strategy + Business Intelligence Lead, says, "Legibility is a people-centered approach to design because it puts people's needs first—it is intended to create a positive work experience that makes it easy to locate the type of space needed, and quickly and effectively use each space type."  
To understand the value of a legible space, let's look at what happens in one that's not.
If the intended use of the space and its technology is ambiguous, people will avoid using them or waste time trying to figure out how to use the space and furnishings.
Legible workspaces create a positive atmosphere, where people can work how and where they are most comfortable and productive. Within workplaces that are both agile and legible, there are spaces that support a variety of workstyles and tasks—from focused to collaborative. It's a bit like being a wedding reception where everyone, young and old, gets out on the dance floor, with the space to do their own thing. Everyone enjoys it more.

"
"Research indicates that good legibility can have a positive impact on stress reduction, suggesting that this should be a consideration when designing habitats in any setting."  

—Ann Harten, Haworth Vice President of Global Human Resources
"
Legibility fits naturally with the goals of HR. Read more about the ways HR can enable people to collaborate, engage, and navigate their space in Ann Harten's article "Is Your Workspace Legible?"