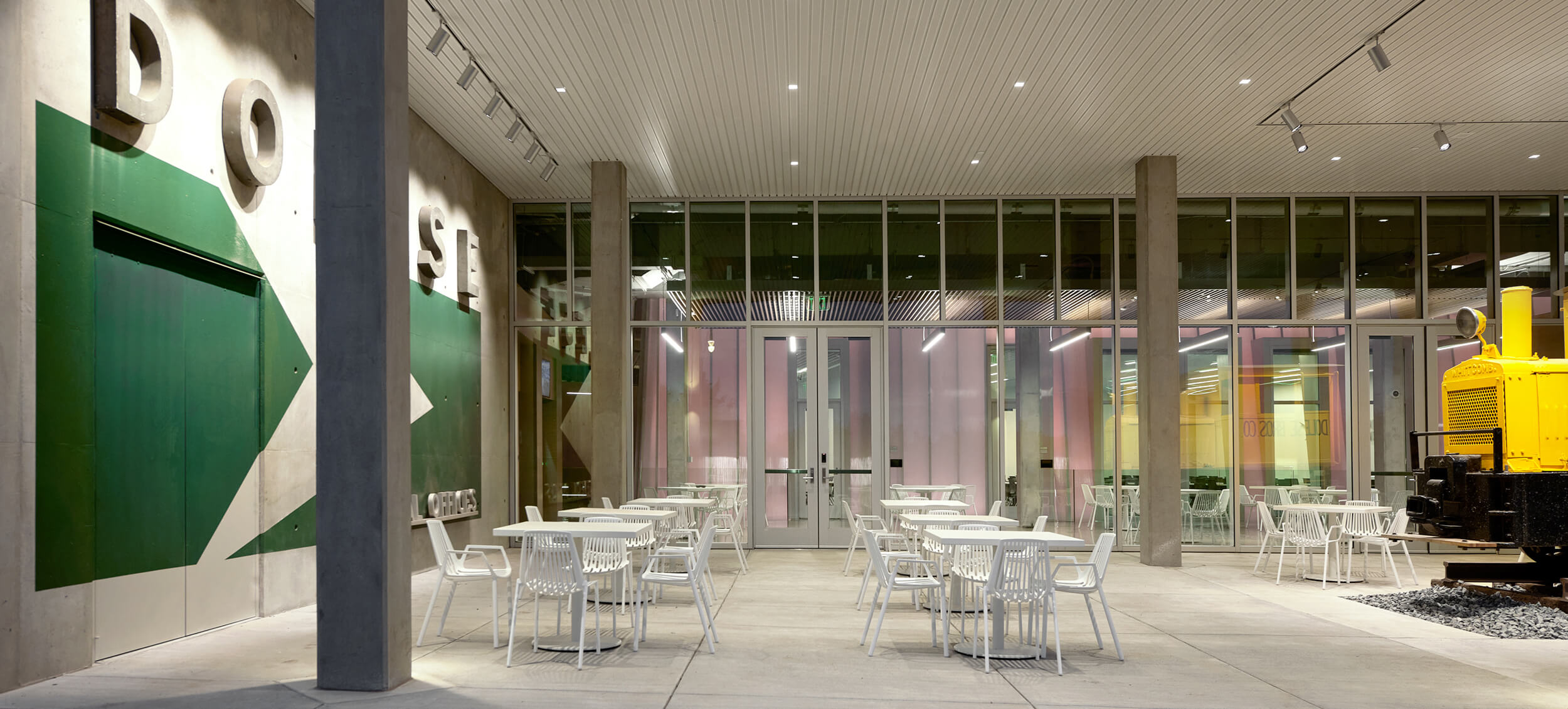 • 4 min read
How 3 Companies Created Unique Brand Experiences
Find success when integrating brand elements into architecture and design
Brand plays a powerful role in any business. To understand the importance of brand as it relates to workplaces and interior spaces, a good starting point is with an iconic brand. For example, many of us can probably picture Cinderella's Castle, even if you've never visited the Magic Kingdom in person. There's no doubt that the castle embodies the Disney brand—magical, whimsical, nostalgic, and happy. Disney builds spaces and experiences that fully embrace and embody the brand—and the results are often one-of-a-kind, stunning, and inspiring.

Businesses around the globe can achieve similar results when they look to make physical workspaces, from the ground up, an extension of their brand. Here's a look at how 3 Haworth clients have made the buildings where work gets done true extensions of their individual brands.

A Sophisticated Showcase of Mining Materials

The Dolese Bros. Co. started out over one hundred years ago as a humble mining operation. Today, Dolese is Oklahoma's largest supplier of ready-mix concrete, sand, crushed stone, concrete block, and other foundational construction materials. To build a new Support Services Center, Dolese used architecture and space design to reflect both their history and the diverse portfolio of building products they supply.

Architect Hans Butzer explains how the design team, architects, and engineers sought ways to use different types of Dolese building materials throughout the project—both within the building itself, as well as the landscape and the site. The core structure is a concrete frame, and it was made as thin as possible.  
Outside, boulders serve as a means of wayfinding. Inside, spaces were finished with concrete walls, stone, and aggregate materials for floors. There is even a "chute" of stairs that evokes a concrete mixing truck.

Signs and graphics showcase the Dolese name, reinforce company values, and pay tribute to the company's history. Brand is recognized using accents in Dolese's signature green for elements like exterior panels and interior tiles. A variety of stones and aggregate materials are used throughout for conference room tables and flooring. Nature hues in seating fabrics and materials complement the mined materials employed throughout the space.

Dolese also features a building within the building called The Gem. With its digitally programmed, color-changing walls, The Gem serves as the heart of the Support Services Center. With The Gem's visibility, the brand experience extends community and acts as a reminder of the treasures Dolese mines from the Earth in a way that both reinforces and celebrates their brand.

Reflecting Brand Personality and Culture

As the primary milk marketing cooperative for 14,500 dairy farmers nationwide, the Dairy Farmers of America (DFA) prides itself on being member-focused. For their new office, DFA created a modern, interactive, and collaborative environment that helps build a smart, responsive, and forward-thinking culture.

One of the most distinctive elements of DFA's new space is the sculptural "milk pour" in the reception area that starts on the third floor and flows down to the ground level. From the moment you step into the building, you know this organization is all about milk.


The DFA's lighthearted approach to dairy décor is evident throughout the building. Textiles, patterns, and unique design elements like cheese graters, cow tags, and milk bottles that form three-dimensional patterns are used to accent walls. Cowhide and leather materials and textures serve as a reminder that DFA's work is all about supporting dairy farmers. A usable milk bar with milk bottle and barnwood accents offers a place where employees and visitors can sample different milks. Plus, several home-like living room areas on each floor invite employees to freely gather, meet up, collaborate, and connect with one another away from their workstations.
Honoring Company Heritage in Community
American Water is the largest investor-owned water and wastewater utility company in the US, providing safe, clean, reliable water services to 14 million customers. After careful consideration, American Water's leaders chose to build a new headquarters along the Delaware riverfront in Camden, NJ.

The Camden location affords the perfect opportunity for American Water to inform perceptions of their brand—so people view them as a dedicated community partner in addition to a vital utility. The company created a landmark for the city that not only serves as an attractive workplace destination, but also draws residents to the space.



Inside the building, American Water wanted everyone who enters the doors to immediately understand their heritage in water. Nearly everything relates to water, including two magnificent atrium waterfalls and a flowing five-story staircase that spans the windows along the river. Interiors complete with furnishings—like the Lantern area with water droplet sculptures—showcase a strong connection to water.

Outside, a large, relaxing public park—with river views, walking paths, grassy areas, and tables—provides a beautiful outdoor venue for community events, picnics, and even 4th of July fireworks.

While each of these businesses runs very different operations, there is one conclusion that can be drawn from the examples above: with brand awareness, creativity, and planning, every organization has the potential to make their building an extension of their brand.   
Haworth Customer Success Stories
Find design inspiration and more in our project case studies and image galleries.