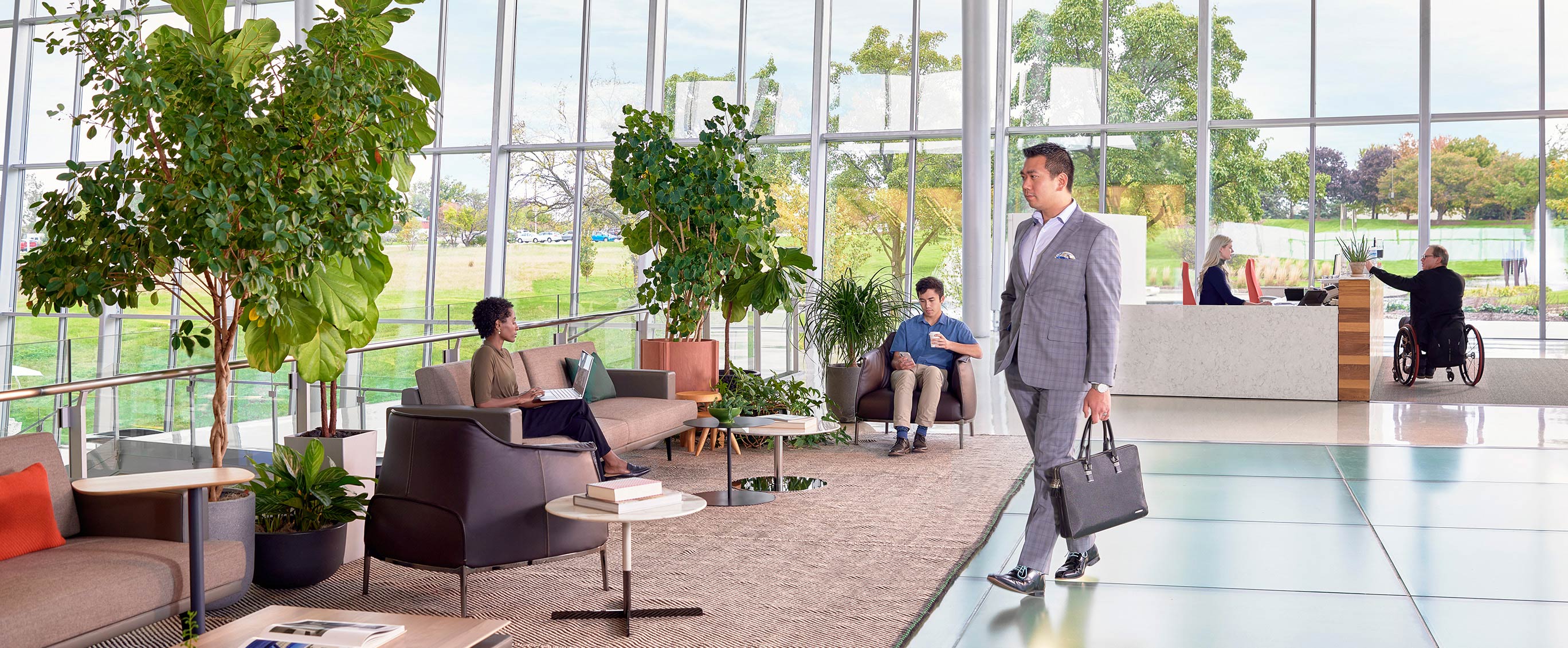 • 5 min read
Creating a Desirable Workplace Experience
How Haworth's HQ helps keep employees connected and healthy
The foundation for relationships with employees begins with a first impression. That's why, at Haworth, we create inviting spaces that foster both connection and productivity—spaces for building a culture where people feel welcome, safe, and comfortable—places where people actually want to work. Through extensive research, we've discovered that offering a variety of spaces that allow employees to choose how, when, and where they work greatly enhances their experience and well-being. Plus, it helps retain employees. Here are four elements in practice at Haworth headquarters that can be adopted by any company that wants to keep people engaged and empowered.   
Space Designs Driven by What People Want

While many people can work from anywhere, the office has become a place they want to be. People crave in-person encounters and value the human interaction that comes with them. This is a key reason they will keep returning to the workplace—because they know they'll have opportunities for face-to-face connection, collaboration, and socializing. Haworth HQ gives employees a variety of spaces to choose from that facilitate the personal connections they seek.

At our coffee bar, people can take a break, grab a cup of coffee, chat with one another, have impromptu meetings, or work individually. Outdoor patios provide a change of scenery, fresh air, and natural light. Workspaces located within "neighborhoods" provide a tangible team atmosphere and support collaboration. And, freestanding Pergola workspaces add architectural interest as well as places where people can connect, collaborate, or focus.


In each space, color, form, and texture create an atmosphere that's uniquely Haworth. Experienced together, the variety of spaces creates a destination where people want to work.

Technology for Communication and Seamless Work
At Haworth headquarters, we've given special attention to upgrading technology to better facilitate communications and workflow.  

Our conference room technology optimizes meeting experiences with simple-to-use wireless connectivity. The use of workstream collaborative tools helps create an equitable, collaborative experience for teams, allowing for contributions from team members who may otherwise not get the chance to offer their thoughts and ideas. For example, Bluescape technology makes it easy for individuals and teams to create, interact with, and share content in real-time on different devices—resulting in a better flow of ideas, feedback, and collaboration.


The online reservation system helps optimize the meeting experience by matching conference rooms with the size and the needs of the teams meeting there. Anyone organizing a meeting with remote team members can see at a glance which conference rooms have integrated audio-video capabilities and select one that is the right size for the group meeting in person. A variety of small, individual capacity rooms may also be reserved by anyone who needs a place to focus.

Some spaces also offer walk-up booking. A touchscreen display outside each room allows employees to see the current schedule, reserve the room, or make changes and cancelations to previously scheduled bookings.  

Choice in Where, When, and How to Work

When the Haworth team (as well as millions of other people) were required to work from home because of the COVID-19 pandemic, we learned that people value the workplace for its variety of spaces that promote collaboration. Many people also prefer the workplace for focus and creative work because there are fewer distractions. They've found new rhythms of working that better suit their style and personal responsibilities.

A culture of trust is key to our successful Work from Anywhere approach. When people have the flexibility to choose where, when, and how they work, they feel trusted. Productivity and innovation flourish. Haworth's flexible hours and spaces draw people to the workplace and inspire them to do their best work.
A Workplace Designed for Well-Being

We've long known that the workplace has significant effects on employee well-being. We also know that employees need change throughout the day. Early-morning focus work may be followed by a break for coffee or exercise. Later in the day, collaborative teamwork may be the focus of activity. The key to creating a healthy workplace like Haworth HQ is to provide a variety of spaces that allow people the movement, flexibility, and support they need.

At Haworth, employees are encouraged to take breaks and move throughout the day to spaces like the coffee bar and outdoor patio. A quiet room with comfortable seating and dim light provides a place for those who need relaxation or restoration. The front porch—an indoor area with vast windows—also offers places of retreat with various degrees of privacy, allowing people to select an environment that best suits their needs at the moment.

While access to natural light from an abundance of windows helps create spaces that support mental and physical well-being, Haworth employees also have control over lighting in personal workspaces. In addition to reducing eyestrain, the ability to adjust lighting position, brightness, and dimness provides a positive experience for employees. Window blinds in common areas and umbrellas in outsides spaces provide even more lighting control as sunlight shifts throughout the day and from season to season.

Of course, there's nothing like exercise to reset body and mind. Our redesigned fitness center at HQ features well-appointed locker rooms with showers, a yoga studio, weight room, treadmills, rowing machines, and spin bikes. People enjoy having choices for both individual and group exercise as well as the freedom to exercise when they want. With the fitness center on site, coming to work also means opportunities to be fit and stay healthy.


Workplaces, like Haworth HQ, that address employee needs through space design will create a lasting impression—one that enhances culture and the employee experience to attract and retain top talent. 
Discover more about creating a desirable workplace that enhances the employee experience.