4 Types of Collaborative Space
Designing for the reasons people meet
When people work together, great ideas are born and connections are made. People learn from one another. And project progress happens faster. As technology has expanded our ability to work anywhere—including from home—we are increasingly seeking out opportunities to collaborate and connect face-to-face with our teams.
Designing for collaboration helps create an environment where employees feel valued for their unique experience and input. Haworth's global research team has distilled the reasons we meet into four primary collaborative activities, and here's how you can design workspaces to support each: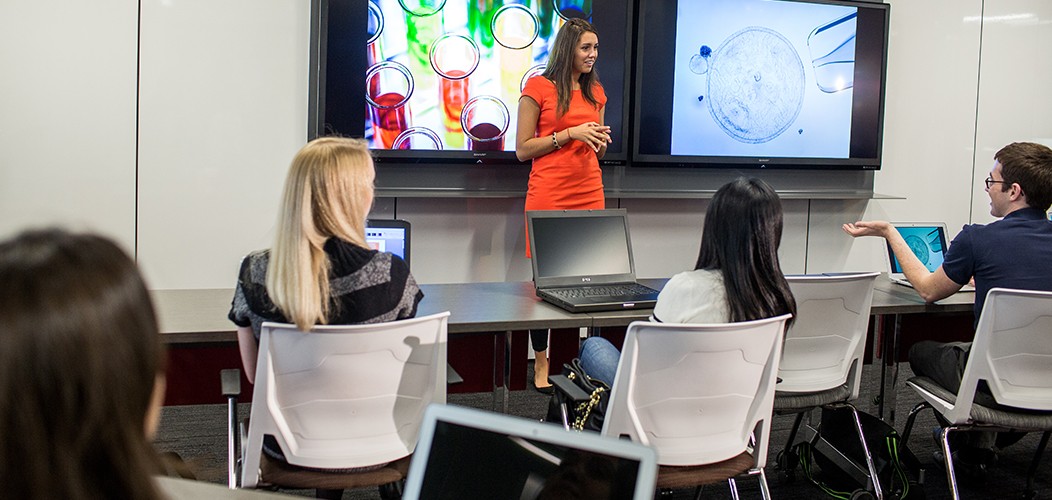 1.  Presentation Spaces typically have monitors and conference chairs that face a presenter. We tend to use these spaces to visually share information and data, learn from a trainer, or hear from a guest speaker. People are encouraged to listen to the presenter and ask questions at specified times, such as at the end of the presentation in the case of a speaking engagement, or they can collaborate with one another during a training session. At Haworth, presentation spaces enable collaboration for large department-wide meetings, guest speakers, and client engagements. 
The local chapter of Toastmasters finds these types of spaces at Haworth ideal for their presentations. Kris Pierce, Development Engineer of Surfaces Materials and VP of Public Relations for the Haworth Holland Toastmasters Club explains, "The presentation space our club uses is flexible enough to accommodate a wide range of members and enables speakers to illustrate their topics using technology or white board space that can be easily viewed by all."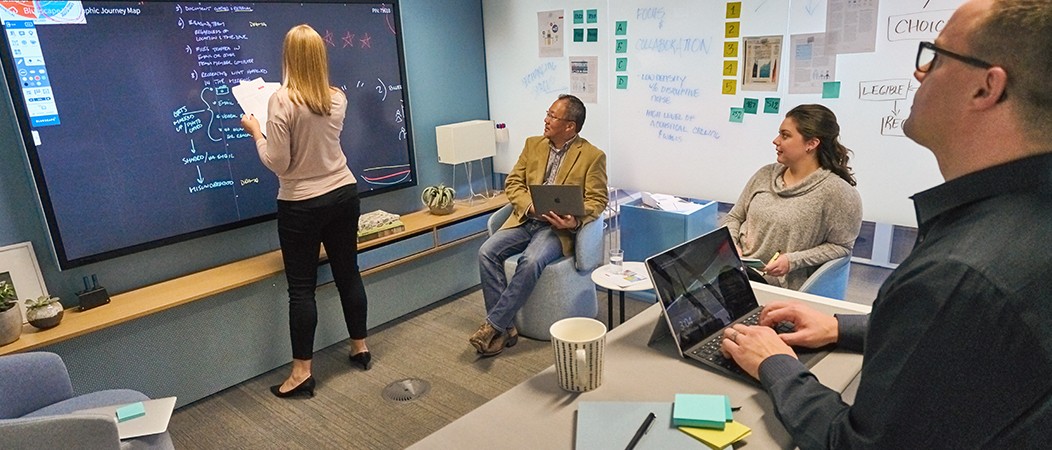 2. Tactical Execution Spaces include a table, comfortable desk chairs, storage, technology, and whiteboards for sharing data and information. This workspace is dedicated to use by groups or teams, and their data remains on the whiteboards even when they are working elsewhere. Also called "war rooms," tactical execution spaces are used by teams at Haworth to track projects, metrics, and share information.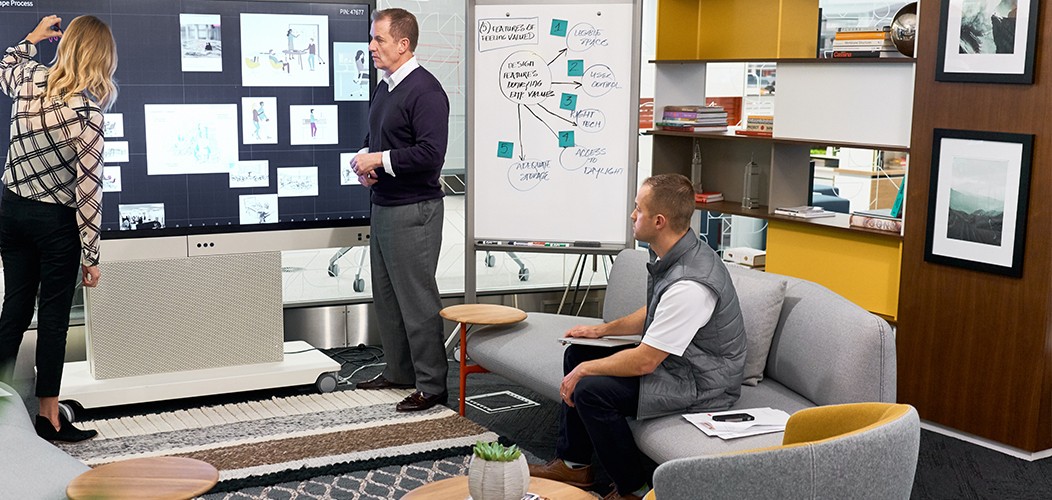 3. Strategic Thinking Spaces help people create new products and generate ideas through less formal brainstorming sessions. These spaces typically have comfortable seating—such as sofas or guest chairs, some privacy—to prevent distracting others, and a monitor or whiteboard to take notes and work through ideas. Groups that benefit from this workspace strive to do things first, have a high degree of experimentation and individuality, take risks, and are quick to adapt. Haworth's Central Park gathering area and our Bluescape-enabled rooms have technology resources that allow our marketing teams to collaborate from anywhere.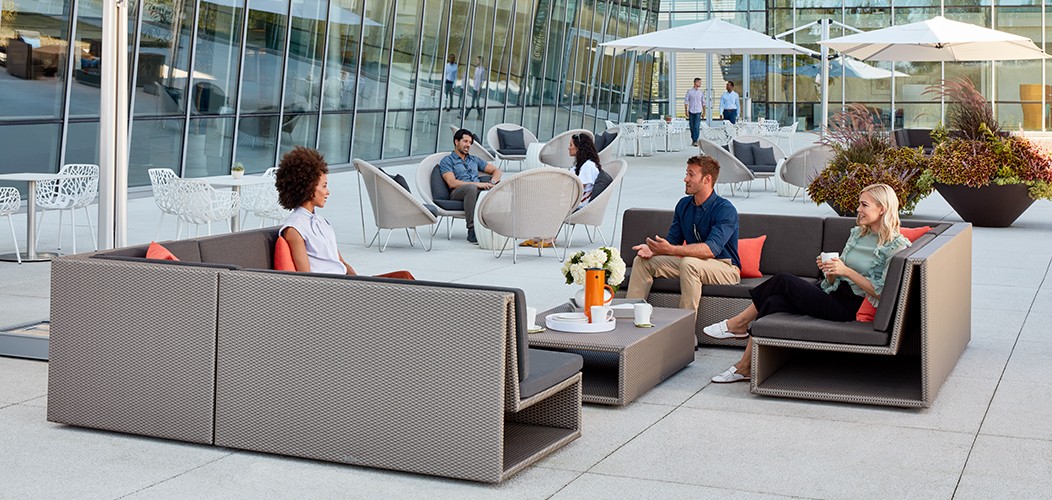 4. Social Spaces foster spontaneous interaction, serve as great "watercooler" spaces and can be used for recognition or networking events. These people-centered spaces are relaxed, informal and cozy, and can include lounge chairs, sofas and rugs to bring warmth and comfort, whether indoors or out. Social Spaces offer immense flexibility with moveable furniture that allows use as coffee shop and tech bar by day, then a special event at night.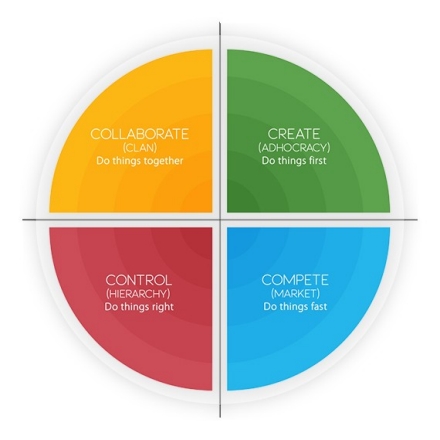 Most organizations use all four collaboration spaces to meet the needs of their groups. Based on an organization's culture type, one method of collaboration will likely be preferred over another – best supporting a team's primary responsibilities and choices.
For example, a Collaborate culture emphasizes the value of teamwork and operates as a close-knit group. That work environment will be dominated by Social Spaces that allow for a mix of activities. Strategic Thinking, Tactical Execution, and Presentation spaces are still needed, but will not be as prevalent. But for a Control culture, you'll see more Presentation spaces, where process-driven, formal meetings are the norm. Still, teams might need to determine project plans and are likely to have some informal, social connections.
Considering the needs of your organization's teams is key to Haworth's Organic Workspace® approach – creating a work environment that enhances the effectiveness of people and the efficiency of real estate.   We know from our research that taking a break to socialize with colleagues increases our happiness, and people prefer comfortable spaces. The fastest growing collaborative spaces are Social Spaces, which benefit all culture types, are flexible, communal, and inspiring, so people can pause, gather, connect, and refresh.