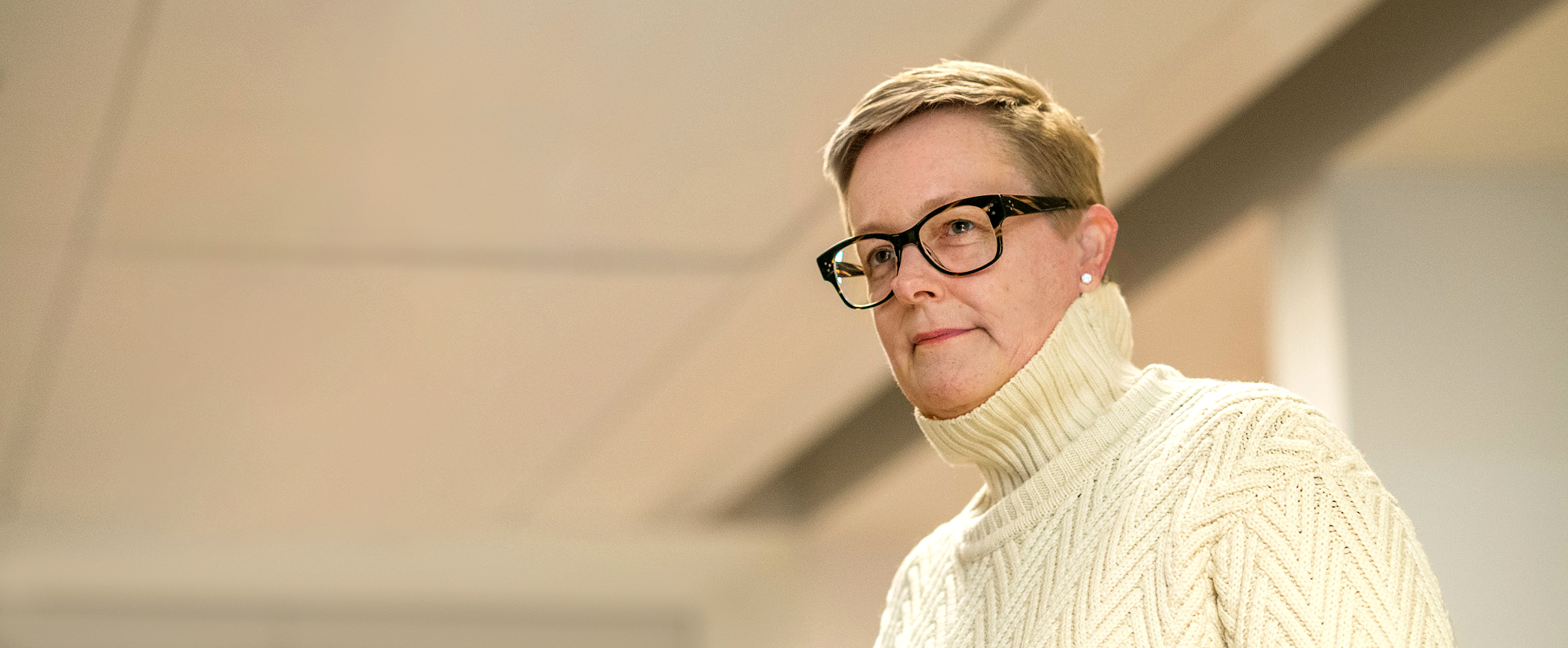 Top Digital Trends Disrupting Design
Q+A with Pam McNally of SANDOW and Interior Design
New technology and digital platforms are constantly emerging, leading us to a crossroads when it comes to design. Add in the generational shift and new points of view, and it's hard to tell which way to turn. Pam McNally, in speaking engagements at Haworth, addresses evolving client expectations and identifies which digital and tech trends to focus on and why.
Pam McNally oversees digital strategy for all of SANDOW's brands, with the goal of expanding online reach and market share, as well as capitalizing on emerging digital growth opportunities to build scalable branded campaigns and programs. She has helped drive advertising revenues by increasing Interior Design's digital presence across platforms and devices. In addition, McNally introduced more original content and video to the site and expanded the brand's social media presence. A digital evangelist responsible for educating and training sales and editorial teams on best practices, she advises top clients on digital strategy, site design, and social growth, while also frequently speaking at seminars and major conferences.
Spark interviewed Pam, and here's what we learned.
Spark: Tell us a little about yourself and what led you to choose digital as your career path.
PM: At present, I head up digital for SANDOW, working with each brand to expand and optimize their digital platforms. I focus a majority of my attention on Interior Design, where I also hold a brand leadership position. That's how I started at SANDOW, helping to hyper-target and engage the A+D community. I'm the person you turn to if you have any digital questions, need advice, or want to build out a more complex program for clients.
You know, I'm not quite sure how it happened that I ended up in digital, except that much of what happens in digital—constant change, a fast-pace, etc.—is why I started a career in media in the first place. I've moved beyond just media, now. But the evolving landscape, speed of change, and ability to connect with an audience are still why I love what I do. It's why I gravitated toward digital and what keeps me challenged every single day.

Spark: You're presenting "How Digital Is Disrupting Workplace Design" for Haworth. What insights do you think are the most valuable for our readers?
PM: I always think everyone should do what's best for their business. My job is to share insights that can help businesses do this more effectively, efficiently, and—we all hope—profitably. I tell everyone that you don't have to do everything. Just do what you can realistically do, and with as little "pain"—monetarily or culturally—as possible.
This could mean doing something as simple as responding to customers 24/7, either through a basic chatbot on your website or as an aid to the sales team—because the expectation is that everything and everyone should be accessible at all times. It could also mean incorporating VR or AR into client-facing presentations to give them a more immersive and educated experience about your product or company. And if you don't have the in-house experience for that, partner with someone who does. It could also be adopting the mobile experience in-office because the next generation is looking to run everything from their phones, which 5G will soon enable us to do.
Everyone should just understand that how we live, work, and play will change even more dramatically in the next decade, and that you have to be open and flexible to that change if you want to succeed. You also have to be open to the younger generations—Millennials and Gen Z—driving that change through new ideas and ways of doing things that some people may find uncomfortable.
Spark: What are the top digital trends disrupting office space and design?
PM: If I had to pick the top three, I'd say: Voice, IoT, and AI.

Spark: Could you provide a brief summary of each of those trends?
PM: Voice User Interface, or VUI, will change how we interact with products and spaces, allowing us to be hands-free and more efficient in our movement around the office—or really, any space. This means a change in how we design space, the products we use, and the integration of voice recognition into surrounding spaces. The expectation for office space today is not unlike that of being at home, where smart speaker integration is rapidly expanding to all rooms and becoming a part of the way we live today.
This also feeds into the Internet of Things, or IoT, where everything is connected in a space seamlessly. For example, wouldn't it be great to walk into a conference room, say "hook up presentation," and the presentation on your laptop or mobile is automatically synced up and shown on the video screen? It wouldn't matter if you had a Mac or PC, an iPhone or Android. How much time would we save if we didn't have to fumble around with cords, passwords, etc.? There are some high-tech offices out there that say they have this, but I've been to a few and we still end up fumbling through the conference room video setup process.
And Artificial Intelligence (AI) will likely transform the design process of the workspace, not only pre-build but also post-build, where tracking movement will automatically suggest shifts in the design and products used in a space. AI is already assisting in the process of design and architecture, offering recommendations and eliminating certain steps that save time and money pre-build. I don't believe it will ever replace the creative process of design, nor the brilliance of designers who craft an interior space, but AI can certainly eliminate some of the practical steps and processes along the way so designers and architects can more fully concentrate on design.

Spark: How do you suggest organizations use this information to inform their space?
PM: It's all about making the use of a space frictionless—working to make any area easy to use—whether you have a large office or a boutique firm with a smaller footprint. At the simplest end of the spectrum, it's making it easy to turn on lights, turn down the heat, open up the shades, etc. Who hasn't gone into a hotel room or even an office space and spent minutes trying to find a switch to turn on/off lights… or a way to moderate the temperature? It's harder to do in offices, because many are part of larger building systems, but still… Having to crank down the blinds, find a remote for the conference room flat screen, or figure out how to get mobile reception in the center café not only turns off the next Gen, who is accustomed to ease of use at home, but also takes up time for productive work. These are simple, everyday fixes that don't need someone with a degree in robotics or machine learning.
On the more complex end is using more interactive and sensory technologies in walls, ceilings, and floors. Designed to react to body heat or functions, they can alter a space's temperature, color, and light—without active participation from those in a room. There is also technology that can track a person's gait through weight or motion detection to see if they need help or guidance. Or as unveiled by Delta at CES 2020, to offer personalized messaging and wayfinding to each person in an audience through parallel reality, even though they are all looking at the same screen.

Spark: What digital trend do you find most surprising?
PM: You know, I don't find any actual trends surprising. What I do find surprising is how resistant people are to the trends, even though they may make their business or company more efficient, effective, and profitable. The level of anger and distrust toward new technology kind of astounds me, because the first thing people think is that they will lose their jobs—"craft" will be gone and creative thinking will be destroyed. None of that will happen, in my view. In fact, I think technology will only make us better… and I, for one, look forward to that.
Learn about four other digital trends that are affecting the future of work.