HOLLAND, MI - May 11, 2016 - The nature of work is always changing, creating challenges that affect where and how people work – and how they sit. To address these changes, Haworth conducted in-depth research on the current state of sitting and market tested comfort. What they heard informed the design of a new sitting experience – a global chair that provides what they are asking for and need.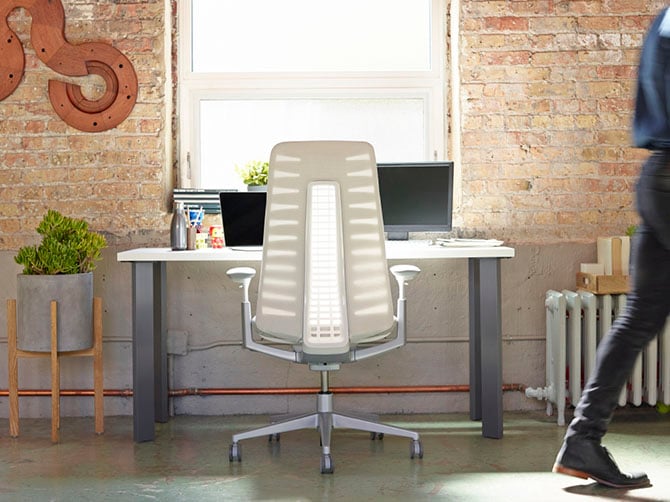 Haworth's new ergonomic chair, Fern, celebrates comfort by turning traditional design outside-in. Dimensional suspension is artfully concealed, like an endoskeleton. This is opposite of most chairs exoskeleton design. Fern adjustment mechanisms are discreet, resulting in an inviting and approachable chair with residential appeal. Fern has a clean, sculpted design that elevates task chair aesthetics, making it appropriate for a variety of workspaces, including task, executive and conference.
A chair needs both structure and support but you only want to feel the latter. Because Haworth concentrated on sitting, not seating, Fern is  completely rethought with this in mind. One important result of this thinking: moving the suspension architecture from the outside of the chair to the center. With this move, Fern's edges are soft and pliable, providing users with an edgeless comfort experience. There are no hard edges to bump or cause pressure as users move.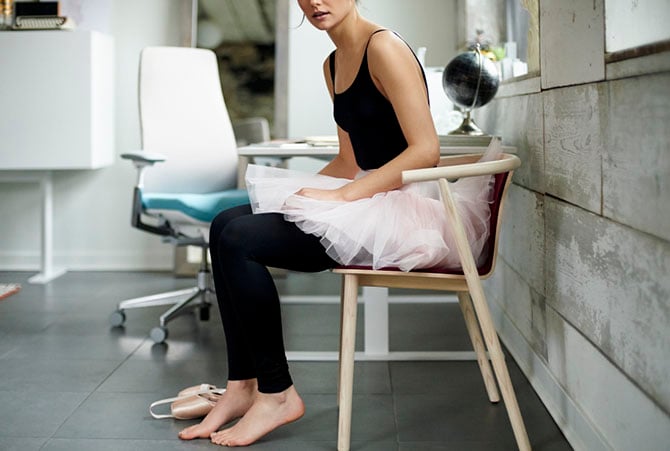 Inspired by the structure of a fern, Haworth's new chair has a centered structure and an innovative suspension system called Stem. This central loop spine supports an array of Fronds. Each Frond is different; each calibrated to support a different area of the back. As a result, Fern provides total back support – from the thoracic (upper back), to the lumbar (middle back), to the pelvic (lower back) areas. This total support is continuous as the user moves and adjusts to each user differently. Like the back, the seat also has fronds that provide built-in flexibility for ergonomic comfort.
Fern helps each person feel engaged and motivated. No matter how users sit or move, discomfort is never a distraction. The chair's innovative ergonomics help make the office part of healthy living.
The Fern Design Story
The Haworth seating team was tasked with taking a deep dive exploration in new and better ways to support sitting, with a focus on postures, flexibility and comfort.
First, the team designed, sculpted and built functional prototypes. Then, they hit the road to test the chairs with customers for input on what provides the best sitting experience – because it's not about the chair, it's about the person sitting in it.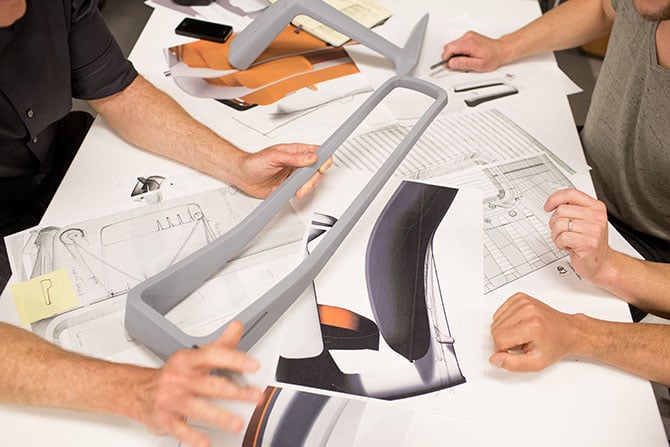 In test after test, one chair design stood out. Hands down. The favored prototype featured a suspension innovation no one had ever seen or felt. People testing the prototype said the chair seemed alive, in tune with every movement. Users stayed balanced, centered and comfortable. The chair naturally responded to every twist, turn, reach, recline or lean forward providing new levels of comfort and support, without pressure or the need for multiple adjustments.
Informed by Haworth's research and motivated by the findings, the team began development of what became Fern. To do it right, it had to be innovative in every aspect and address evolving workplace needs as well as enhancing the well-being of each user.
The Haworth Design Studio collaborated with ITO Design to bring Fern to life. The German firm specializes in seating design and product development in the office environment and has helped design several Haworth chairs, including X99 and Zody. Haworth engineers and designers, as well as a sculptor and ergonomist, became part of the team to ensure a winning combination of visual appeal and ergonomic performance.
###
Globally, Haworth improves workplaces with award-winning furniture, interior architecture and technology solutions to help customers achieve business goals and transform culture, as well as support collaboration and innovation.  Research + design drive a deep understanding of agile workplace needs and are at the center of the company's strategy.  Haworth is committed to protecting and restoring the environment, creating economic value as well as supporting and strengthening its communities.  Founded in 1948, Haworth remains family-owned and privately-held serving markets in more than 120 countries through a global network of 650 dealers and over 6,000 employees. The company had net sales of USD $1.82 billion in 2015.