December 27, 2022 – Haworth's Zody II and Zody LX are the first furniture products to achieve Cradle to Cradle Certified status. The ergonomic desk chairs achieved a Bronze level under the new and rigorous Cradle to Cradle Certified Product Standard Version 4.0. This certification is the world's most ambitious, science-based standard for designing and making products that enable a healthy, equitable and sustainable future.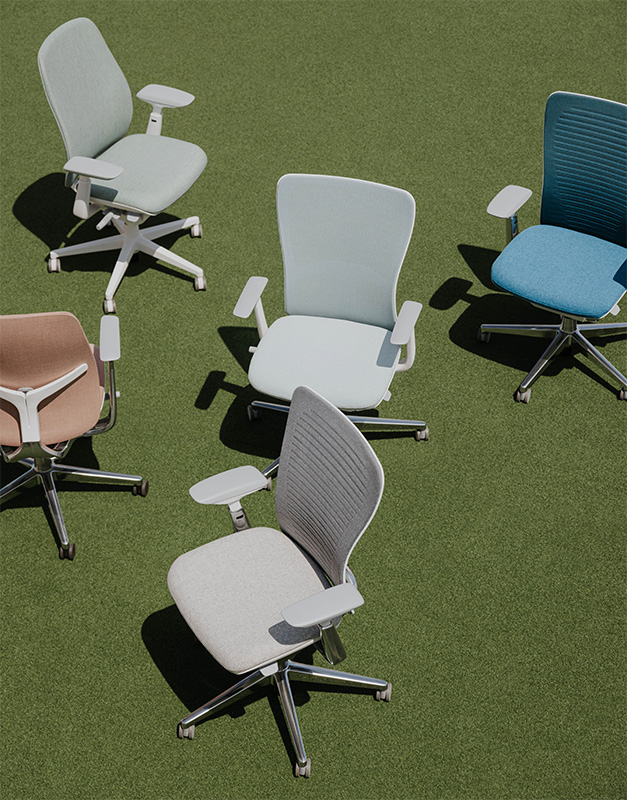 "This is one of the most robust certifications on the market and it's important for us to go through the process," said Franco Bianchi, Haworth President and CEO. "We have set aggressive goals to drive our mission forward and become a sustainable corporation. This certification, and everything we learn from it, is an important piece of designing a sustainable tomorrow."
This certification is awarded by the Cradle to Cradle Products Innovation Institute.
"Haworth has demonstrated its deep commitment to sustainability by becoming the first company to certify its furniture under the new Cradle to Cradle Certified® Product Standard Version 4.0," said Monica Becker, Director at the Cradle to Cradle Products Innovation Institute.  "The Institute is excited to continue working with Haworth as part of our community of leading companies that are driving the circular economy. Zody II and Zody LX chairs are an important addition to the collection of Cradle to Cradle Certified products that are raising the bar for innovation with healthy materials and circular design."
To achieve Cradle to Cradle Certified, Zody II and Zody LX were assessed for performance across five categories of sustainability: Material Health, Product Circularity, Clean Air and Climate Protection, Water and Soil Stewardship and Social Fairness. Specific factors that contributed to this certification include:
Haworth worked closely with supply chain partners to ensure each product was created using materials free from chemicals harmful to humans and the environment. The materials used in Zody II and LX meet the C2C Restricted Substances List and over 75% of the product materials have been assessed against the C2C material health assessment criteria. 
Zody II and LX met the Cradle to Cradle Certified Product Circularity requirements through design for easy repair and disassembly. These features will enable the chairs to stay in use longer and be easily deconstructed for recycling.
As part of the certification process, Haworth examined the potential impacts to watersheds during Zody II and LX manufacturing. While potential impacts were deemed low, Haworth also created a water resources strategy to continue to improve water stewardship, particularly in the production and use of aluminum.
A percentage of Zody II and LX's energy footprint was offset by renewable energy credits (RECs) and carbon offsets to provide a path to carbon neutrality as part of the certifications Clean Air and Climate Protection requirements. 
Haworth's social policies align with the Cradle to Cradle Certified Social Fairness requirements through implementation of industry leading global human rights expectations that extend to its supply chain.
Visit c2ccertified.org for more information.
###
Globally, Haworth enriches spaces with award-winning furniture, interior architecture, luxury lifestyle products and technology solutions to help create beautiful rooms and achieve business goals. With a strong history of craft, innovation and 400 patents, Haworth is committed to protecting and restoring the environment; creating economic value; and supporting and strengthening communities. Founded in 1948, Haworth remains family-owned, serving markets in more than 120 countries through a global network of 650 dealers and 7,500 employees. Headquartered in Holland, Michigan, U.S.A, the company has net sales of $2 billion USD.