Haworth, Inc. today announced 2018 global sales of $2.14 billion, a 5% increase from 2017 that reflects organic growth across the globe.
"This was another successful year. Our values, strategy and culture are leading us to best-in-class revenue growth and profitability," said Franco Bianchi, Haworth President & CEO. "As we enter 2019, Haworth is positioned to continue making progress in our key segments and sectors. We are optimistic about business and the journey we're on together with our members, dealers, clients and business partners."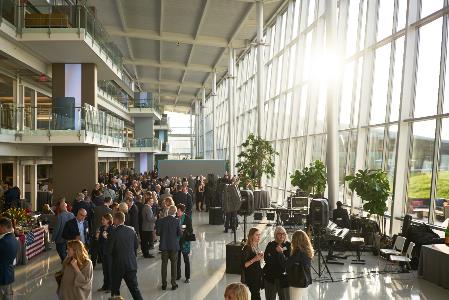 2018 began by celebrating Haworth's 70 years of business and innovation. The company has expanded from G.W. Haworth's garage woodworking business to become a global leader for commercial interiors, lifestyle designs and performance technology industries. To commemorate the anniversary and celebrate their contribution, Haworth awarded a $1,000 special bonus to all full-time employees of Haworth branded companies around the world.
As the world of work continues to evolve and customer needs change, Haworth continues to grow as a family of businesses with showrooms, manufacturing or retail presence in more than 120 countries.
Haworth introduced new, award winning products and spaces all around the world during 2018. Products introduced include Soji, Maari, Nia and Bowi in the seating portfolio; Cultivate tables; Intuity Park Benches; Drift Partitions; and Riverbend, GAN rugs and Super Poufs that compliment social spaces. NeoCon and Orgatec showrooms featured a continued collaboration with Patricia Urquiola.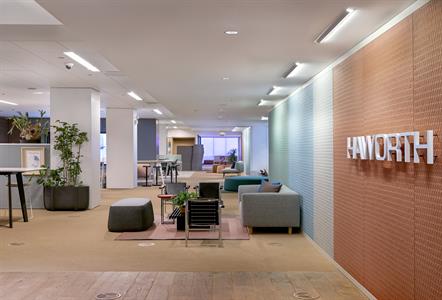 Haworth proudly welcomed a partnership, through the Haworth Collection offering, with BuzziSpace, a Belgium-based expert in acoustic and collaborative workspace solutions. Haworth also announced a global offering of surface materials with Kvadrat, the leader in Europe's high-quality contemporary textiles market.
Haworth's New York City showroom was refreshed in 2018 with a complete remodel. The Studio Urquiola and Haworth design teams explored the spatial arrangement of the showroom to allow for the energy of New York City to become constant part of the experience of the space. The Toronto showroom also underwent a complete remodel that reflected Toronto's unique economic sector – as the financial capital of Canada, as a diverse and growing technology industry and as home to educational institutions that foster the growth of talent. All showrooms are powered by Bluescape, a secure virtual collaborative workspace, allowing on demand, connected and real time innovation among Haworth, its customers and all key stakeholders. Bluescape demonstrates how unifying content and conversations in a shared, persistent space can be accessed from any device or location.
Luminaire's retail footprint expanded with the opening of a new store in Los Angeles. Reflecting it's roots, the showroom incorporates an iconic façade metal-work and features vignettes that explore Luminaire's philosophy of design.
Haworth launched Spark, a new global knowledge blog sharing workplace insights and research that ignite ideas. Posts on workplace performance, nurturing culture, environments, well-being and inspired design highlight spaces and people in today's world of work.
###
Globally, Haworth, Inc enriches spaces with award-winning furniture, interior architecture and technology solutions to help create beautiful rooms and achieve business goals by supporting collaboration and innovation. Research, knowledge and design are at the center of the company's strategy and foster a deep understanding of built environments, culture transformations and agile workplace needs. With a strong history of craft, innovation and 400 patents, Haworth provides customers with tailored, inspiring spaces that enhance business, stir spirits and improve lives around the world. The company is committed to protecting and restoring the environment; creating economic value; and supporting and strengthening communities. Founded in 1948, Haworth remains family-owned and privately-held serving markets in more than 120 countries through a global network of 650 dealers and 7,500 employees. Headquartered in Holland, Michigan, U.S.A, the company had net sales of USD $2.14 billion in 2018.