HOLLAND, MI – February 9, 2017 – Haworth, Inc. today announced 2016 global sales of USD $1.94 billion, a 6.4% increase from 2015.
"Haworth is adapting to today's changing world by creating solutions for people at work, at home and on the go," said Franco Bianchi, Haworth President & CEO. "Our commercial interiors, lifestyle designs and performance technology businesses have strong foundations and continue to position Haworth for strong shareholder return. The collaboration across these businesses assist our customers as they adapt to a more mobile and collaborative work style."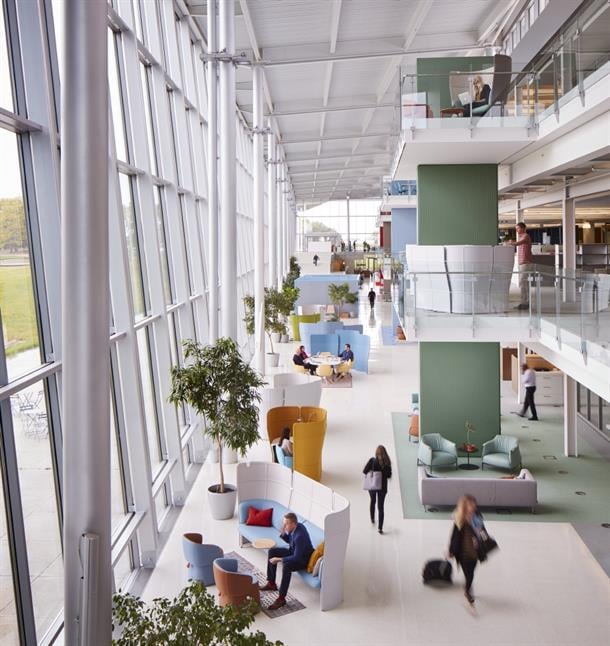 In 2016, Haworth spaces continue to reflect the evolution of the company's design point of view. This includes a refresh to the global headquarters in Holland, Michigan.  Led by Haworth's design team and Patricia Urquiola, the renovation of One Haworth Center builds on a living laboratory experience. Haworth demonstrates new leadership community spaces and collaborative environments intended to improve employee engagement and effectiveness. Customers and dealers from all over the world visit these spaces to discover a variety of best practices for work styles, as well as application of products and designs informed by Haworth's global research and design point of view.
Haworth's Shanghai showroom became the first commercial interior in Asia to receive certification through the WELL Building Standard (WELL). Built in 2015, the unique showroom was designated as a WELL pilot project and it also achieved LEED v4 Gold certification from the United States Green Building Council.
Fern was introduced in 2016 as the world's first chair designed with edgeless comfort and innovative back support. Inspired by nature, Fern puts the person at the center of work with new levels of balance, flexibility and performance. Certified by United States Ergonomics, the chair is a result of Haworth's intense seating comfort research centered on providing innovative user comfort and support.  Over 5.5 billion high resolution pressure mapping data points were analyzed and resulted in the right set of contours to accommodate the diverse physical characteristics of the working population, from 5th percentile female to 95th percentile male.
In addition to the award-winning Fern, Haworth introduced the Immerse table, an enhancement to the Integrated Palette offering with Compose Connections workspaces and a new materials collection. During the spring of 2016, Haworth acquired the majority of JANUS et Cie, a leader in the premium contemporary outdoor and interior furniture sector.
Bluescape experienced strong growth and continued innovating in visual collaboration software with new releases of its platform that further expand file types and file sharing services supported in its near-infinite virtual workspace. Bluescape customers can now work with the most diverse and expansive range of files and formats of any collaboration workspace. It was also featured at the TED2016 Conference to display conference activities, speaker content, live-streaming presentations and real-time speaker notes.
###
Globally, Haworth improves workplaces with award-winning furniture, interior architecture and technology solutions to help customers achieve their business goals by supporting collaboration and innovation, as well as contributing to culture transformations. Research + design drive a deep understanding of agile workplace needs and are at the center of the company's strategy.  Haworth is committed to protecting and restoring the environment, creating economic value as well as supporting and strengthening its communities.  Founded in 1948, Haworth remains family-owned and privately-held and serves markets in more than 120 countries through a global network of 650 dealers and 6,500 employees. The company had net sales of USD $1.94 billion in 2016.