HOLLAND, MI – May 18, 2017 – Haworth Inc. has released its 2017 corporate responsibility report documenting the company's continued commitment to and progress of important global objectives. The reporting includes sustainable design strategies, continuous global manufacturing improvements and solutions that are neutral to the environment, with positive impacts on the health and well-being of people. This is the 13th annual report from Haworth.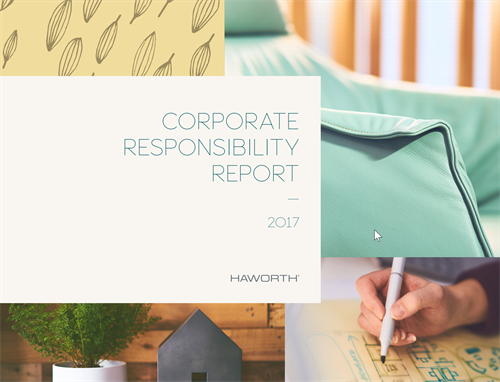 In 2017, two of Haworth's sustainability highlights were the strengthening commitment to Design for the Environment principles and increasing the integration of sustainable materials in products, thereby increasing recyclability. These accomplishments supplement other tangible goals in the past 13 years such as achieving Zero Waste to Landfill status globally, a commitment to achieving 100% sustainable wood harvesting and continued progress on removing 56 banned chemicals identified as adverse to human health and/or the environment.
Haworth recognizes that a truly sustainable organization includes enriching the lives of employees, supporting the communities in which the company conducts business and operating as an ethical organization. The 2017 corporate responsibility report includes information on Haworth's efforts in these areas, such as community events, disaster recovery support, recycling benefits, programs for diversity and safety measures.
During 2017, Haworth strengthened many existing partnerships and worked to build new ones with organizations that share sustainability goals. These relationships are mutually beneficial as each organization both teaches and learns from the partnership.
###
Globally, Haworth, Inc enriches spaces with award-winning furniture, interior architecture and technology solutions to help create beautiful rooms and achieve business goals by supporting collaboration and innovation. Research, knowledge and design are at the center of the company's strategy and foster a deep understanding of built environments, culture transformations and agile workplace needs. With a strong history of craft, innovation and 400 patents, Haworth provides customers with tailored, inspiring spaces that enhance business, stir spirits and improve lives around the world. The company is committed to protecting and restoring the environment; creating economic value; and supporting and strengthening communities. Founded in 1948, Haworth remains family-owned and privately-held serving markets in more than 120 countries through a global network of 650 dealers and 7,500 employees. Headquartered in Holland, Michigan, U.S.A, the company had net sales of USD $2 billion in 2017.