HOLLAND, MI – April 29, 2016 – Haworth Inc. has released a 2015 sustainability report that reports on the company's continued commitment to and progress of important global objectives like sustainable design strategies, continuous global manufacturing improvements and providing solutions that are neutral to the environment, with positive impacts on human health. This is the 11th annual report from Haworth.
In 2015, one of Haworth's sustainability highlights was the ISO 14001 certification of the Chennai, India manufacturing plant. With this certification, all global Haworth manufacturing facilities have achieved ISO 14001. This accomplishment adds to other tangible goals in the past 10 years such as achieving Zero Waste to Landfill status globally, a commitment to sustainable wood harvesting and continued progress on removing 56 banned chemicals identified as adverse to human health and/or the environment.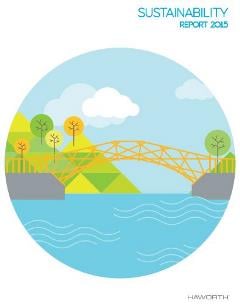 Haworth is deepening the commitment to green building interior solutions by expanding the workplace experience from sustainability to well-being through the application of the WELL® Building Standard. Opened in 2015, the new Los Angeles and Shanghai showrooms are pilot projects for the standard, a performance-focused system for measuring, certifying and monitoring features of the built environment to promote the health and wellness for people. Certifications are expected in the spring of 2016 and best practices will be built into all interior solutions moving forward.

Haworth recognizes that a truly sustainable organization includes enriching the lives of employees and supporting the communities in which the company conducts business, operating as an ethical organization. The 2015 sustainability report includes information on Haworth's efforts in these areas, such as wellness principles, community events, employee gardens, recycling benefits to local organizations, programs for diversity, safety measures and the global supplier code. Over 1500 hours were spent in the effort to provide sustainability guidance and education to members, vendors, industry partners and customers. These efforts build understanding about Haworth's sustainability vision and criteria, form long term relationships and work toward a common goal of a more sustainable world.
###
Globally, Haworth improves workplaces with award-winning furniture, interior architecture and technology solutions to help customers achieve business goals and transform culture, as well as support collaboration and innovation.  Research + design drive a deep understanding of agile workplace needs and are at the center of the company's strategy.  Haworth is committed to protecting and restoring the environment, creating economic value as well as supporting and strengthening its communities.  Founded in 1948, Haworth remains family-owned and privately-held serving markets in more than 120 countries through a global network of 650 dealers and over 6,000 employees. The company had net sales of USD $1.82 billion in 2015.