December 16, 2014 – Haworth, Inc. officially opened its new manufacturing facility in Chennai, marking the beginning of a new chapter in the company's long history in India, where it first opened its doors in 1997. Located in Sriperumbudur, 40 kilometers southwest of the city of Chennai, the Haworth-owned factory spans 7000 sq mtrs and produces a wide range of ergonomic seating and workstations well-suited for the demands of the Indian market. This move highlights the intention of the company to further leverage India as a key pillar within its Asia Pacific growth agenda.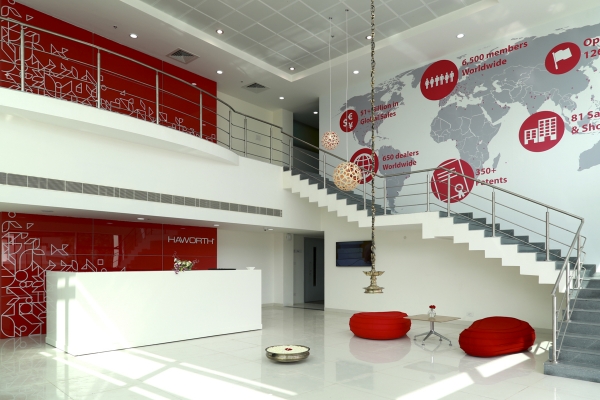 "India is one of the fastest growing markets around the world for Haworth," shared Matthew Haworth, Chairman. "Our initial manufacturing footprint established in Pune in 2005 marked the first such investment for a multinational player in this geography. Our investment in procuring land with our new consolidated facility in Chennai offers a next step in what is a long-term commitment to this market."
Haworth India, part of the Haworth global network, has had full-service offices in New Delhi, Bangalore, Mumbai, Chennai and Hyderabad starting in 1996. The team has supported global and national accounts with expansion efforts in a variety of industry and market segments, including BPO's, contact centres, software development and R&D campuses. Haworth has over 500 active customers in India, supports a majority of multinational companies expanding into India and holds the highest market share within the multinational client base.

"When a global account talks about their history in India, the name Haworth is usually shared in the same breath," said Franco Bianchi, President & CEO. "We have a reputation for executing large-scale, complex projects where an experienced team with well-regarded processes that Haworth is known for is highly sought after."

With the new factory, Haworth is also planning to bring new talent into its global product development team with the establishment of a local product marketing capability in Chennai.
"The new Chennai facility is a significant milestone in the Haworth 'India Made' journey and represents a keystone event in the global Haworth success story," said Frank Rexach, Vice President and General Manager of Haworth Asia Pacific, the Middle East & Africa. "Investing in this new team will enable Haworth to leverage the significant talent of the India design community and generate global solutions borne of the specific requirements of the India market."

Haworth will leverage the Chennai facility to support both the national and surrounding markets as part of their regional supply chain strategy. Clients can have all their requirements met from one supplier who has been recognised for both quality and service excellence.
 ###
Globally, Haworth improves workplaces with award-winning furniture, interior architecture and technology solutions to help customers achieve business goals and transform culture as well as support collaboration and innovation.  Research + design drive a deep understanding of agile workplace needs and are at the center of the company's strategy.  Haworth is committed to protecting and restoring the environment, creating economic value as well as supporting and strengthening its communities.  Founded in 1948, Haworth remains family-owned and privately-held and serves markets in more than 120 countries through a global network of 600 dealers. The company had net sales of US $1.41 billion in 2013.