CALGARY, CANADA – April, 2015 – The new showroom located on the ground floor of a 35-story building, the former space was previously occupied by Malcolm's, a restaurant well known to the Calgary real estate community. The 5,400 square foot space is a model for other downtown building owners and tenants interested in transforming existing facilities as an alternative to new build.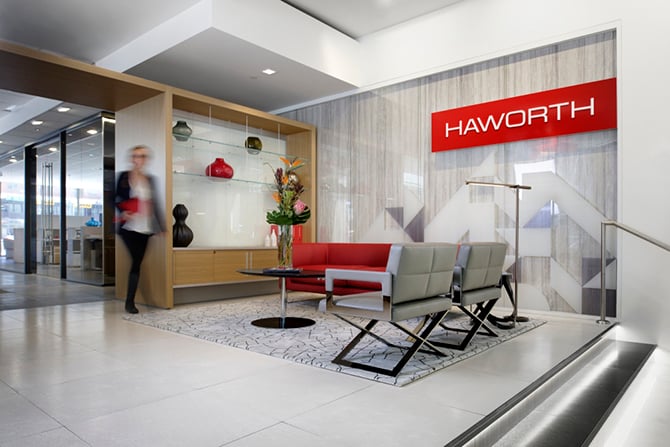 Clean and simple, yet detailed, the Calgary showroom celebrates the cityscape and foothills region through wall graphics of the Calgary Tower and a tangram Canadian Rockies motif. Exposed concrete lends an industrial feel to the space, while reconstituted wood veneer evokes warmth throughout. A variety of fabrics, finishes, carpets and hardwood flooring provide additional interest and texture.
The new Haworth Calgary showroom is flanked by floor-to-ceiling exterior windows to the east and south and interior windows facing the escalator lobby. This prime corner location is surrounded by retail districts, galleries, restaurants and cultural attractions, giving Haworth high visibility in a dense downtown community. The space also provides an interactive venue for clients, A&D partners and regional professional organizations such as Interior Designers of Canada, Alberta Association of Architects and the International Facility Management Association.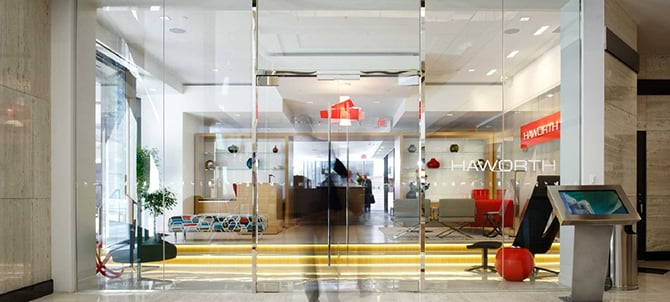 Designed to demonstrate Haworth's research and workplace knowledge, the compact showroom includes collaborative solutions that fulfill the needs of showroom staff and demonstrate spaces for all workstyles. The design principles behind the Calgary showroom focus on a whole space concept that contributes to a sense of purpose and belonging, aligning with people's needs today and in the future. The inviting, magnetic space draws people in and, especially since sustainability is forefront, provides the foundation for a sense of well-being.
The Haworth space is a showcase for sustainable design principles from floor to ceiling. TecCrete raised access flooring provides the architectural bedrock for flexibility to distribute air, power, voice and data within a variety of applications. Haworth movable wall systems and products (Harbor Work Lounge, Fred, Ginger, Workware and more) work together to seamlessly, quickly and economically transform space as needs change. In addition to other LED lighting, unobtrusive, energy-efficient iGuzzini 5 Laser Blade fixtures evenly cast light throughout the workspace for visual comfort. 
###
Globally, Haworth improves workplaces with award-winning furniture, interior architecture and technology solutions to help customers achieve business goals and transform culture as well as support collaboration and innovation.  Research + design drive a deep understanding of agile workplace needs and are at the center of the company's strategy.  Haworth is committed to protecting and restoring the environment, creating economic value as well as supporting and strengthening its communities.  Founded in 1948, Haworth remains family-owned and privately-held and serves markets in more than 120 countries through a global network of 650 dealers and 6,000 employees. The company had net sales of US $1.8 billion in 2014.