July 29, 2022 – Haworth is introducing 3 proprietary new textiles: Novelty, Scapes and Hobson. These surface materials won a 2022 Best of NeoCon award for Sustainability.
Novelty is a textile available in 24 colorways made from post-consumer recycled polyester (54% post-consumer recycled polyester and 46% virgin polyester). Nearly half of its content comes from REPREVE® recycled fiber, which means 17 plastic bottles per yard are diverted from landfill. Novelty's color palette ranges from soft light neutrals to saturated colors – it is durable and timeless.  

In the textile world, a "novelty yarn" implies a decorative yarn. In its construction, Novelty employs a fancy boucle yarn, appropriate for seating and vertical surfaces. Inspired by classic boucle fabrics that span residential and commercial uses, Novelty's highly textural surface was designed to showcase new yarn developments.
Haworth's next new proprietary surface material, Scapes, is Haworth's first biodegradable textile. Made from 100% post-consumer recycled biodegradable polyester, this textile can be
recycled or will biodegrade rapidly in a landfill at the same rate as natural wool fabric. Scapes starts with chips made from water and soda bottles that are processed and extruded into yarn. Then, a proprietary biocatalyst is infused in the woven product. The biocatalyst is what makes Scapes materials so extraordinary. When the product is subjected to anaerobic landfill conditions, 91% of it breaks down into elements found in nature in about 1,278 days (under ASTM D5511 conditions, no evidence of further degradation).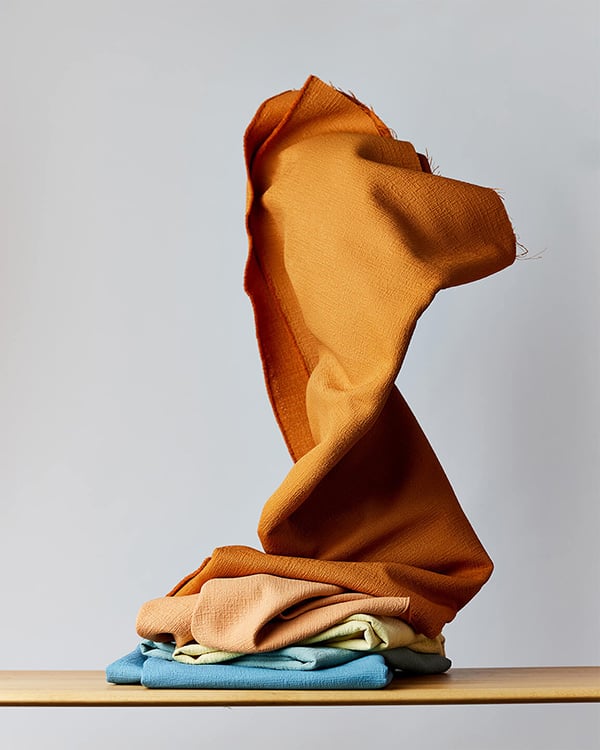 Scapes is available in 16 colorways for both upholstery and vertical surfaces. Its rich tactile surface is inspired by nature, capturing light and shadow, adding dimensionality and warmth. Scapes is a matelassé fabric that has what designers call a "soft hand." Simply put, it feels good when touched while still delivering high performance for demanding environments.
Scapes and Novelty are currently available on Haworth products. This fall, Haworth will launch another new surface material, Hobson. It is a dual-purpose textile in 26 colorways made from 48% REPREVE® recycled fiber (which means 33 plastic bottles per yard were diverted from landfill) and 52% REPREVE® Our Ocean® recycled fiber (sourced from ocean-bound plastic bottles). Inspiration for Hobson came from blending an old Scottish herringbone pattern, typically seen in vintage menswear with new yarn technology, to evoke classic suiting and sophisticated settings. Its extensive color palette nods to classic neutrals but pushes new color trends and saturated color.
###
Globally, Haworth enriches spaces with award-winning furniture, interior architecture, luxury lifestyle products and technology solutions to help create beautiful rooms and achieve business goals. With a strong history of craft, innovation and 400 patents, Haworth is committed to protecting and restoring the environment; creating economic value; and supporting and strengthening communities. Founded in 1948, Haworth remains family-owned, serving markets in more than 120 countries through a global network of 650 dealers and 7,500 employees. Headquartered in Holland, Michigan, U.S.A, the company has net sales of $2 billion USD.