May 30, 2018 – Haworth, Inc. and Kvadrat are launching a new partnership at NeoCon and Orgatec to provide a global textile offering that coordinates with Haworth's global product portfolio. The partnership will also launch by the end of 2018 in Asia. Beginning with the Melange Nap and Floyd surface collections, 32 new colors will be available this summer on Haworth seating products.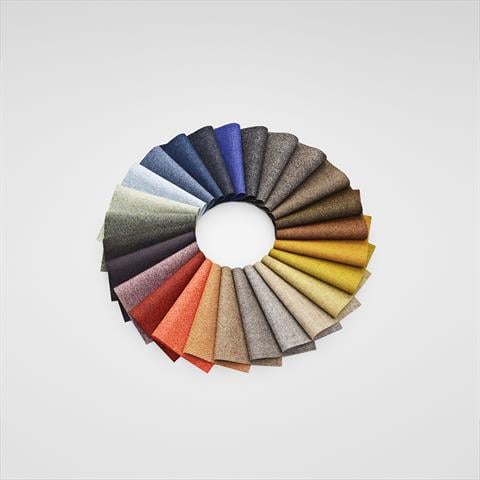 "This partnership brings forth the importance of materiality in our product offering," said Franco Bianchi, Haworth President and CEO. "Kvadrat represents both high design and quality. Their work with Studio Urquiola creates further synergy and we look forward to continue building our partnership and creating beautiful products."
"Haworth has become one of the defining forces in the interior industry in respect to rethinking and exploring how we live and work," added Anders Byriel, Kvadrat CEO. "We are also looking forward to extending and increasing co-creation with Haworth and building this truly global partnership."
Haworth has evolved product portfolios so global clients can coordinate spaces around the world. This partnership will further this effort with a global selection of surface materials and represents an expansion beyond Haworth collection products. The Kvadrat surface materials will be graded in for easy specification.
Haworth and Kvadrat are also co-developing vertical surface materials and the Haworth NeoCon showroom in Chicago will preview Kvadrat acoustic panels.
###
Kvadrat was established in Denmark in 1968 and has deep roots in Scandinavia's world-famous design tradition. Kvadrat holds the leading position in Europe's high-quality contemporary textiles market. We supply architects, designers and private consumers across the world with textiles and textile-related products. Our products reflect our commitment to colour, quality, simplicity and innovation. We consistently push the aesthetic, technological and functional properties of textiles. In doing so, we collaborate with leading designers, architects and artists; among others Miriam Bäckström, Raf Simons, Ronan and Erwan Bouroullec, Thomas Demand, Olafur Eliasson, Alfredo Häberli, Akira Minagawa, Peter Saville, Roman Signer, as well as Doshi Levien and Patricia Urquiola.
Globally, Haworth, Inc enriches spaces with award-winning furniture, interior architecture and technology solutions to help create beautiful rooms and achieve business goals by supporting collaboration and innovation. Research, knowledge and design are at the center of the company's strategy and foster a deep understanding of built environments, culture transformations and agile workplace needs. With a strong history of craft, innovation and 400 patents, Haworth provides customers with tailored, inspiring spaces that enhance business, stir spirits and improve lives around the world. The company is committed to protecting and restoring the environment; creating economic value; and supporting and strengthening communities. Founded in 1948, Haworth remains family-owned and privately-held serving markets in more than 120 countries through a global network of 650 dealers and 7,500 employees. Headquartered in Holland, Michigan, U.S.A, the company had net sales of USD $2 billion in 2017.