Haworth Collection is adding over 50 product lines with an emphasis on acoustic solutions, furniture and lighting elements. Joining brands like Pablo Designs and GAN, the latest products are from BuzziSpace.
"Today's work spaces do much more than provide surfaces for typing and chairs for sitting," said Lauren Johnson, Haworth's Group Product Manager for Focused Market Segments. "Our clients need inspired and social spaces that foster thought, reflection and interaction. But those spaces must also foster the well-being or happiness of the users. We are excited to offer these new products that tap into those elements. BuzziSpace has strong, extensive acoustical expertise, and provides solutions that give everyone more reasons to come to the office. And, enjoy it."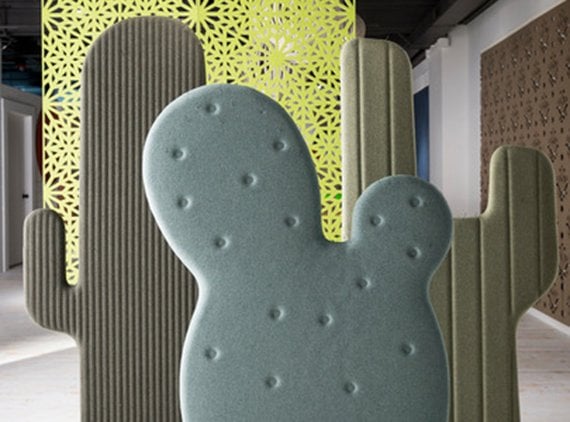 The BuzziSpace products bring an energy and dynamic spark to Haworth Collection's curated offering of high design, igniting work and social spaces with solutions based on its rich legacy in acoustics, furniture-making and upholstery. The BuzziSpace product offering includes a range of seating, tables, lighting and accessories, as well as privacy and acoustic solutions.
Examples of new Haworth Collection products that promote collaborative social contexts for work are:
BuzziCactus – This charming room divider provides sound absorption, design and a tackable surface. It's striking cactus shape makes a statement in the office or home.
BuzziSpark – Acting as a room-within-a-room, this sofa is comfortable and homey. It also offers visual and sound protection that can be placed on any corner.
BuzziShade – Designed with large-scale settings in mind, this lighting fixture also reduces external noise levels to a minimum. The shade is extremely versatile and adds a layer of colorful fabric to a space.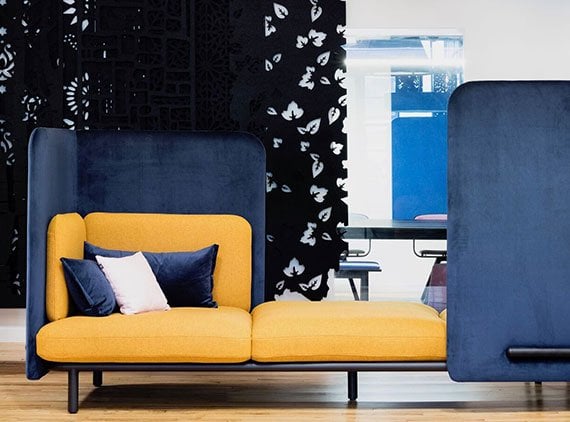 For noise reducing or sound absorbing solutions to create the perfect space, Haworth Collection offers a vast range of easy to integrate solutions. The right lounge, office or hospitality lighting can be found in the decorative lighting offering from Pablo or the sound absorbing lighting by BuzziSpace. Together with the large variety of Haworth products and brands, these new products help work happen anywhere. Haworth designs and manufactures products that help create inspiring spaces where people can perform their best – at work, on the go and at home.
###
Globally, Haworth, Inc enriches spaces with award-winning furniture, interior architecture and technology solutions to help create beautiful rooms and achieve business goals by supporting collaboration and innovation. Research, knowledge and design are at the center of the company's strategy and foster a deep understanding of built environments, culture transformations and agile workplace needs. With a strong history of craft, innovation and 400 patents, Haworth provides customers with tailored, inspiring spaces that enhance business, stir spirits and improve lives around the world. The company is committed to protecting and restoring the environment; creating economic value; and supporting and strengthening communities. Founded in 1948, Haworth remains family-owned and privately-held serving markets in more than 120 countries through a global network of 650 dealers and 7,500 employees. Headquartered in Holland, Michigan, U.S.A, the company had net sales of USD $2 billion in 2017.