LOS ANGELES, CA – August 25, 2017 – Haworth, Inc. recently announced that it has been awarded WELL Certification – Pilot Program for its Los Angeles showroom by the International WELL Building Institute™ (IWBI™). The prestigious distinction was awarded through IWBI's WELL Building Standard™ (WELL), which is the premier building standard to focus on enhancing people's health and wellness through the built environment.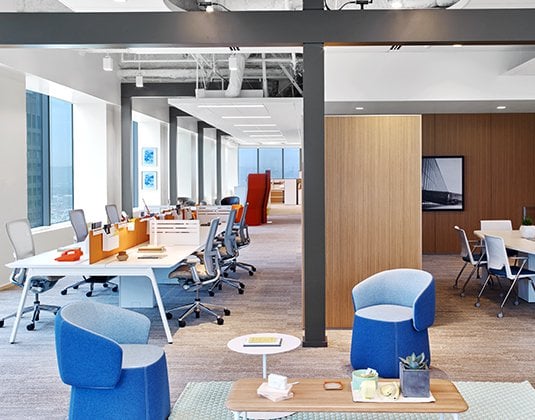 The Haworth showroom is in the Los Angeles financial district at 444 South Flower. The design was led by Perkins+Will in coordination with the Haworth design team and themed around whole spaces to provide the foundation for a sense of well-being. The design reflects unique aspects of the surrounding Los Angeles neighborhood with articulated structures, graffiti graphics and vibrant contrasting colors that characterize the Post Modern palette. Furniture layouts include a variety of group and individual spaces to accommodate a mix of workstyles and collaborative modes.
"Our Los Angeles showroom provided a learning experience that put well-being at the core of good design, which takes into consideration all aspects of an optimal environment including physical, cognitive, and emotional elements," said Tom Peyton, Regional Vice President. "Going forward, we remain committed to implementing well building standards as part of our strategy for space design that benefits both our members and our customers."
Created through seven years of rigorous research and development working with leading physicians, scientists, and industry professionals, the WELL Building Standard™ is a performance-based certification system that marries best practices in design and construction with evidence-based scientific research. The Haworth Los Angeles showroom earned the distinction based on seven categories of building performance – air, water, light, nourishment, fitness, comfort and mind.
Features that helped the Haworth Los Angeles showroom achieve its WELL Certification – Pilot Program rating include: increased levels of fresh air exchange; ergonomic furniture; sit-stand options for desks; non-toxic and non-off gassing materials; and air and water quality filtering and testing.
"The built environment has a profound impact on our health and well-being, and with people spending approximately 90 percent of their time indoors, the time has come for us to judge our buildings on how they affect their inhabitants," said Rick Fedrizzi, chairman and CEO of IWBI™. "The Haworth Los Angeles showroom will have a tremendous impact on current patrons of the building and future generations to come."
WELL is grounded in a body of evidence-based research that explores the connection between the buildings where we spend approximately 90 percent of our time, and the health and wellness impacts on us as occupants of these buildings. To be awarded WELL Certification by IWBI, the Haworth Los Angeles showroom underwent rigorous testing and a final evaluation carried out by Green Business Certification Inc. (GBCI), which is the third-party certification body for WELL, to ensure it met all WELL Certification – Pilot Program performance requirements.
###
Globally, Haworth improves workplaces with award-winning furniture, interior architecture and technology solutions to help customers achieve their business goals by supporting collaboration and innovation, as well as contributing to culture transformations. Research + design drive a deep understanding of agile workplace needs and are at the center of the company's strategy.  Haworth is committed to protecting and restoring the environment, creating economic value as well as supporting and strengthening its communities.  Founded in 1948, Haworth remains family-owned and privately-held and serves markets in more than 120 countries through a global network of 650 dealers and 6,500 employees. The company had net sales of USD $1.94 billion in 2016.