SHANGHAI, CHINA - April 25, 2015 – Haworth is excited to announce the opening of its new Shanghai Organic Space in the Jing'An Kerry Centre of Shanghai's central business district. It is one of the first WELL-certified facilities to be built in Asia Pacific.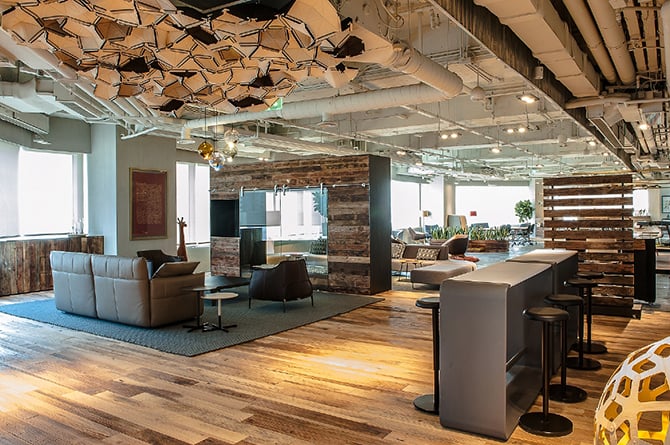 Haworth's new Shanghai showroom is a pilot project for the Well Building Standard, a performance-focused system grounded in medical research that measures, certifies and monitors built environments to promote health and wellness.

Well Building environments take into account air and water quality, nourishment, light, fitness, comfort and mind. Haworth's showroom design therefore incorporates increased levels of fresh air exchange, ergonomic furniture, sit-stand desk options, non-toxic and non-off gassing materials plus air and water quality filtering and testing.

"We wanted to engage with business leaders and the community to let them experience, first hand, what was possible in wellness design," explains Frank Rexach, Vice President and General Manager for Haworth Asia Pacific, the Middle East and Africa.


"In addition to the WELL Building Standard, Haworth is demonstrating its commitment and leadership in sustainability by pursuing LEED v4 – the latest and most challenging version of LEED – and its pushing us to perform at a higher level," he adds.
"The 20-year-old building has presented significant challenges for sustainable design," further explains Matthew Tedesco, Managing Director of Haworth Greater China. "However, we understand the importance of creating sustainable spaces and have worked hard to meet these standards."
"In addition to WELL and LEED certifications, our showroom will have the 'cleanest air in Shanghai' with RESET certification and a continuous air monitoring system in place," he says. "We firmly believe we can be a positive example in the community, support the industry and help challenge the marketplace to go further."
For more information, please contact Angela Ng at [email protected].
###
Globally, Haworth improves workplaces with award-winning furniture, interior architecture and technology solutions to help customers achieve business goals and transform culture as well as support collaboration and innovation.  Research + design drive a deep understanding of agile workplace needs and are at the center of the company's strategy.  Haworth is committed to protecting and restoring the environment, creating economic value as well as supporting and strengthening its communities.  Founded in 1948, Haworth remains family-owned and privately-held and serves markets in more than 120 countries through a global network of 650 dealers and 6,000 employees. Haworth achieved net sales of $US 1.8 billion in 2014.