September 23, 2022 – Haworth employees celebrated Chairman Emeritus Dick Haworth's 80th birthday in a meaningful way. Instead of blowing out candles, his birthday is being marked with the planting of 7,100 trees around the world near Haworth facilities. Each tree is planted in the name of a Haworth employee, who will be able track tree growth via a handy QR code.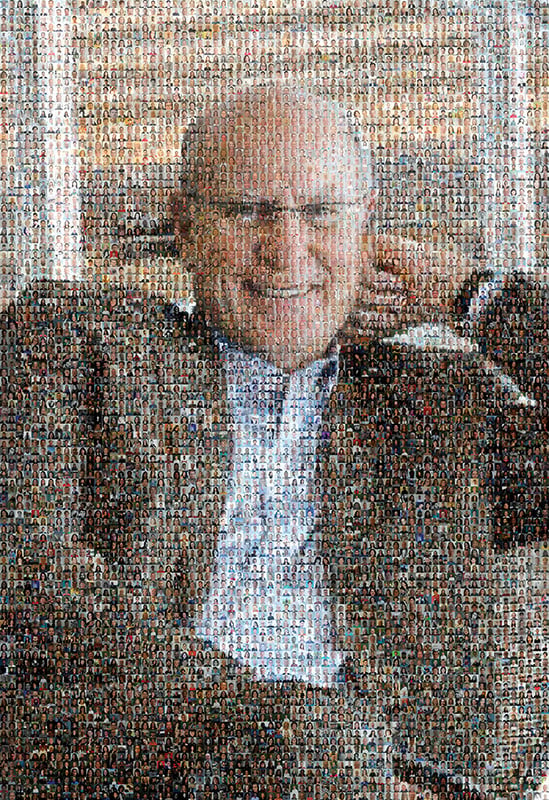 The Haworth team came together on Sept. 21 to commemorate this milestone with several gifts, including cards from around the world and a portrait of Dick created with tiny digital photos of Haworth employees. As Dick took a place of honor on the mid-floor staircase landing at Haworth's headquarters in Holland, Michigan, hundreds turned out to celebrate him by gathering on the terraces of the expansive lobby's three floors and fanning out to surround him in nearly every direction. The celebration was broadcast to Haworth locations around the world.
The HQ celebrations also hosted a serenade by Dick's alma mater, the Holland High School marching band. The students performed a mini-concert that included the school's fight song, its iconic version of "Tiptoe Through the Tulips" and a rousing "Happy Birthday." Dick's dad, G.W. Haworth, began his career as a shop teacher at the high school before starting Haworth in 1948.
At 80, Dick continues to be an essential presence with the family-owned office furniture company, which has a brand portfolio including technology and lifestyle brands like  Bluescape, BuzziSpace, Cappellini, Cassina, GAN, Janus-et-cie and Poltrona Frau.
Dick, whose expertise brings together engineering, architecture and design, invented the first cubicle wall panels with internal wiring that could be snapped together, eliminating the client's need to pay electricians to wire office spaces. He joined Haworth in 1964 and, after serving in the U.S. Army, rejoined in 1969.
###
Globally, Haworth enriches spaces with award-winning furniture, interior architecture, luxury lifestyle products and technology solutions to help create beautiful rooms and achieve business goals. With a strong history of craft, innovation and 400 patents, Haworth is committed to protecting and restoring the environment; creating economic value; and supporting and strengthening communities. Founded in 1948, Haworth remains family-owned, serving markets in more than 120 countries through a global network of 650 dealers and 7,500 employees. Headquartered in Holland, Michigan, U.S.A, the company has net sales of $2 billion USD.