August 30, 2022 – With a focus on collaboration and innovation, Grand Rapids Community College (GRCC) Lakeshore Campus repurposed a 52,000 square foot retail space into a LEED-certified education hub. Featuring Haworth furniture, the new GRCC space provides students with access to classroom learning and hands-on experience, builds a skilled workforce and brings economic revitalization to the surrounding area.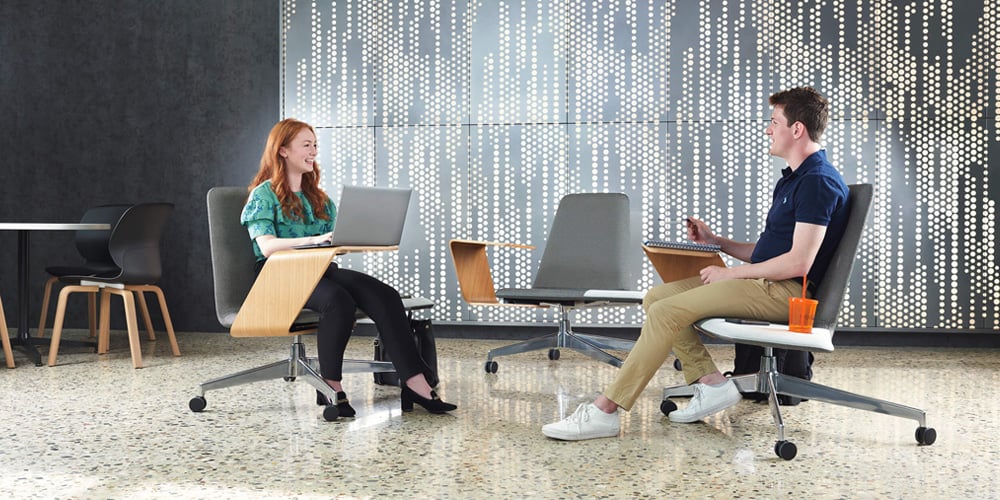 A vacant mall department store provided GRCC with the opportunity to consolidate four locations into the new campus. Nine classrooms plus specialized labs for computers, chemistry, electronics, automation, welding and machine tooling provide spaces where students gain skills to drive innovation in future jobs, as well as entrepreneurial ventures. Many manufacturers, including Haworth, benefit from GRCC's state-of-the-art technical training programs.
GRCC's Lakeshore Campus spaces and furniture are designed to adapt day-by-day and year-to-year. The ability to quickly and easily move seating and tables allows for infinite configurations as programs and class sizes change. Additionally, furniture allows for quick changes when social distancing is required. In the atrium, a variety of spaces for different activities help students focus with privacy or be visible in open areas for connection. The vitality of the new campus has energized the surrounding area too, helping to bring new restaurants and shops, and a large open area is used to host campus and community events. Faculty and staff now experience the benefits of working together face-to-face and report an increase in collaboration and communication.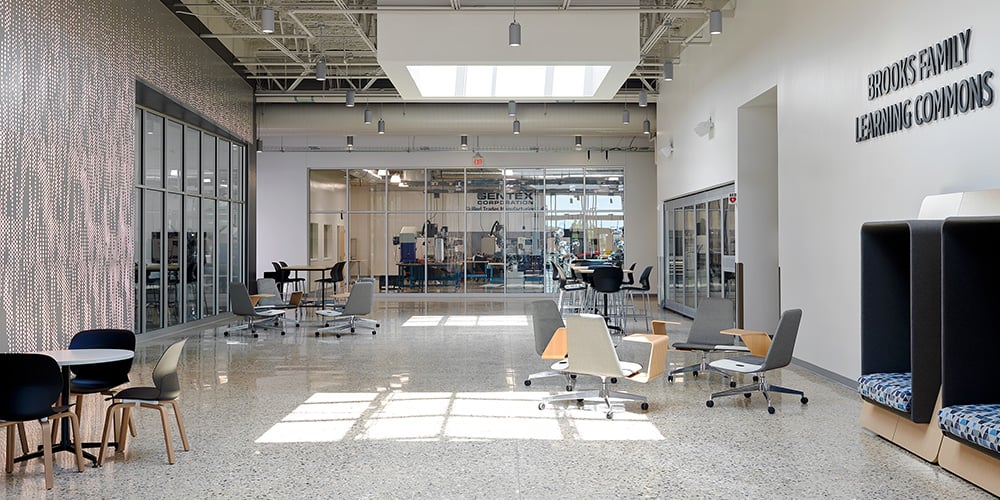 GRCC offers higher-education opportunities for learners of all ages to gain credits for academic degrees and in-demand skills leading to rewarding careers. The college offers traditional liberal arts and occupational pathways, as well as workforce training for local businesses and apprenticeships. 
The design firm for this project is GMB Architecture + Engineering and Haworth's dealer partner is Interphase Interiors.
###
Globally, Haworth enriches spaces with award-winning furniture, interior architecture, luxury lifestyle products and technology solutions to help create beautiful rooms and achieve business goals. With a strong history of craft, innovation and 400 patents, Haworth is committed to protecting and restoring the environment; creating economic value; and supporting and strengthening communities. Founded in 1948, Haworth remains family-owned, serving markets in more than 120 countries through a global network of 650 dealers and 7,500 employees. Headquartered in Holland, Michigan, U.S.A, the company has net sales of $2 billion USD.