HOLLAND, MI – April 4, 2017 – The jury has reached its decision: After several days of assessing thousands of products from all over the world, Fern and Harbor Work Lounge received the distinction "Red Dot." With these products, Haworth has created an outstanding design that the expert committee for the Red Dot Award: Product Design 2017 has recognised with the internationally sought-after seal of quality.
Haworth's Fern chair was developed when Haworth stopped thinking about seating and started thinking about sitting. Because it's not about the chair… it's about the person sitting in it. The challenge was to redefine the structure of a chair. The result is a balance of visual appeal and unsurpassed ergonomic performance.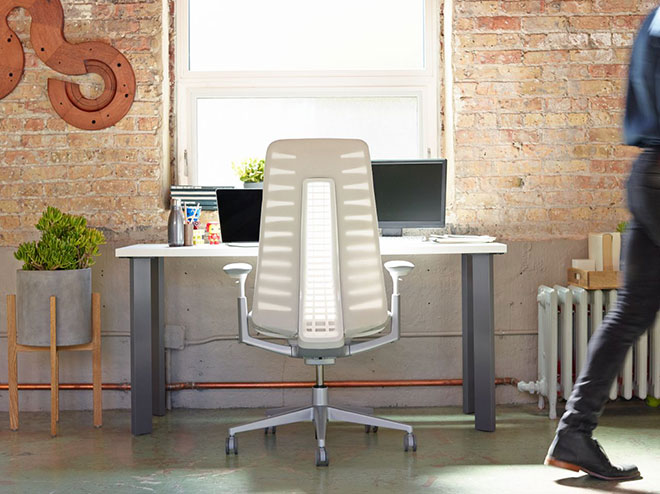 A chair needs both structure and support but users only want to feel the latter. Thinking this way led to moving the structural frame from the outside of Fern to the center, much like that of the human spine. Suspension is artfully integrated; an endoskeleton as opposed to historical exoskeleton chair design.
Part task seating, part lounge chair, Harbor Work Lounge offers the support people need to be productive, while making a stylish statement wherever work gets done. It's also versatile. With technology blending all factions of life – work, play, family, travel – people are no longer tethered to a desk, or even an office. Harbor Work Lounge fits in wherever work gets done.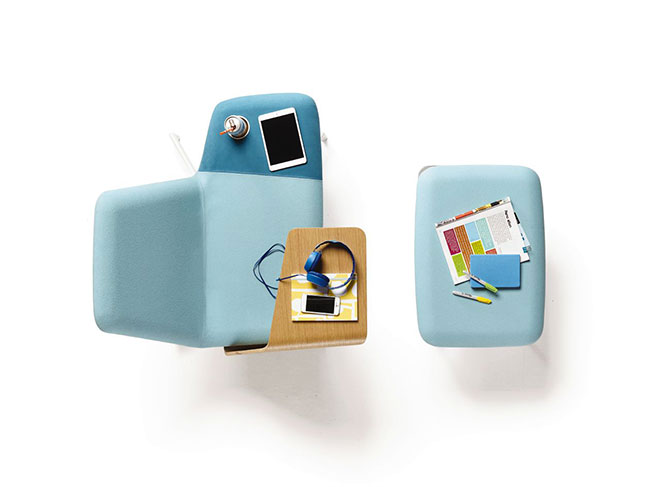 Professor Dr. Peter Zec, founder and CEO of the Red Dot Award: "The Red Dot winners are pursuing the right design strategy. They have recognised that good design and economic success go hand in hand. The award by the critical Red Dot jury documents their high design quality and is indicative of their successful design policy."
Manufacturers and designers around the globe were invited to enter their products in the Red Dot 2017 competition. The jury of around 40 independent designers, design professors and specialist journalists tested, discussed and assessed each individual product. In total, the competition received more than 5,500 entries from 54 countries this year.
###
About the Red Dot Design Award: In order to appraise the diversity in the field of design in a professional manner, the Red Dot Design Award breaks down into the three disciplines of Red Dot Award: Product Design, Red Dot Award: Communication Design and Red Dot Award: Design Concept. The Red Dot Award is organised by Design Zentrum Nordrhein Westfalen and is one of the world's largest design competitions. In 1955, a jury convened for the first time to assess the best designs of the day. In the 1990s, Red Dot CEO Professor Dr. Peter Zec developed the name and brand of the award. Ever since, the sought-after Red Dot award has been the revered international seal of outstanding design quality. More information is available at www.red-dot.org.
Press contact at Red Dot: Catharina Hesse , Communications Manager, Phone: +49 201 30104-50 | [email protected] | www.red-dot.de/press
Globally, Haworth improves workplaces with award-winning furniture, interior architecture and technology solutions to help customers achieve their business goals by supporting collaboration and innovation, as well as contributing to culture transformations. Research + design drive a deep understanding of agile workplace needs and are at the center of the company's strategy.  Haworth is committed to protecting and restoring the environment, creating economic value as well as supporting and strengthening its communities.  Founded in 1948, Haworth remains family-owned and privately-held and serves markets in more than 120 countries through a global network of 650 dealers and 6,500 employees. The company had net sales of USD $1.94 billion in 2016.