June 13, 2022 – At NeoCon 2022, Haworth won 10 awards and 3 honors for new products that were featured in three innovative spaces at TheMART in Chicago.  
Best of NeoCon
In the Sofas & Lounge category, Cardigan won an Innovation Award. This digital knit lounge also won the Business Innovation award, new in 2022.
A Sustainability Award was awarded to Haworth's newest textile launch - Scapes, Novelty and Hobson
Haworth also received Silvers for Zody II and Zody LX in the Ergonomic Desk/Task category; GAN Patch and Cord in the Area Rugs category; and HushHybrid from Hushoffice in the Work Pods category.
Metropolis Likes

This program recognized the top 35 products that represent the very best in responsible innovation. Haworth's winning products are:
Cardigan – a digital knit lounge – in the Lounge category
Zody II and Zody LX in the Task Seating category
HushHybrid from Hushoffice in the Office Pods category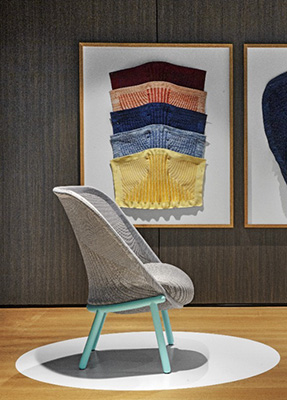 Interior Design Hip Awards
This year, Interior Design Magazine honored winners that reflect an extensive range of industry talent. Haworth's recognition included:
Cardigan – a digital knit lounge – as the winner of the Workplace Lounge Seating category.
Maari and Poppy Tablet Seating in the Conference Seating category; San Siro from Cappellini in the Workplace Lounge Seating category; and Lud'ina in the Workplace Guest Seating category as Honorees
Together, the Haworth family of brands offers something for everyone. Whether designing new offices or furnishing social spaces – indoors or out – Haworth's NeoCon was an exploration for new workspaces, products, materials and more from designers around the world.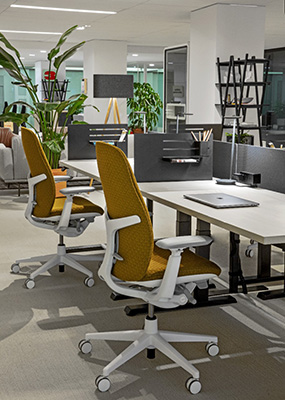 ###
Globally, Haworth enriches spaces with award-winning furniture, interior architecture, luxury lifestyle products and technology solutions to help create beautiful rooms and achieve business goals. With a strong history of craft, innovation and 400 patents, Haworth is committed to protecting and restoring the environment; creating economic value; and supporting and strengthening communities. Founded in 1948, Haworth remains family-owned, serving markets in more than 120 countries through a global network of 650 dealers and 7,500 employees. Headquartered in Holland, Michigan, U.S.A, the company has net sales of $2 billion USD.