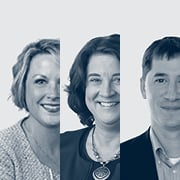 Learning Happens Anywhere on Campus
Campus spaces have evolved significantly over the years. Narrow definitions of the dorm, lecture hall, dining hall, lab, and union are outdated. Today's campus reflects a holistic view of the living and learning experience. Leaders in higher education face new challenges as they transform the traditional campus into an immersive environment where learning happens anywhere. When we view the entire campus as the classroom, we recognize that learning happens whenever and wherever people are engaged in discussions, sharing ideas, and being creative.

In this presentation, higher-education experts Meloney Linder from the University of North Dakota, Julie Parks from Grand Rapids Community College Lakeshore Campus, and Damon Gonzales from Davenport University discuss the campus as the classroom. Discover the 4 Cs of higher education campus design and how they can help schools create diverse environments that attract and retains student, faculty, and staff, as well as offer flexibility for changing needs.
February 9
11 – 11:45 am ET
WEBINAR