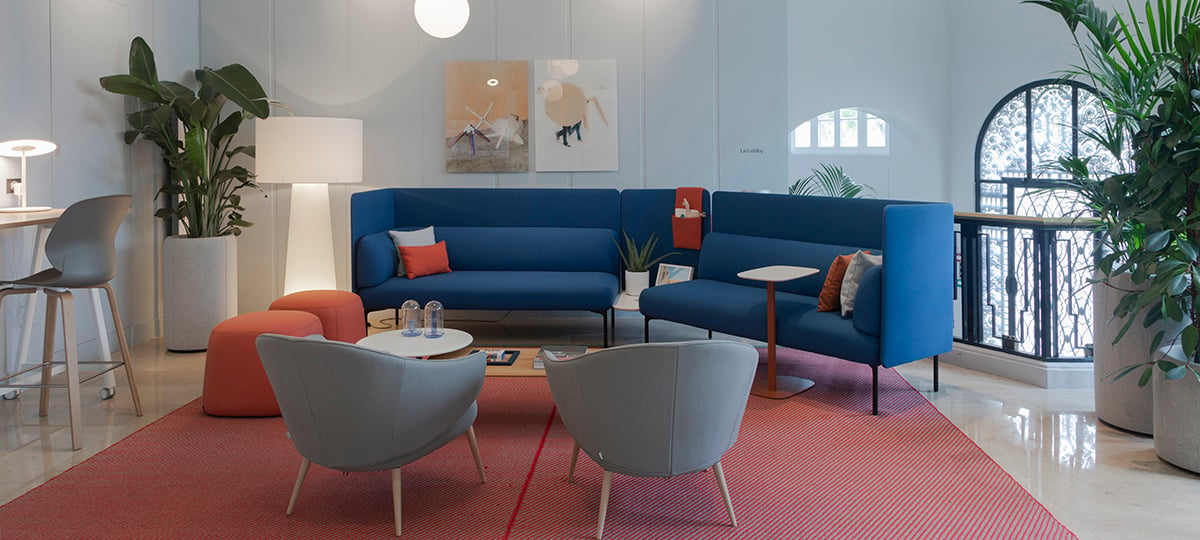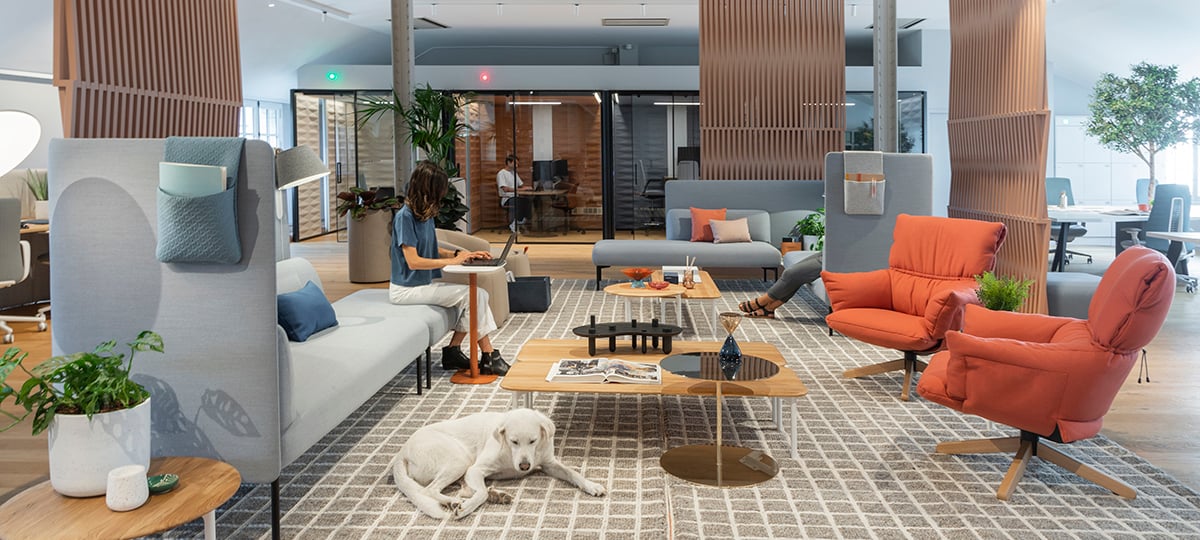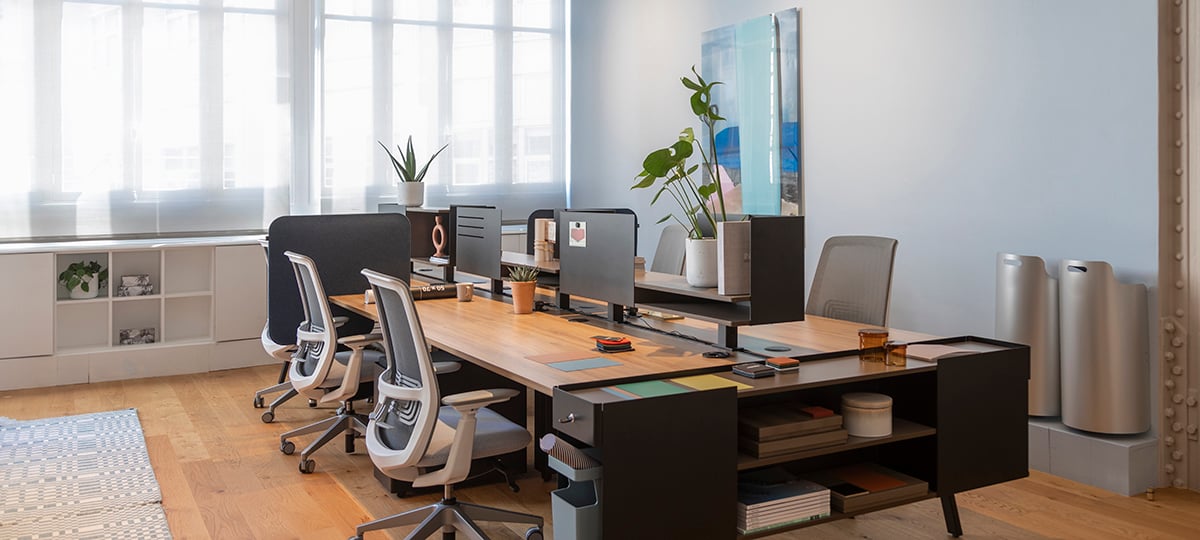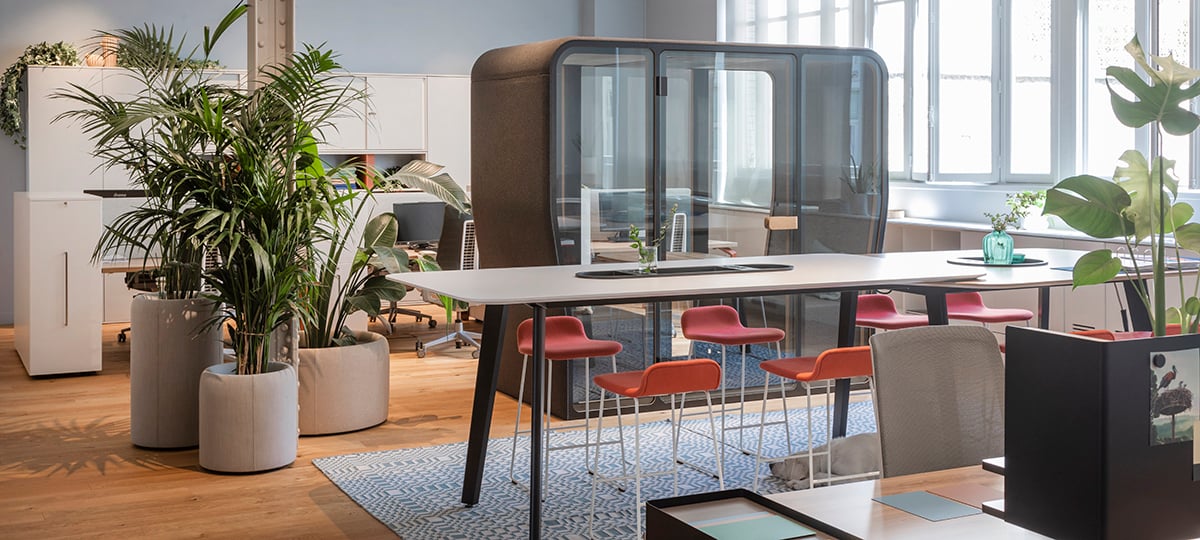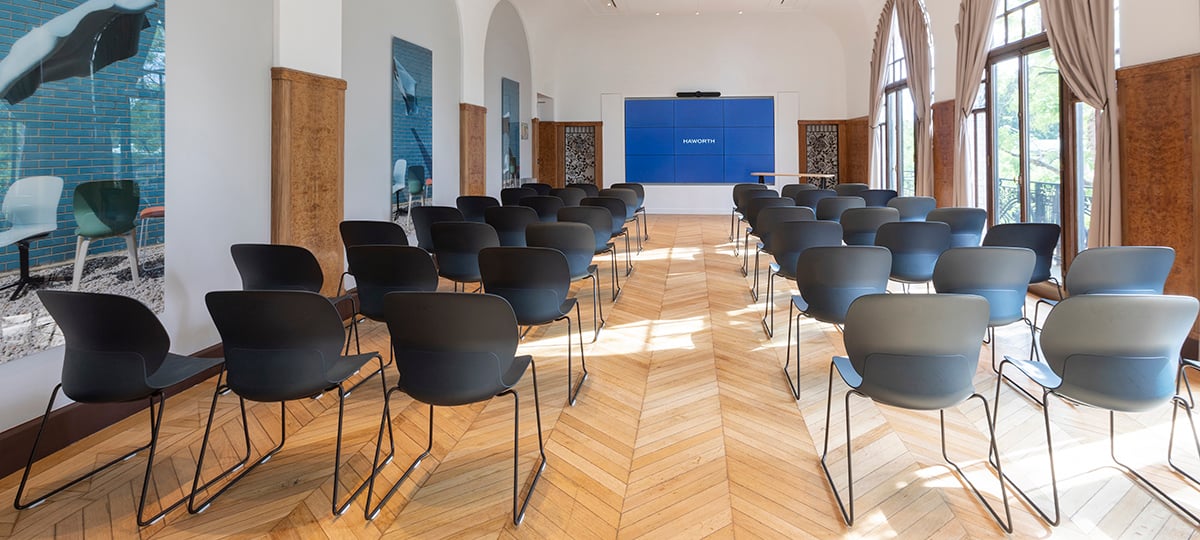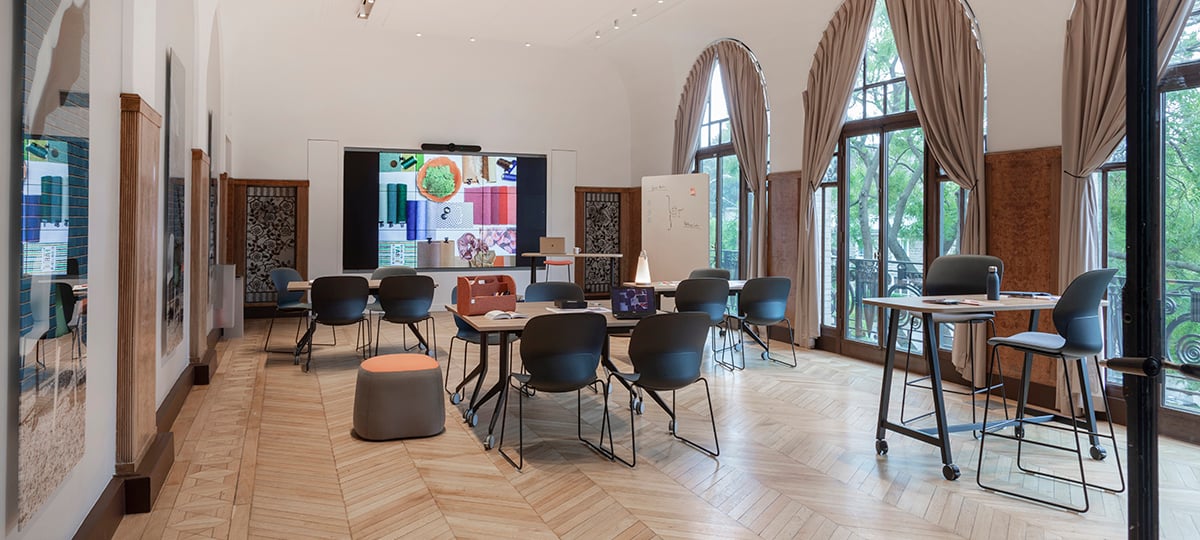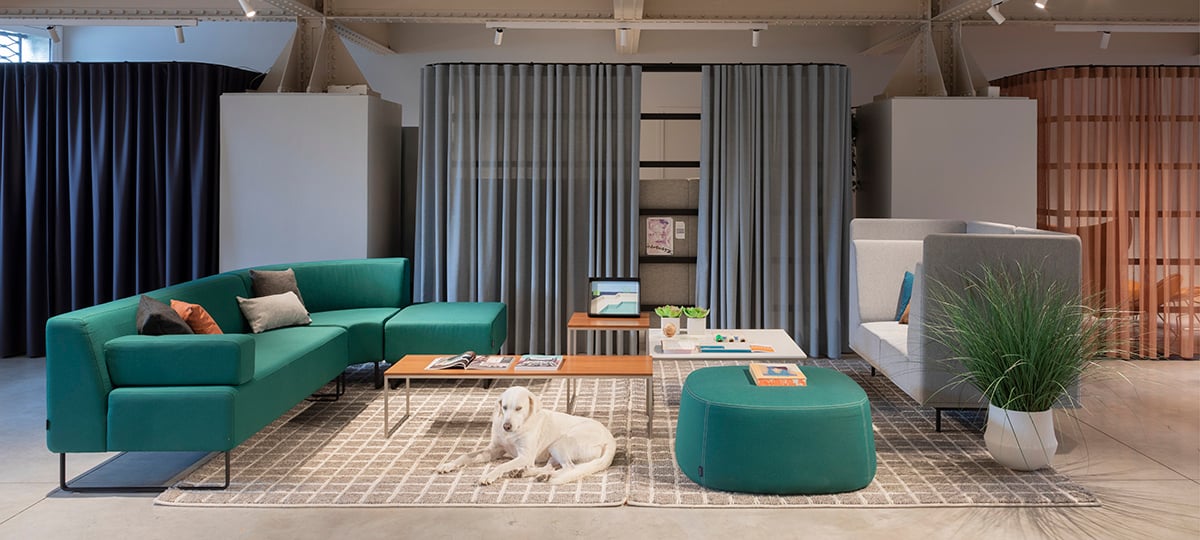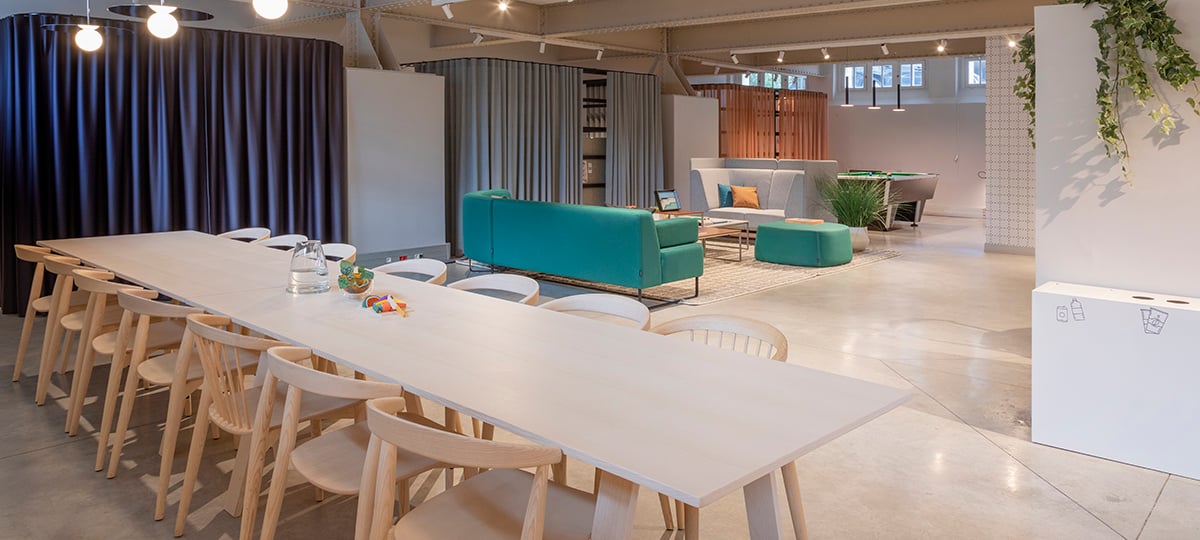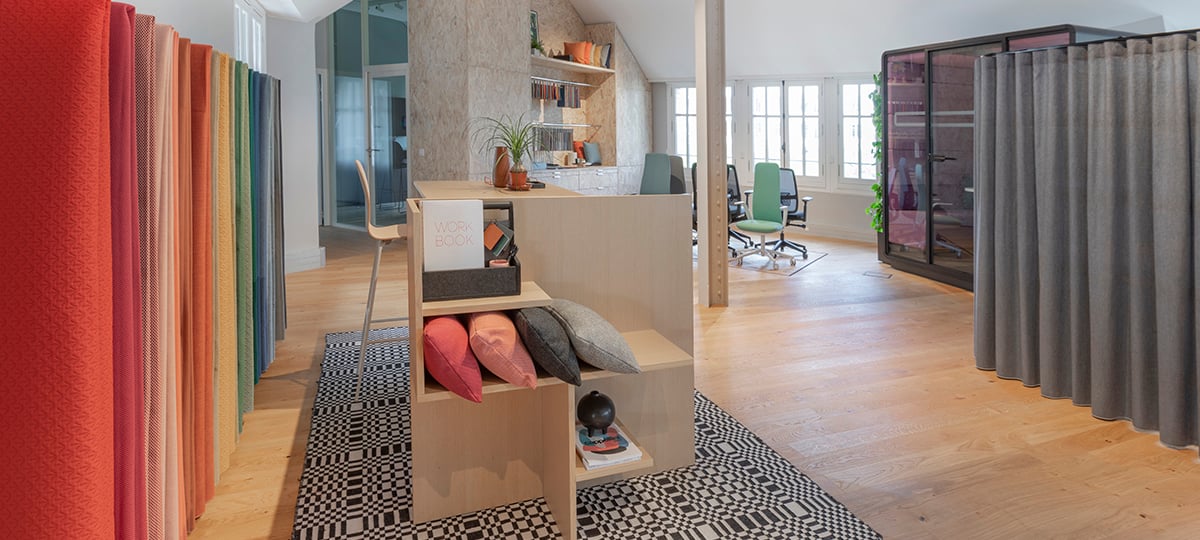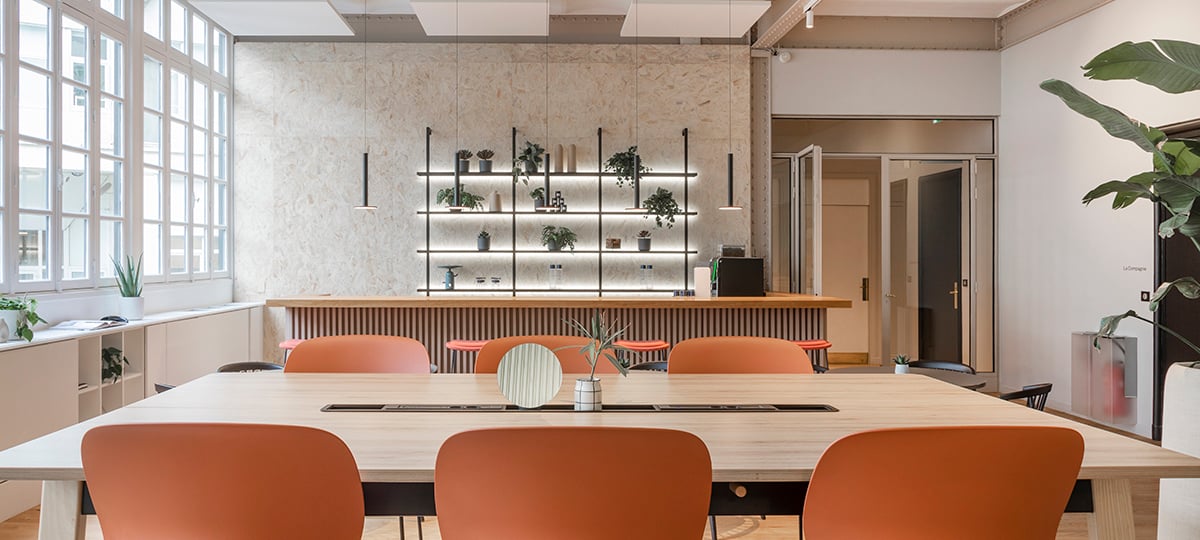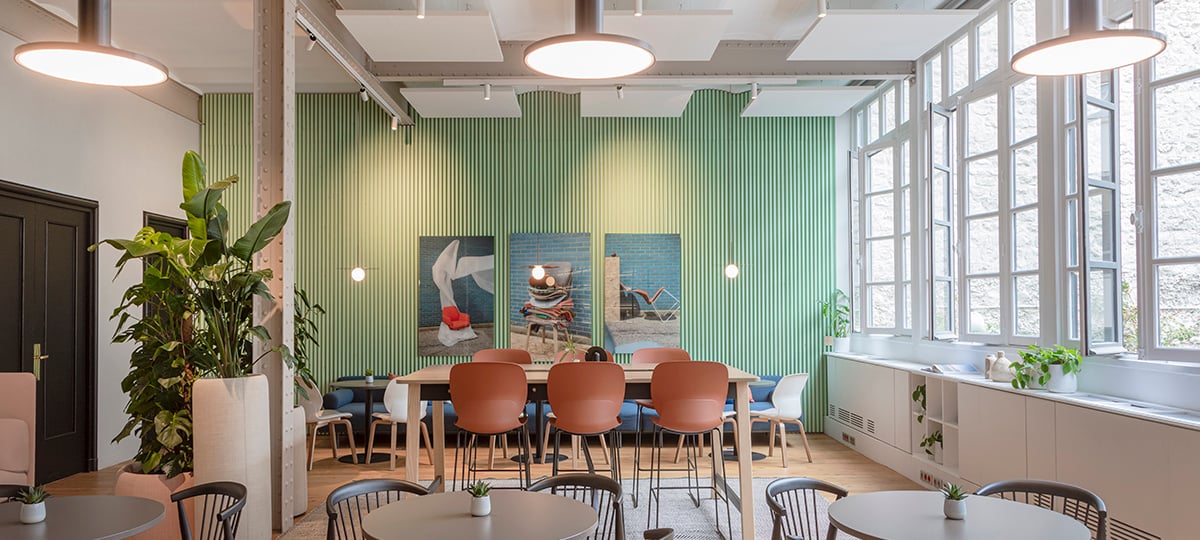 The lounge area is centrally located between the open offices and the smaller meeting boxes. There is just enough buzz here to create an upbeat atmosphere for interaction and just enough privacy to provide a bubble of focus to complete a quick task. High-back sofas send a message of calm and privacy, but boundary levels are relatively low, so coworker findability is high. It is the perfect setting for users doing a bit of work while they wait for a colleague or a guest to arrive.
The workstations are unallocated and in Clean Desk mode so that they can be shared and the density and surface area adjusted to new applications.
In this shared space, the central acoustic booth helps overcome the problems of noise and confidentiality that may exist in open spaces. It provides a very comfortable environment for a private call or a meeting because it is glazed and allows natural light to enter. It is also a decorative and separating element. Besides, large plants provide biophilia and improve acoustics. The space is very legible: workstations dedicated to solo focus work, a large table for collaboration, and an acoustic booth for privacy.
The Ball Room is flexible and can be arranged for hosting up to 65 people seated - 80 people standing. It is a perfect space for conferences, seminars and events.
With adapted furniture, it becomes a training or a workshop space. The natural light coming through the high large windows, a careful acoustic treatment of the ceiling and state-of-the-art technology for connection make it the perfect collaborative space.
Rest and Breakout spaces are important elements of workspace design. It is where people can disconnect from their work, have informal conversations, and ignite new ideas. The furnishing of these areas often has a home feeling and contributes to the people's will to come to the office.
A large family table welcomes employees for lunch. A fully equipped kitchen is at their disposal. It is also used by the caterers for the receptions of our clients and partners.
The fabric samples station is where our customers and A&D can see, check, compare our colours and materials collections. In the adjacent space a seating display feature the Best in Class from our international chairs portfolio. In this Test Drive you can try out the latest from our seating ranges
The Café is a hybrid space where the furniture meets different needs. Its first purpose is hospitality, but it can also be a meeting space with its comfortable high table and chairs.
It can be a lounge space with sofas and coffee tables or a touchdown area for nomads and visitors. Employees are encouraged to use this space throughout the day, not just between 12 and 2 pm.
Location Details
101 Boulevard Murat, 75016 Paris, France
Visit Showroom
Find us using Google maps
Get in Touch
Contact a local representative