Enclose
By Studio & Partners & Nathan Shedd
Ready, Set, Change
Enclose walls let you pull any space together in minutes flat. The unitized, factory-built panels arrive pre-assembled and ready to tilt into place - no assembly, complex scheduling of trade workers, lengthy downtime, or hidden costs required. Once the walls are in place, any panel or door can be removed and replaced without disrupting the entire system, making them nimble enough to adapt to whatever the future may bring. Even power and data are reconfigurable, so you can update your walls as often as you update technology. Thanks to the reusable nature of Enclose, it minimizes what ends up in the landfill, too.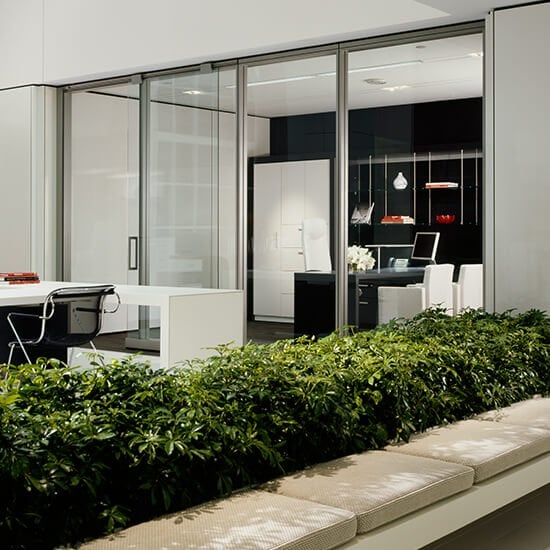 Effortless connections.
The standard four-inch frame of Enclose meshes perfectly with base building architecture, enhancing connections to create a refined atmosphere. A range of heights and widths lets you tailor beautifully precise solutions for any ceiling height or building dimension. It's also offered with a kit of parts to meet all building conditions, including bulkheads and HVAC systems, so you can create a seamless finish from floor to ceiling and column to column.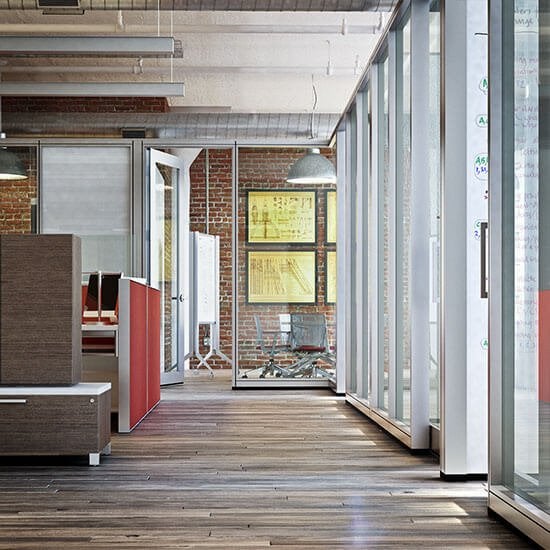 Can-do construction.
Enclose empowers walls to do much more than simply divide space. Hang shelves, accessories, or furniture - even from other manufacturers. Incorporate writing or magnetic surfaces into any part of the wall. Integrate quick-connect technology into each panel. Reinforce your brand throughout your environment. Improve acoustical privacy with an impressive sound transmission class (STC) rating of up to 45. And enjoy complete creative freedom to combine multiple materials - all for much less than you'd spend to achieve the same effects with conventional drywall.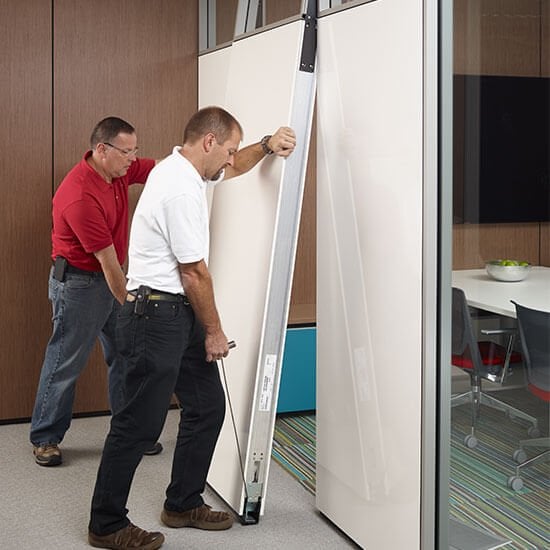 Value added.
From the first installation to every move you make, this proven system protects your bottom line. With built-in efficiencies like non-progressive tiling and quick-connect electrical wiring, Enclose is the fastest, easiest, and most adaptable wall system in the market. Unlike labor costs that vary from region to region, the product cost is consistent for everyone. When you add up all the costs of conventional construction, Enclose is equivalently priced - and with any upgrades, it beats conventional walls. And because reconfiguring Enclose is quick and easy, with every change you make, the savings keep adding up.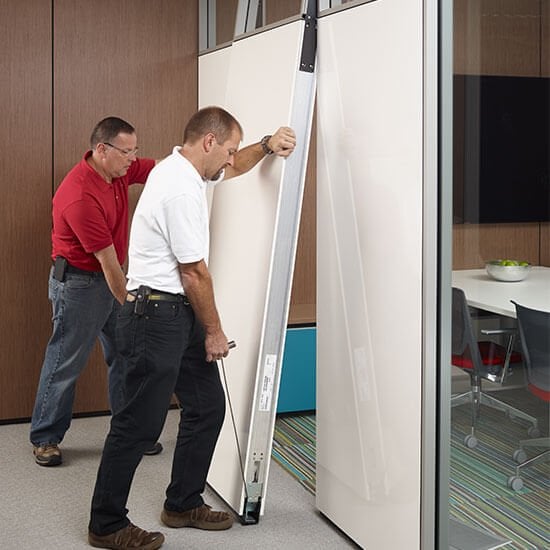 Thoughtful integration.
Enclose walls look like they were made to go with everything else we make - because they were. As part of Haworth's Integrated Palette™ portfolio, Enclose can be combined with a wide range of desking, systems, tables, and other architectural products. Consistent dimensions, connections, and finishes future-proof your interiors, ensuring that the Haworth products you choose today will tie in, functionally and aesthetically, with the ones you add tomorrow.