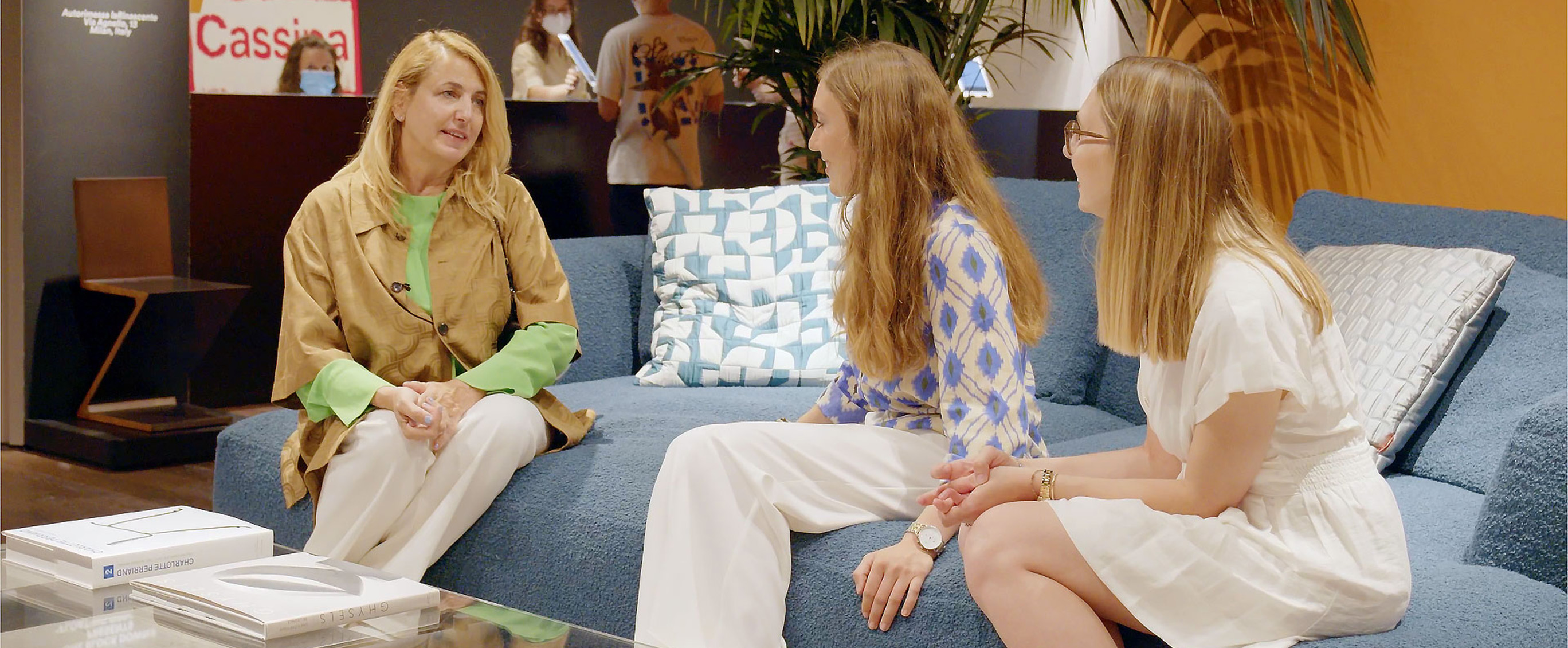 • 2 min read
Patricia Urquiola Shares the Cassina Perspective at Milan Design Week
Tour the Cassina showroom with renowned architect and designer Patricia Urquiola and see her studio space
During this year's annual Milan Design Week, Cassina unveiled The Cassina Perspective 2022. Showcasing both new products and iconic pieces, the eclectic yet complementary collection is a work of enduring inspiration and deep design thinking for the future.

Art Director for Cassina and renowned architect and designer Patricia led the two winners of the Haworth International 2020 Moodboard Contest on a tour of the Cassina Milan showroom, and we were there to capture the highlights. Sharing stories of design masters and their history, Patricia described the iconic works that have inspired new designs, material usage, techniques, and production methods.

Patricia also emphasized the importance of seeking out and supporting new partnerships—not just in design, but in production and other areas as well. "You have to always be open to new conversations—with the world," she said. "Anything you do, it's not always about your ideas. It's about real conversations with the people that work with you." Understanding this and being open to new ideas from new people allowed Patricia to solve a production issue and bring the design for one of her new vases to life.  
Salone del Mobile in review
The design shift from pre-pandemic to now. We present to you our key insights on the design trends, spaces and experiences revealed at Salone del Mobile 2022.
As Cassina continues to renew its commitment to a more socially and environmentally conscious approach, Patricia says seeking out new materials to create comfort through internal padding—not only exterior fabrics—is essential. "For me, it's regenerated, upcycled materials that have beautiful comfort and much better than feathers, and there are many new ways to do this," she said.

Introducing new materials to furniture design is also giving some Cassina pieces new life outdoors, so people can connect with nature. Light-scale elements originally produced in wood and marble can now offer greater durability for outdoor use with metal and ceramic materials in the same iconic shapes.

Hear more from Patricia Urquiola and see the Cassina Milan showroom in this video. Plus, you'll get to take a peek inside Studio Urquiola to see where Patricia's designs come to life.
More about Patricia Urquiola
Visit our designer page to find out more about Patricia, her designs, and our partnership with her.